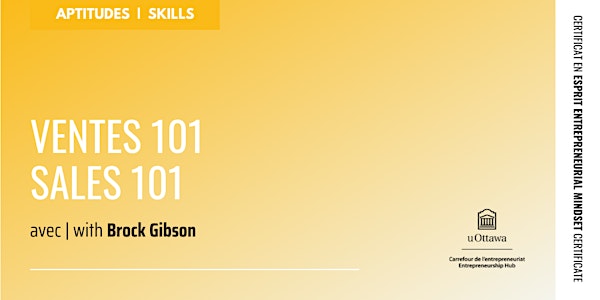 CEE: Ventes 101 | EMC: Sales 101
Joignez-nous pour apprendre les rudiments de la vente! | Join us and learn the basics of sales!
About this event
[An English message will follow]
Vous désirez faire carrière en vente? Vous avez une entreprise et vous désirez lancer un nouveau produit ou service? Vous dirigez un OSBL ou un programme et vous cherchez des participants ou du financement? Vous cherchez un emploi ou désirez-vous lancer comme expert-conseil?
Les compétences en vente sont utiles à quiconque veut faire carrière dans ce domaine, se lancer en affaires ou décrocher un emploi. Cet atelier parlera des compétences intégrales d' un commis de vente, ainsi qu'apprendre les rudiments de la vente.
Prérequis
Aucun!
Règles de base
D'abord et avant tout, il s'agit d'un atelier pratique et nous sommes ici pour apprendre ensemble, faire des erreurs, poser des questions et collaborer afin que vous puissiez apprendre de manière intuitive.
Bien que l'ensemble de nos ateliers soit offert en ligne cet automne, nous souhaitons simuler de plus près une expérience d'apprentissage en personne. Par conséquent, il serait utile que vous démarrez votre webcaméra lors de l'atelier. Bien sûr, si vous n'avez pas n'y avez pas accès, nous encourageons votre présence tout de même. On demande tout simplement votre patience et votre désir d'apprendre.
* Cet atelier est offert en anglais seulement.
--
Do you want to start a career in sales? Do you have a business and want to start selling a product or service? Do you have a non-profit or run a program, in which you are looking to recruit participants or funding? Are you trying to get a job or start your own consultancy?
Sales skills are important and useful no matter if you are looking at starting your own company, get a job or have a career in sales! This workshop will delve into what makes a good salesperson and run through the basics of sales from the selling process to customer service, customer management and everything else in between.
Prerequisites
None!
House keeping rules
Above all, it is a practical session, and we are here to learn together, make mistakes, ask questions & collaborate so that we can learn intuitively.
Despite all workshops being online this fall, we are trying to emulate the in-person experience as best as we can, which would benefit from you having your camera on during workshop unless of course you don't have access to a webcam, in which case we still encourage your presence. Our only requirement from you is that you are eager to learn!
*This event is offered in English only.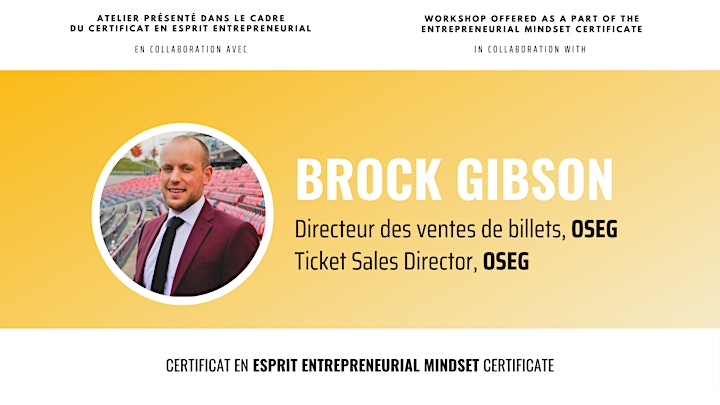 Brock Gibson
Brock Gibson est un leader en matière de ventes et de marketing dans le secteur du sport et du divertissement. Il a commencé à travailler pour les Ottawa Senators en 2011, en gérant divers programmes de vente de billets. Actuellement, il est chargé de diriger, de développer et d'exécuter des stratégies de vente et de fidélisation de la clientèle pour Ottawa Sports & Entertainment (Ottawa REDBLACKS, Ottawa 67's). Il se concentre sur les stratégies de vente basées sur les relations et les solutions qui sont centrées sur la valeur et l'engagement à long terme des clients.
LinkedIn: https://www.linkedin.com/in/brock-gibson-58756959/
--
Brock Gibson
Brock Gibson is a sales and marketing leader within the sports and entertainment industry. He first started with the Ottawa Senators in 2011, managing a variety of ticket sales programs. Currently he is in charge of leading, developing and executing sales and customer retention strategies for Ottawa Sports & Entertainment (Ottawa REDBLACKS, Ottawa 67's). He is focused on relationship and solution based selling strategies that are centered around value and long term customer engagement.
LinkedIn: https://www.linkedin.com/in/brock-gibson-58756959/