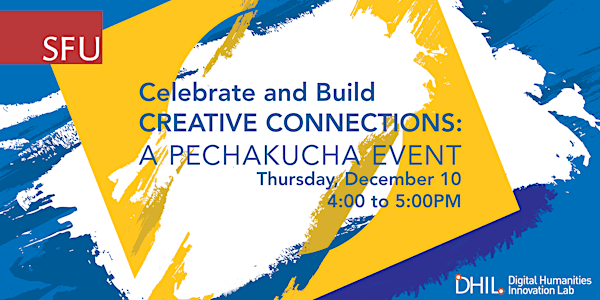 Celebrate and Build Creative Connections: A PechaKucha Event at SFU
SFU end-of-semester networking & visual storytelling event for researchers working in the digital humanities and knowledge mobilization.
By DHIL SFU Research Commons
Date and time
Thu, Dec 10, 2020 4:00 PM - 5:00 PM PST
About this event
SFU's Knowledge Mobilization Hub and the Digital Humanities Innovation Lab have teamed up to host an informal end-of-semester networking and storytelling event on Thursday, December 10, 4:00-5:00pm. From graphic novels to podcasts, to innovative engagement strategies, we're featuring the interdisciplinary work of researchers at Concordia University, Simon Fraser University, the University of British Columbia, and the University of Victoria. The goal is to connect researchers who are conducting or sharing research in a way that's accessible, discoverable and inclusive (scholarly research that doesn't look like a scholarly paper).
PechaKucha (meaning "chitchat" in Japanese) is a visual storytelling format involving people, stories, and visual slides. With each presentation lasting around 6 minutes, it's a fun (and sometimes frenetic) way for researchers to share their work.
While this event is free, space is limited and registration is required.
Speakers/Featured Projects:
Jason Camlot (Concordia University, Department of English)
Dr. Camlot will be sharing his work with the SpokenWeb Partnership, a network of researchers dedicated to the discovery and preservation of literary sonic artifacts. Over the last three years, the group has developed innovative listening practices which have since evolved during the pandemic.
Mary Chapman and Sydney Lines (UBC Department of English, Public Humanities Hub)
Dr. Chapman and Sydney will be speaking about the Winnifred Eaton Archive, a research and teaching tool that offers over 200 works by the pioneer Asian North American writer, Winnifred Eaton Babcock Reeve (1875-1954).
Matt Huculak (University of Victoria Libraries)
Dr. Huculak will be speaking about the Narrative Art & Visual Storytelling in Holocaust and Human Rights Education project, which brings together researchers, visual artists, Holocaust survivors, librarians, and students in order to create free educational resources. Artists work directly with survivors to co-create graphic novels based on their personal experiences before, during, and after the Holocaust with the help of historians and students.
Lillian Hung (UBC School of Nursing, Assistant Professor) and Mario Gregorio
Dr. Hung and patient partner, Mario Gregorio will be presenting on the topic: Co-producing with patient partners: How and Why.
Erica Machulak (Hikma Strategies)
Dr. Machulak will be stepping us through a history of writing systems in the medieval period and beyond in a presentation that questions dominant narratives of innovation culture. For many of us, the term "innovation" conjures images of beakers, robots, and other icons of STEM research. True innovation requires deep culture shifts grounded in rhetoric, relationships, and collaboration across time, space, and expertise.
Cait McKinney (SFU School of Communication)
Dr. McKinney's research examines the politics of information in queer social movements, focusing on how these movements struggle to provide vital access to information using new digital tools, within conditions where that access is often precarious.
Kate Moffatt and Kandice Sharren (SFU Department of English)
Kate and Dr. Sharren will be sharing their experiences creating The WPHP Monthly Mercury, the podcast for The Women's Print History Project. From the inevitable rabbit holes of recovery to the many adventures of the WPHP research assistants, the podcast shares the details of investigating women's involvement in print as authors and labourers during the eighteenth and nineteenth centuries.
About SFU's Knowledge Mobilization Hub
As part of a university-wide strategic initiative, SFU has established a Knowledge Mobilization Hub to provide services and support to SFU researchers across all three campuses. Contact: Lupin Battersby at lupin_battersby@sfu.ca
About the Digital Humanities Innovation Lab (DHIL)
DHIL assists researchers with the development of digital scholarship research by providing consultation, training, mentoring, research software development and technical support to faculty and graduate students. Contact: Sophia Han at dhil@sfu.ca