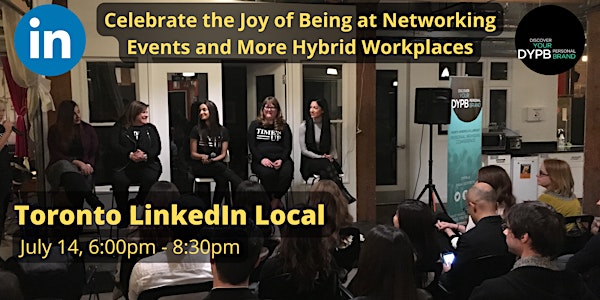 Celebrate the Joy of Being at Networking Events and More Hybrid Workplaces
Location
Xero
250 University Avenue
Toronto, ON M5H 4G1
Canada
We are BACK! LinkedIn Local Toronto is pleased to have our first in-person event in over two years. Join us to celebrate being together!
About this event
Linkedin Local Toronto Meetup – "Celebrate the Joy of Being at Networking Events and More Hybrid Workplaces", July 14, 6:00pm ET
About this Event
Don't you miss getting together with diverse and interesting people? The pandemic has caused the world to change their everyday lives. As we move to our 'new normal', it may mean working from home for the foreseeable future. For others, we may continue going to workplaces because of the essential nature of our work, while still others balance the hybrid model.
This even applies to networking events, where some will go, others will not, and a few will attend with trepidation.
But it's great to be back finally!
The 19th Toronto LinkedIn Local Event is focused mainly on just getting together again, breaking bread, getting our feet wet with networking, and discussing the challenges as we now navigate in hybrid work environments.
Date: July 14th 2022
Time: 6:00 pm - 8:30 pm
Location: Xero Software (Canada) Inc event space - 250 University Ave, Toronto, ON M5H 3E5
During this LinkedIn Local event, you will gain insights from workplace experts, senior business leaders and executive-level professionals from across the world who will share their insights on building meaningful relationship, managing both working from home and working in the office, and more. We will arm you with ideas you can bring back to your own organization.
We will also have an Open Mic session for you to share your story, ask a question, and offer a tip.
This event is ideal for you if you're:
An ambitious team member within your organization and are interested in taking the next steps to advance your career
Looking to build a valuable like minded network consisting of leaders from renowned organizations
A passionate advocate for inclusive workplaces and are looking to access experts in the field to learn key insights from
FEATURED SPEAKERS:
BOBBY UMAR: 5x TEDx Speaker, Inc Magazine Top 100 Leadership Speaker, Author of Best-Seller 'How to Network Anytime, Anywhere, with Anyone', CEO of DYPB - Discover Your Personal Brand and the Thought Leadership Branding Club
BRIAN HUGHES: Vice President Human Resources, FirstOnSite Restoration, Executive | Change Leader | Strategist | Culture Builder
CHRISTINE ANDREW: Managing Director, Strategy & Digital at KPMG Canada
SWISH GOSWAMI: CEO & Co-Founder, Surf | Co-Founder of the #LinkedInLocal movement
YOU: At our Open Mic session - share your experience of going through the pandemic and missing live in-person events.
Some Hors d'oeuvres and Drinks will be provided during this event - First come first serve. You'll also have the chance to win some great prizes throughout the evening!
Save an additional 43% off your tickets with an Early Bird ticket.
Save even more with a group of 4! Bring your colleagues or team along get almost 50% off of four tickets!
AGENDA
6:00pm: Registration and Networking - get warmed up again in-person!
6:45pm: Welcome - Swish Goswami and Bobby Umar
6:50pm: 1st Speaker (8 minutes) - Brian Hughes "How to Support Employees with a Hybrid working model"
7:00pm: Networking Interactive Activity (20 min) - Bobby Umar will help you shake off any rust when it comes to building meaningful relationships
7:20pm: 2nd Speaker (8 minutes) - Christine Andrew "Finding the Human in Digital vs. In-Person Marketing"
7:30pm: Open Mic session - this is a chance for YOU to shine. Share a tip, ask a question, tell us something you're grateful. You have 2 minutes. First come, first serve!
7:50pm: Closing thoughts
8:00pm: Networking
8:30pm: Event ends and exits
8:45pm: After party at The Duke of Cornwall, 400 University Ave, Toronto, ON M5G 1S5
HASHTAGS: #LinkedInLocal #LinkedInLocalTO
Toronto LinkedIn Local Meetups were first hosted and organized in 2017 by Swish Goswami, Bobby Umar and DYPB. To date we have run 18 events for over 2,500 people. Topics have included Women Breaking Barriers, Diversity in the Senior Ranks, Transitioning Your Career or Business, Resilience, Gratitude/Reflection/Planning, Side Hustles, Burnout/Life-Balance, and many more.
ABOUT DYPB (Host)
is the only organization in the world that is dedicated to using our personal branding expertise to change the world. We achieve this through our signature training programs, high-profile events, helpful online resources and in-depth consulting. DYPB develops your employees' individual strengths and values to serve your organizational mission and vision.
The result?
Leaders have more clarity and purpose. Teams are more collaborative and motivated. Organizations have greater retention, loyalty, productivity and growth.
To learn more about DYPB - Discover Your Personal Brand: https://www.dypb.ca/
This event is not sponsored, endorsed, or operated by LinkedIn.
SEE SPEAKER BIOS, SPONSORS & PARTNERS BELOW: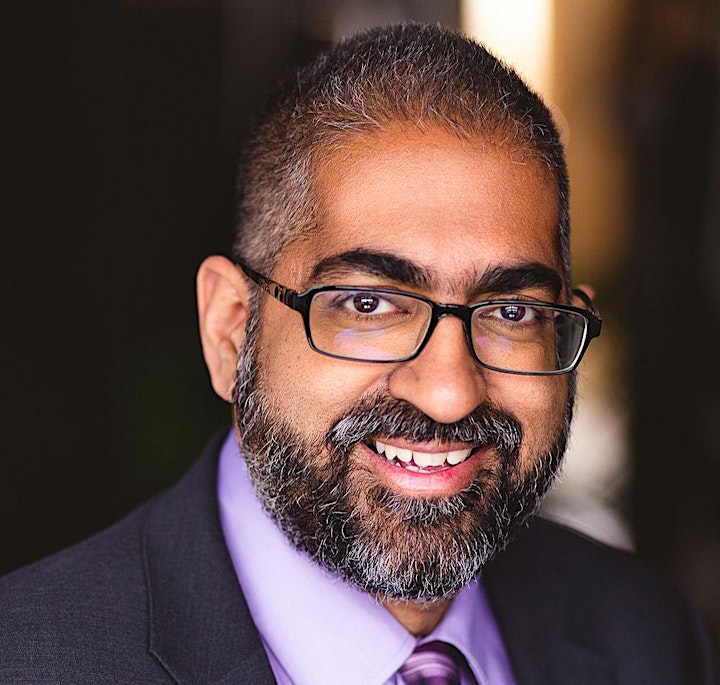 [HOST] Bobby Umar: CEO of DYPB - Discover Your Personal Brand, 5x TEDx Speaker and Inc Mag Top 100 Leadership Speaker
Bobby Umar is one of the most prolific heart-based leaders in North America. Inc. Magazine named him one of the Top 100 Leadership Speakers, named alongside such noteworthy giants as Richard Branson, Brene Brown, John Maxwell and Robin Sharma. Bobby is a 5x TEDx speaker and one of the top influencers in the world, with over 500,000 followers. He has been named the 2nd best business coach to follow on Twitter and the 4th best leadership influencer according to Kred. Bobby is an international author of two books, including an Amazon #1 best-seller, and is a Huffington Post contributor. He hosted a weekly tweetchat called "The Power of Connection" that reached over 65 million impressions weekly. To date, his social media influence has garnered over a billion impressions. Bobby was also named a "2015 Speaker to Watch" and one of the Top 7 Networking gurus to follow.
A social media influencer, who champions authentic connection and heart-based leadership, Bobby has appeared on dozens of podcasts, TV & radio shows. With a background in brand marketing (Kraft & Unilever), engineering (Bombardier) and the performing arts (Second City), Bobby has led Raeallan for almost a decade and is now a recognized thought leader in Networking, Social Media and Personal Branding. He founded DYPB via the Discover Your Personal Brand conference, the largest event in North America dedicated solely to personal branding, featuring 60 experts and over 300 delegates. DYPB now runs personal branding programs, events, courses and consulting to help leaders and organizations achieve greater alignment, focus and impact in the workplace. 300,000+ people from across the world have experienced Bobby's high-energy keynotes, interactive teambuilding activities, and engaging workshops.
Bobby is also a fiercely proud and committed dad and is passionate about diversity, gender equality, entrepreneurship and youth. He has worked with thousands of professionals to become thought leaders in 2 ways – help professionals ramp up their careers or businesses with focus, clarity and mindset and help 'lost leaders' transition to find their authentic path of passion and purpose.
FOLLOW ON: LinkedIn, Instagram, Twitter, Facebook, and YouTube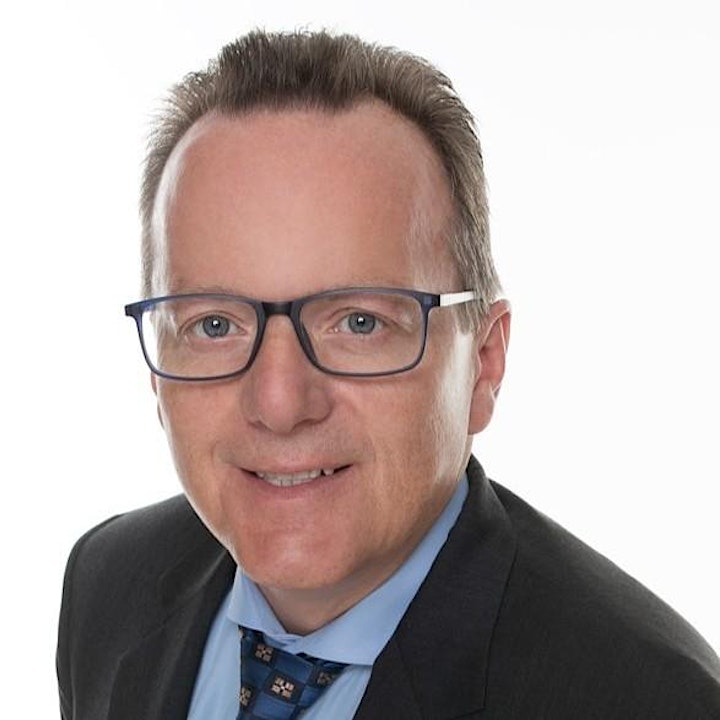 Brian Hughes: Executive | Change Leader | Strategist | Culture Builder
Executive helping companies achieve "Top Employer" status!
Broad range of people related systems implementations across multiple industries.
Extensive results working in diverse environments building constructive cultures.
http://prezi.com/zivcybyhoq4k/brian-hughes-profile/
Specialties:
Possibilities and Change Management;
Leadership Development;
Strategic Planning;
Career Management;
Team Effectiveness;
Employee Engagement;
Human Resources System Development;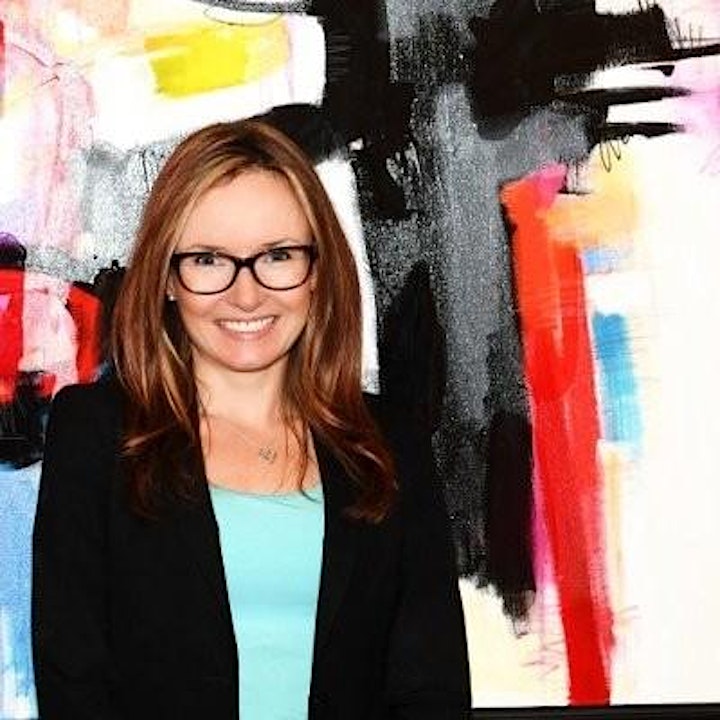 CHRISTINE ANDREW: Managing Director, Strategy & Digital at KPMG Canada
Amazing things can happen when you align diverse skills and passions. As a seasoned marketing executive, I combine my love of digital marketing with my experience digitizing business models in order to optimize organizations to drive growth.
While I have a proven track record developing strategies, my true superpower is my ability to lead and inspire teams to solve tough problems, overcome obstacles and execute to deliver results. "Find a way" is my personal mantra and I thrive on driving transformative change.
I'm currently the Managing Director, Strategy Management at KPMG. I lead the strategy development and execution for firmwide strategic initiatives.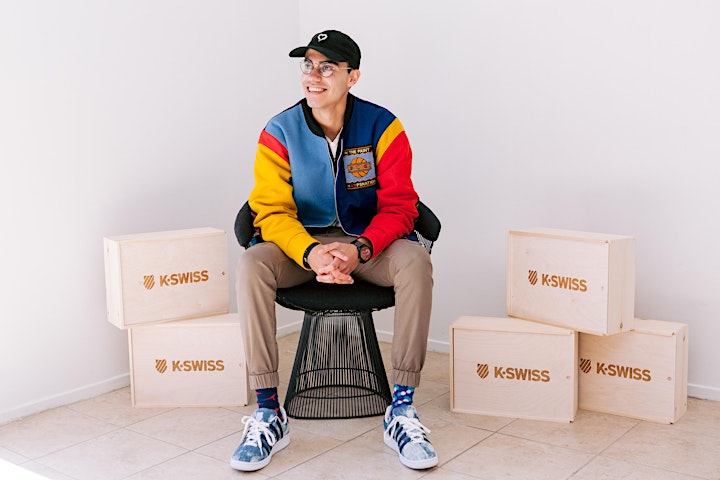 Swish Goswami: CEO & Co-Founder, Surf
Swish Goswami is the CEO of Surf, a tech company providing brands a better way to engage and understand consumers while compensating consumers for their data. Swish has given three TEDx talks and is the bestselling author of "The Young Entrepreneur", a book encouraging and teaching students to build a business while in school. Through his angel fund AGEX, Swish is an investor/advisor in popular social companies like FaZe Clan, Wombo, and Upstream. Swish has close to 140,000 followers on LinkedIn and he enjoys speaking around the world on topics like mental health, personal branding and entrepreneurship. For his achievements, Swish was recognized as LinkedIn's Top Voice and Startup Canada's Young Entrepreneur of the Year and awarded the United Nation's Outstanding Youth Leadership award.
THANK YOU to our partners and sponsors
Sponsors: Xero, Surf
Xero is a cloud-based accounting software platform for small businesses with over 2.7 million subscribers globally. Through Xero, small business owners and their advisors have access to real-time financial data any time, anywhere and on any device. Xero offers an ecosystem of over 1,000 third-party apps and 300 plus connections to banks and other financial partners. In 2020 and 2021, Xero was included in the Bloomberg Gender-Equality Index and in 2020, Xero was recognised by IDC MarketScape as a leader in its worldwide SaaS and cloud-enabled small business finance and accounting applications vendor assessment.
Surf is a Toronto based tech company putting the power of personal data back into people's hands. Surf's browser extension lets users earn from the data they already share everyday. Surf recently crossed the 125,000 user mark. Surf has made two acquisitions, raised over $5M to date (from several NBA players and venture firms) and has customers like Sony Music, Netflix, NBA, Electronic Arts, and a plethora of small to medium sized businesses.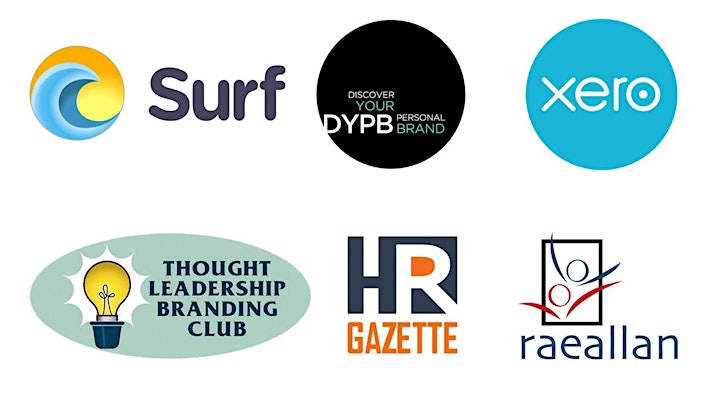 Terms and conditions
By registering for this virtual event, you are sharing your registration information with DYPB and the event's corporate sponsors. Upon registration you acknowledge that you have read and agreed to the terms and conditions. By submitting your personal information, you are agreeing that DYPB and certain permitted associated corporate sponsors/partners may contact you.
By registering for this event, you are opting into DYPB email updates and those from possible sponsors and partners. These updates will notify you about relevant news, as well as announcements about DYPB events and services. You can opt out of DYPB email updates at any time.
Refund Policy: Due to limited availability, DYPB cannot offer refunds once your tickets are purchased. If you cannot make the event due to unforeseen circumstances, you may transfer your ticket(s). Thank you.