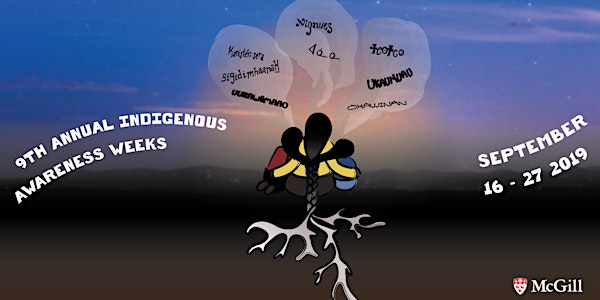 Celebrating 2Spirit Authors: Self-Love, Loss & Regeneration
Event Information
Location
Royal Victoria College Residences
3425 Rue University
Lounge
Montréal, QC H3A 2A8
Canada
Readings by 3 amazing 2Spirit authors & discussion: Lindsay Nixon - nîtisânak, Arielle Twist – Disintegrate/Dissociate, Smokii Sumac
About this event
Lindsay Nixon: "Lindsay Nixon is a Cree-Métis-Saulteaux curator, editor, writer, SSHRC doctoral scholarship recipient and McGill Art History PhD student. Nixon won the prestigious 2019 Dayne Ogilive Prize and has been nominated for a Lambda Literary Award, an Indigenous Voices Literary Award and several National Magazine Awards. Namely, Nixon was nominated as the lead editor for the summer 2017 issue of Canadian Art in the "Best Editorial Package" category—an issue on the theme of "Kinship." In 2019, Nixon won a digital publishing award under the "Best Editorial Package" category—alongside several other formidable writers and editors who contributed to a digital issue of The Walrus on the theme of "Sex Ed"—for their article "#MeToo and the Secrets Indigenous Women Keep." They currently hold the position of Editor-at-Large for Canadian Art and previously edited mâmawi¬-âcimowak, an independent Indigenous art, art criticism and literature journal. Their writing has appeared in Malahat Review, Room, GUTS, Mice, esse, The Inuit Art Quarterly, Teen Vogue and other publications. Nixon's first book nîtisânak is out now through Metonymy Press. Born and raised in the prairies, they currently live in Tio'tia:ke/Mooniyaang—unceded Haudenosaunee and Anishinabe territories (Montreal, QC)."
Bio from Lindsay Nixon's website: https://aabitagiizhig.com/about/
Arielle Twist: "Arielle Twist is a Nehiyaw, Two-Spirit, Trans Woman that creating to reclaim and harness ancestral magic and memories. Originally from George Gordon First Nation, Saskatchewan. She is now based out of Halifax, Nova Scotia.
She is an author and multidisciplinary artist. Within her short career, she has attended a residency at Banff Centre for the Arts and Creativity, has work published with Them, Canadian Art, The Fiddlehead, PRISM International, This Magazine, and CBC Art and has been Nominated for a Pushcart Prize and Shortlisted in The National Magazine Awards, both in 2019. 'Disintegrate/Dissociate' is her first collection of poetry."
Bio from Arielle Twist's website: https://arielletwist.com/about/
Smokii Sumac: "Smokii Sumac is a proud member of the Ktunaxa nation, and a PhD Candidate in Indigenous Studies at Trent University. He is also a poet, releasing his debut poetry collection you are enough: love poems for the end of the world in December 2018 with Kegedonce Press. Smokii is honoured to have performed across the country, including at the Canadian Festival of Spoken Word (2017) and at the Queer Arts Festival (2018). As a two-spirit and transgender educator, Smokii has facilitated workshops for various organizations and groups, including as a knowledge holder at the Trent Elder's Gathering (2018). Smokii currently shares his time between Nogojiwanong (Peterborough, Ontario) and Ithaca, NY where he lives with his family and their dog, Smudge."
Bio from Smokii Sumac's website: http://smokiisumac.com/about/
Date and time
Location
Royal Victoria College Residences
3425 Rue University
Lounge
Montréal, QC H3A 2A8
Canada