Actions and Detail Panel
Celebrating 5 years of Spotlight on Literacy!
Thu, 11 May 2017, 5:00 PM – 8:30 PM EDT
Description
Celebrating 5 years of Spotlight on Literacy!

This one-day event will bring together residents, parents, teachers, youth, community workers – everyone with an interest in ensuring that 'Literacy Lives Here' - in our community.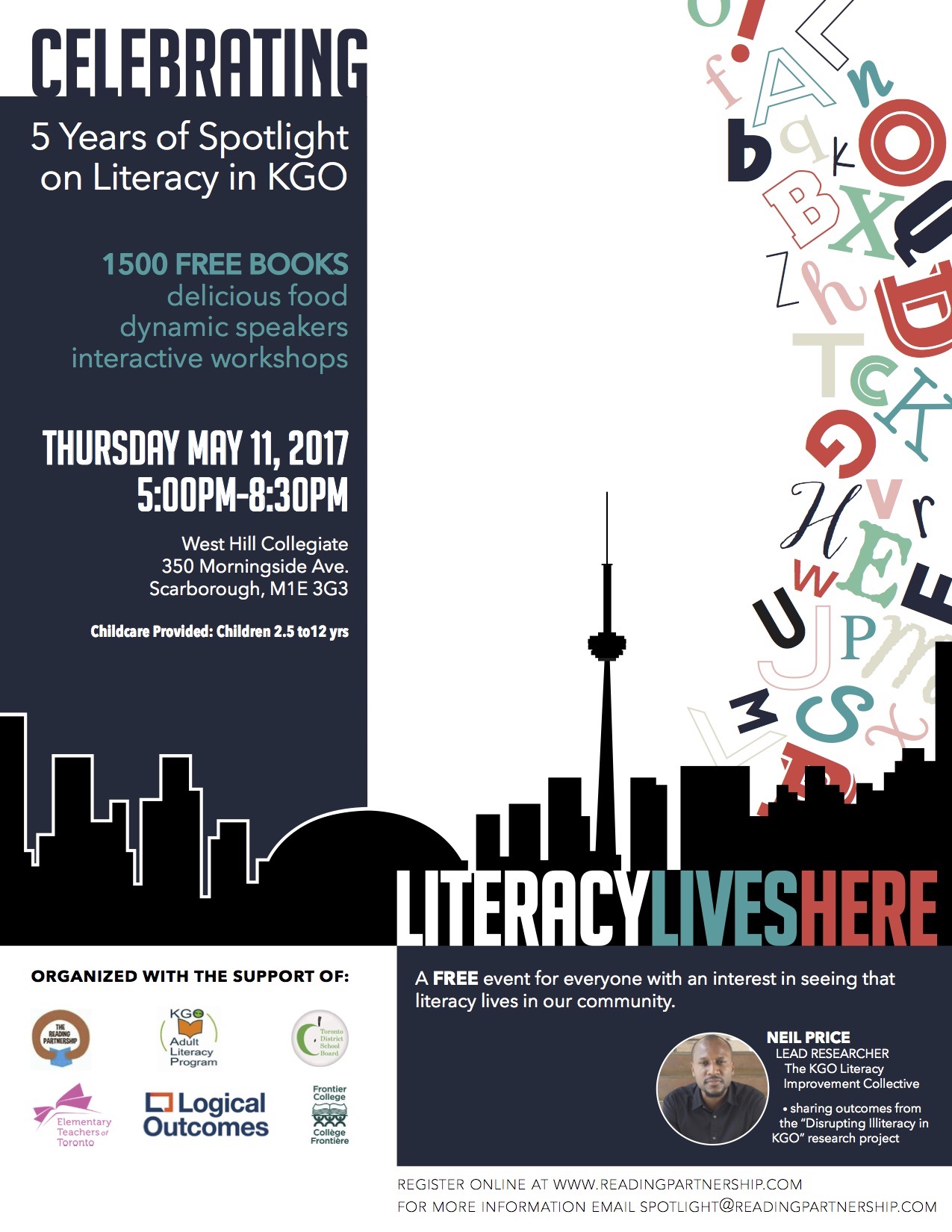 Literacy Lives Here is the theme for this milestone year, the focus will be on literacy as a fundemental right, and how residents and community stakeholders in Kingston-Galloway-Orton Park can mobilize and take action to ensure this right is honoured, protected and fulfilled.
Here is a breakdown of this year's event...
Part One – Refreshments/Info Sharing
Participants will enjoy a delicious meal, while visiting community booths collecting information about resources, programs and services located within the community.
Part Two – Presentation: Disrupting Illiteracy in KGO
As part of the Disrupting Illiteracy in KGO Research Project, lead researcher Neil Price has been studying and talking 'literacy' with KGO parents, teachers, youth, and community workers, over the past 5 months. Neil will share his most recent findings and talk about how the community might mobilize to see real change happen.
Part Three – Breakout Workshops
Attendees will join a 45-minute workshop. Workshops will be selected on the day of the event on a first come first choice basis. Here's a few of the workshop titles to look out for:
1. Making Stories Come to Life with Music! Facilitated by: TDSB teacher Alkiviadis Leontarakis
2. Super Power in the Palm of Your Hands-your Smartphone! Facilitated by: Solana Cain
3. Mind and Spirit: Self Empowerment Through listening to your Body. Facilitated by: Rashida Wall
4: Healthy Living on a Budget. Facilitated by: Hetal Patel, Ayushi Patel, and Abirami Sivalingam
5. Bizindamowin The Power, and Importance of Storytelling. Facilitated by: Ryan Besito
6. Your Story, Your Voice: Empowering the Unheard. Facilitated by: Jesse Cohoon
7.Everyday Digital: Using Technology to Navigate Life. Facilitated by: June Findlay
8. Disrupting Illiteracy in KGO Focus Group. Facilitated by: Neil Price
9. How to teach your child to read the fast, fun and easy way! Facilitated by: Johanna Niles
Part Four – Book Fair
Attendees will choose FREE new books to take home from a collection of 1,500, generously donated by Frontier College.
Register on-line or in-person on the day of the event.