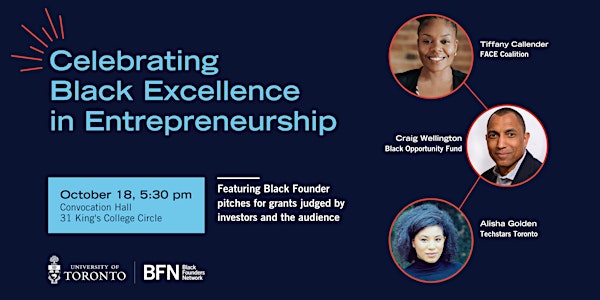 Celebrating Black Excellence in Entrepreneurship
Join BFN for its one-year anniversary and Black Founder Demo Day.
When and where
Location
Convocation Hall, University of Toronto 31 King's College Circle Toronto, ON M5G 1L5 Canada
About this event
The Black Founders Network (BFN) is hosting a Celebration of Black Excellence in Entrepreneurship at our University of Toronto Convocation Hall on Oct 18 from 5:30 pm – 8:00 pm. The event will mark the BFN's one-year anniversary and celebrate the graduation of our first cohort of funded Black-led startups in the BFN Accelerate program.
Join us for an evening filled with exciting pitches from Black-led startups, where we will be awarding over $40,000 in prizes. Find out who will receive the BFN Cohort Choice, Top Venture Awards, and place your vote for the coveted People's Choice Award. The event will also have a panel of trailblazing Black founders with inspiring success stories who will share their journeys and provide candid advice to the next generation of innovators. This is a great opportunity to build connections with our community of founders, investors and partners.
Panel Speakers
Claudette McGowan, Co-founder of Phoenix Fire & The Firehood
Claudette McGowan is the chief executive officer of Protexxa, a B2B SaaS cybersecurity platform that leverages Artificial Intelligence to rapidly identify, evaluate, predict, and resolve cyber issues for employees. She is also a general partner of Phoenix Fire, a fund focused on investing in women-led startups at the earliest stages. In addition to these, she co-founded the Firehood, a platform advancing the participation, leadership, and prosperity of women in technology. She is a global information and technology leader with more than 18 years of success leading digital transformations, optimizing infrastructure and designing news approaches that improve service experiences. She has worked in the technology industry for several organizations such as Deloitte, Metropolitan Police Services, North York General Hospital, Bank of Montreal and TD Bank. Ms. McGowan began her career at BMO in 2000 and held multiple senior leadership roles including chief information officer, enterprise technology employee experience. In 2020, she joined TD Bank as global executive officer for cyber security, where she spent two years before launching Protexxa.
Tefari Bailey, Founder & CEO of Hutsy Financial
Tefari is the CEO and Founder of Hutsy Financial, an online digital banking platform that was created to make financial wellness achievable for everyone, regardless of their background or financial situation. The company helps Canadians build and establish credit while educating them on financial topics to help save money. With thousands of users on its waiting list, they recently received a $500,000 investment led by Wes Hall from CBC's Dragon's Den. Tefari is eager to fulfill his mission and disrupt the Canadian banking industry. The previous company he started, Canada Homes, helped to simplify Home Search and financing before being acquired by Realty Conversion. Prior to building startups, Tefari spent some time working with the City of Toronto and TD Bank in financial roles that helped him develop expertise in business development and sales.
Edgar Brown, Growth Marketer & Coach
Edgar Brown is a marketer, coach, and entrepreneur who builds and scales mission-driven technology companies. Previously, he was a Growth Lead at On Deck, a Series B EdTech startup backed by top investors including Founders Fund and Tiger Global, where he helped 7x revenue in less than two years as the team underwent hyper-growth. He's also passionate about helping emerging leaders in tech and business reach their personal and professional goals through coaching, and has trained at an ICF-accredited program through the Institute of Professional Excellence in Coaching (iPEC). As a former founder, he participated in leading Canadian entrepreneurship programs like Next36 and the DMZ, and has been featured in publications like Forbes, Les Affaires, and the Post Millennial. He writes about startups, marketing, and personal development on Twitter: @iamedgarbrown.
Investor Judges
Craig Wellington, Executive Director @ Black Opportunity Fund
Craig Wellington is the inaugural executive director of the Black Opportunity Fund, a dynamic partnership involving businesses, philanthropists, foundations, and the Black community, mandated to establish a pool of sustainable capital to fund Black led and serving organizations and businesses through grants, loans and investments. The BOF's mission is to help combat the impact of systemic anti-Black racism in Canada by promoting social and economic empowerment. He has a history of working to address systemic bias in the Canadian criminal justice and education systems, is a member of the City of Mississauga Mayor's Black Caucus, an advisory board member of the Black Community Action Network of the Region of Peel, as well as a former member of the Toronto Chief of Police's Black Community Consultative Committee.
Tiffany Callender, Chief Executive Officer @ FACE Coalition
Tiffany is the co-founder and inaugural CEO of the Federation of African Canadian Economics (FACE), a coalition of black-led organizations dedicated to stimulating economic growth and creating generational wealth for Canadians of African Descent. She is also the former Executive Director of the Cote des Neiges Black Community Association, one of the oldest Black Community organizations in Quebec. She co-led the pan-Canadian strategic advisory committee that raised the largest amount of public funds for Black Canadians in the history of the country to support Black entrepreneurs.
Alisha Golden, Investments @ Techstars Toronto
Alisha Golden leads investment sourcing for Techstars Toronto, a world-renowned accelerator focused on startups making the world better. She is a catalyst for entrepreneurial transcendence, bridging start-ups and investments across the global diaspora for collaboration and opportunity. She has worked with leading firms such as Pivotal Ventures, The World Economic Forum, Verizon Media, NASA, Second Muse, NBCUniversal, KIND, The Pollination Project, Mashable, The UN Foundation, ChooseATL, and Airbnb. Furthermore, Alisha is also the founder of Plan A, a non-profit organization geared toward catalyzing more African women and those of the diaspora into Profit Parity and VC funding inclusion while helping them launch and scale innovative technology solutions.
MC
Efosa Obano, Founder & Manager @ Black Founders Network
Efosa started and manages the Black Founders Network, a program that supports Black founders with capital, community and capacity building. He also started and leads the African Impact Initiative, which invests in early African innovators. He has experience with using technology to create social impact, invest with impact, and build early-stage ventures. He previously led a team that guided startups on their digital transformation journeys with Dell. He also led community outreach for Dell Canada's Social Impact Team & Black Networking Alliance. He has been recognized by the UN and the Ontario Minister's Award of Excellence for his work.