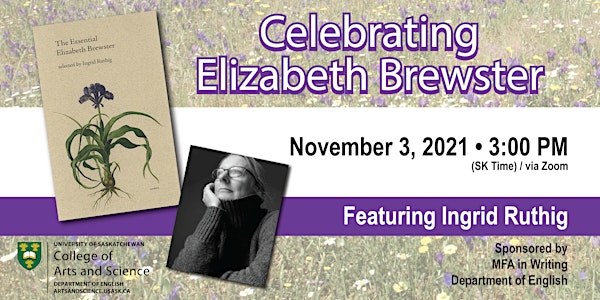 Celebrating Elizabeth Brewster - with Ingrid Ruthig
A USask MFA in Writing Program event, celebrating the poet, Elizabeth Brewster, with Ingrid Ruthig. Including poems, author talk, and Q&A.
About this event
Celebrating Elizabeth Brewster Webinar
With author, Ingrid Ruthig
Wed Nov 3
3 to 4 pm, via Zoom
Hosted by the Department of English and the MFA in Creative Writing Program
In conjunction with the WRIT 990 graduate seminar
The Essential Elizabeth Brewster by Elizabeth Brewster and Ingrid Ruthig
(excerpted from Porcupine's Quill website)
In The Essential Elizabeth Brewster, questioning, conversational poetry melds the private and the collective, exploring the challenges of constructing selfhood and voicing historically silenced female perspectives… Editor Ingrid Ruthig examines the aesthetic touchstones, stylistic shifts and thematic range in the poetry of a woman 'whose work is included in critical anthologies while her name is missing from their introductions.'
'Ruthig's selections in The Essential Elizabeth Brewster encourage us to receive and honour a rich literary inheritance from one of our elder poets. Predecessors like Brewster carry in the marrow of their words the possibility of an expanded field… where the voices of past and present are simultaneously distinct and one.' —Susan McCaslin, The Ormsby Review
Ingrid Ruthig
(excerpted from Ingrid Ruthig's website)
Ingrid Ruthig, writer, poet, visual artist, and once-practising architect, is the author of This Being (winner of the Gerald Lampert Memorial Award and published by Fitzhenry & Whiteside), the poem-sequence artist's book Slipstream (ARKITEXWERKS), and the chapbook Synesthete II (Littlefishcartpress).
She is also the editor of several volumes of poems and essays, most recently The Essential Elizabeth Brewster (Porcupine's Quill, 2021) and David Helwig: Essays on His Works (Guernica Editions, 2018). Her award-winning visual works are held in several collections and have been exhibited in the Robert McLaughlin Gallery, Whitby Station Gallery, and other public spaces. She was a 2018 Fellow at Hawthornden International Writers Retreat in Midlothian, Scotland. She lives in Durham Region, east of Toronto, along the north shore of Lake Ontario, on the traditional and treaty territory of the Mississauga of Scugog Island First Nation (signatories of the Gunshot Treaty of 1788 and the Williams Treaty of 1923)
Organizer of Celebrating Elizabeth Brewster - with Ingrid Ruthig