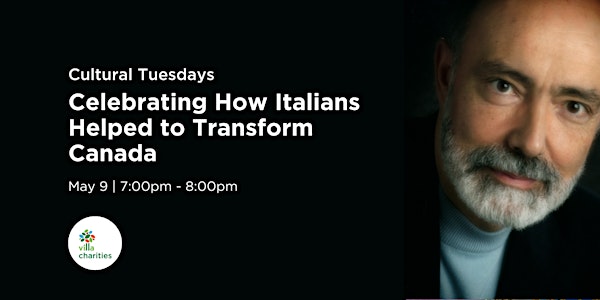 Celebrating How Italians Helped to Transform Canada
Inspiring presentation by Angelo Bolotta, Director of the "Transformations Canada" project celebrating how Italians helped transform Canada
Date and time
Tue, May 9, 2023 7:00 PM - 8:00 PM EDT
Location
Joseph D. Carrier Art Gallery, Columbus Centre 901 Lawrence Avenue West Toronto, ON M6B 4E7 Canada
About this event
Cultural Tuesdays
Celebrating How Italians Helped to Transform Canada
Presented in partnership with National Congress of Italian–Canadians and Toronto Catholic District School Board.
Italian Canadians have contributed greatly to Canada and Canadian society. The "Transformations: The Italian Canadian Experience", a Government of Canada funded website, is a celebration of these contributions and how Italians helped transform Canada, and how Canada helped to transform them.
This presentation by Angelo Bolotta, director of the "Transformations Canada" project, introduces the audience to this incredible "living" tribute that documents the resourcefulness of the Italian Canadian spirit, and ensures these experiences become part of Canadian history.
Presentor Bio:
Angelo Bolotta
Born in Carpanzano (CS), Angelo emigrated to Toronto as a child, in 1955. Bolotta is a career educator, curriculum leader, administrator, university instructor, and author with over 40 years of experience in public education. He has co-authored several textbooks and teaching resources for civics, economics, Canadian history and student assessment. Since 2013, Angelo has directed the Transformations Canada project, to document the Italian immigrant experience.
About the organizer
About Villa Charities
A registered charity, Villa Charities enriches lives through experiences and services that honour Italian culture and heritage. For more than 50 years across the GTA, the organization has provided cultural and educational programs and supported culturally sensitive long-term care and independent living apartments for seniors. VCI fulfills their mandate through a broad range of activities, services and facilities, both directly and in conjunction with its affiliates and independent organizations. Affiliates include Columbus Centre and Joseph D. Carrier Art Gallery; Villa Charities Foundation; Villa Colombo Homes for the Aged Inc. in Toronto; Villa Colombo Seniors Centre (Vaughan) Inc. Di Poce Centre; and Italian Canadian Benevolent Seniors Apartments Corporation/Casa Abruzzo Benevolent Corporation with apartments for independent seniors (Caboto Terrace, Casa Del Zotto and Casa Abruzzo). Each of these organizations is an integral part of the Villa Charities family with separate legal status and its own governance Board. For more information visit villacharities.com.