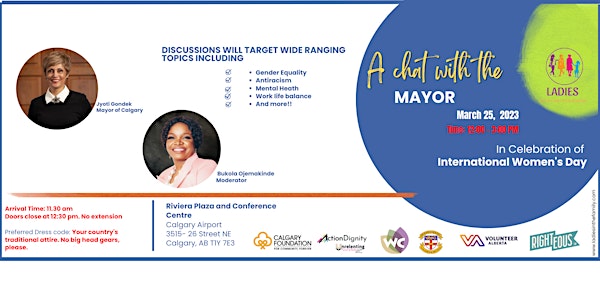 Celebrating International Women's Day: A Chat with the First Female Mayor
What is better than having a candid conversation with the first female mayor of Calgary as we celebrate International Women's Day? Join us!
By Ladies in the Family Foundation
Date and time
Starts on Saturday, March 25 · 11:30am MDT
Location
Riviera Plaza and Conference Centre Calgary Airport 3515 26 Street Northeast Calgary, AB T1Y 7E3 Canada
Refund Policy
Contact the organizer to request a refund.
Eventbrite's fee is nonrefundable.
About this event
3 hours 30 minutes

Mobile eTicket
As we celebrate International Women's day, we will use this valuable time with the mayor to discuss Gender Equity, Antiracism, Mental Heath, Work life balance and more!!
Within the 2 hours with the Mayor, the moderator will dedicate the first 30 minutes asking pointed questions and then the second half of the conversation will be the mayor taking questions from the audience, and several female representatives of different cultures.
There will also be networking, friendships, peer-peer support, refreshments and side chats.
Moderator: Bukola Ojemakinde is a Chemical Engineer in a reputable Oil and Gas company, but she is also a passionate community servant running two nonprofits out of Calgary. In the last 5 years, she has founded and grown Ladies in the Family Foundation (LIFF) as an organization that creates a friendly and culturally diverse platform for women and their families to develop healthier relationships with themselves and others towards emotional and mental wellness, increased social capital, increased productivity, and better integration into the Canadian culture through collaborative community building. LIFF is committed to bridging acculturation gaps, lessening social emotional incompetency, removing stigmas that are in the way of candid and non-judgmental conversations and inspire volunteerism and community engagement/development. In the last year, Bukola has raised money for LIFF and has developed partnerships with several ethnocultural organizations and multiple nonprofit organizations including Calgary African Community Collective (CACC), Canadian Centre for Diversity and Inclusion (CCDI), African Centre, Women Centre, WINS, Calgary Housing Company, City of Calgary, Bow Valley College and more. These strong partnerships provide avenues for mentorship and reverse mentorship but also allow for collaborations to reach those who are left behind in every sector of our beloved city while working with great minds to solve the critical issues that black girls, women and seniors face. In April 2022, Bukola was identified as one of the five Suncor employees making a huge difference in their communities (https://www.suncor.com/en-ca/news-and-stories/our-stories/five-suncor-employees-making-a-huge-difference-in-their-communities). For her community service, Bukola receives the Queen Elizabeth II's Platinum Jubilee Medal (Alberta) on February 1, 2023 from Her Honour, the Honourable Salma Lakhani, Lieutenant Governor of Alberta
Faciltator - Zita Tangwa Ndieshe is a special needs teacher with the Calgary Catholic School District. She is passionate about the plight of families with special needs kids. Zita's motivation in this area stems from her family and classroom experiences. This drove Zita to write a book, Unwrapping the Gift: The ultimate solution for Moms with special needs kids. The sales from her book fund the breakfast for change program. This program provides breakfast to students of The Our Lady of Consolation Special needs center, Bambili Cameroon—her home country. Zita's time in her classroom, prompted her to ask the critical question? What is a special need? Don't we all have special needs? She made a conscious decision to engage her type 2 diabetes diagnosis as a special need and to resolve it. This took Zita down the path of health management through lifestyle. Zita is an integrative nutrition health Coach, a Juice therapist and a fitness enthusiast. She is the founder and CEO of Intentional Well- being Foundation. Zita is married to her husband of 25 years Gilbert, and they are blessed with 3 kids, Mary Ivy, Britney and Daryl.
National Anthem Presentation - Carlamay Sheremata has spent the past 20 years in law enforcement working in areas such as Child Abuse, Domestic Conflict, Child at Risk Response Team (CARRT), School Resource Officer (SRO), Behavioral Science Unit (BSU) and the Diversity Resource Team.  Immigrants and Newcomers, Immigrant youth and youth at risk have always had a place in her heart and it became more apparent after spending 8 years working in the high schools as an SRO and then the last 2 years in the Diversity Resource Unit.  After realizing more needs to be done in this area, Carlamay has taken her passion and placed it into Diamond in the Rough Consulting Ltd.  This company helps bridge the gap between frontline workers which include; Police, EMS, Fire, Probation, Social Workers, Teachers, Group Homes, Government agencies, families and the youth.  By educating on Culture, Grass Roots, Trauma, peer pressures of today, diversity of each youth, looking at each youths strengths and healing, we are able to work together as a village and bridge the gap that has seemed to take over. Diamond In The Rough Consulting (DITRC) works to equip Immigrants with tools when it comes to parenting in Canada, interacting with Law Enforcement, triggers and traumas, culture shock, workplace bullying, Charter of Rights and what that means, as well as equips Companies (including Executive levels) that embrace immigrant employees with the tools to nourish, enhance and understand the different cultures. Through education and training programs which include Culture/Language, ABC's and Grass Roots, Trauma Based Care, and Needs of each Community (Programs customized as to what each Companies needs are) companies will posses the tools to connect with the immigrant employees as well as bridge the gap between cultures. These programs are offered through presentations, workshops and lunch and learns. With these added tools there will be a better understanding as to where the immigrant employees have come from and what they may have endured and need. Carlamay is also writing a book called Diamonds in the Rough which include stories from the youth that she worked with during her time as an SRO. No matter how rough life has been or how tarnished you believe you are, each person has the opportunity to shine bright just like a polished diamond.  Each person brings a light into this world and it is our mission to see that light and help them to let it shine!
Carlamay has a background in Psychology and Sociology and music and enjoys singing and spending time with her family.  This past year Carlamay has had the opportunity to live outside a box she never fit into and started a luxury consignment clothing store online which allows her to outlet her love for fashion and helping others to find their empowerment through clothing and self image.
Check out her video - https://calgary.ctvnews.ca/video?clipId=2647623&jwsource=cl
Master of Ceremony - TaiwoTeju-Ogungbe is one of the faces behind #Twinxkonsult. Together with her twin Kenny Sholabomi-Toye, they run the brand that gives excellent anchoring of social events. Even though they are both #Alagas (traditional wedding comperes), they handle any social event be it birthday, wedding reception, celebration of life, shower, concert, professionally. Apart from being Alagas/MCs, twinxkonsult also make gift baskets, surprises, red carpet hosting, etc. No wonder making your day memorable indeed is their watchword. When not handling the mic, Taiwo loves traveling and spending time with her family.
Spoken Word Presentation- Mofe Adeniran is a third year journalism student studying at Mount Royal University, Mofe plans on graduating from Mount Royal with her bachelor of Communications in Journalism and Digital Media. She was born in Lagos, Nigeria before eventually settling down in Calgary, Canada. Mofe's family has a tradition of visiting a new place every summer which inspired her love for travel. As a Nigerian, she is a hard worker with a strong attachment to family values and self autonomy . She graduated from Bishop O'Brien High School in 2019 and hopes to graduate from Mount Royal University by 2024.
Junior Photographer - My name is Omotola Ainenehi, and I'm a student at St. Mary's high school, in the full I.B. program. I've always loved photograpy, especially because of the fact that my mom does it. At times, when I was younger, I would fiddle with her camera, asking her questions about anything and everything about it, how it worked, which buttons did what, the settings and so on. She was my first inspiration.
Pam's Kitchen (Catering Services)- Pamela Gye's background is in Museum Management but she has since been involved in catering for over 10 years. Attendees to this event will have the luxury of enjoying Pam's spices in some of our refreshments. These spices are perfect for barbecues, grills, mixed vegetables, and so much more. The blend comes out of her passion for cooking and she has used her artistic flair to create these spices for delicious and tasteful meals everyone now loves. For more information, visit www.pamspices.com