Description
FILM - AMADEUS
Sunday, January 7, 2018 | 2:00 - 5:00 p.m.
The incredible story of Wolfgang Amadeus Mozart, told by his peer and the envy of his secret rival Antonio Salieri. Amadeus was nominated for 53 awards and received 40, which included eight Academy Awards, four BAFTA Awards, and four Golden Globes. Ages: 13+ FREE!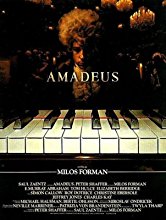 MUSIC PERFORMANCE - SOUNDS OF MOZART
Sunday, January 21, 2018 | 2:00 – 3:00 p.m.
Beautiful classical music will be supplied courtesy of talented bassist Jesse Dietschi, violinist Aysel Taghi-Zada and violinist Hua-Chu Huang, who will perform an impressive repertoire consisting of works by Wolfgang Amadeus Mozart. FREE!

Jesse Dietschi, Double Bass
Toronto bassist Jesse Dietschi is a versatile musician and composer equally experienced in jazz, classical, and popular music. He holds an Artist Diploma from the Glenn Gould School (RCM, Toronto) in Orchestral Performance, along with Masters degrees in both Jazz Performance (U of Toronto) and Composition (Brandon University). Jesse is a faculty member at the Southwestern Ontario Suzuki Institute, St. Andrew's College, and the Oakville Suzuki Association. He has appeared on international broadcasts including the CBC's Sounds of the Season and NBC's hit show Hannibal. Jesse is a member of the international touring ensemble Tunnel Six, contemporary jazz outfit the Nick Maclean Quartet, and has performed with Toronto's Canadian Opera Company and Esprit orchestras. He has also performed, toured, and recorded with a wide range of artists, including The Headstones, Metric, the Gryphon Trio, Robi Botos, Ken Lavigne, Tapestry Opera, Irene Torres and the Sugar Devils, and Mexico's Festival de Febrero. In 2015, Jesse performed in the Luminato Festival's historic production of R. Murray Schafer's Apocalypsis at Toronto's Sony Centre. He has studied with Jeffrey Beecher, Andrew Downing, David Occhipinti, Stan Label, and Steve Kirby, and has worked in masterclasses with Joel Quarrington and Timothy Pitts.
Aysel Taghi-Zada, violin
Aysel Taghi-Zada is a passionate violinist devoted to contemporary music and its performance. While studying at McGill University with Jonathan Crow, she co-founded Ensemble Paramirabo, a group that specializes in showcasing music written by Canadian composers and innovative concert programming. Aysel continues to actively collaborate with composers and musicians from Canada, the USA and Europe such as Brian Current, Elizabeth Kennedy Bayer and David Geringas. She is frequently invited to perform with Tapestry Opera, 21C New Music Festival and other concert series in Toronto. Aysel is a graduate of the Artist Diploma Program at the Glenn Gould School where she studied with Barry Shiffman.

Hua-Chu Huang, Violin
Violinist Hua-Chu Huang, a youthful and versatile musician, brings a wealth of experience in solo, chamber, and orchestral playing. As a passionate performer of new works in addition to canonized repertoire, Mr. Huang recently collaborated with flutist Carol Wincenc in the Canadian premiere of Yuko Uebeyashi's Misericordia at the Banff Centre, and also presented Andrew Norman's Gran Turismo at Toronto's New Music Festival, 21C. Mr. Huang has appeared in concert with the Canadian Opera Company, Philippe Djokic, Lynn Stodola, Denise Djokic, Barry Shiffman, and the new music ensemble suddenlyLISTEN. Mr. Huang holds an Artist Diploma from the Glenn Gould School at The Royal Conservatory of Music, where he studied with Paul Kantor and Barry Shiffman, was a Temerty Family Fellow, and was a winner of the 2017 GGS Chamber Music Competition.

Please join us at Richmond Hill Central Library!
Please select the date(s) of the event and joyfully register!
Gentle reminder to print a paper copy of the ticket and bring it to the program or have it avaliable electronically for scanning.
See you there!