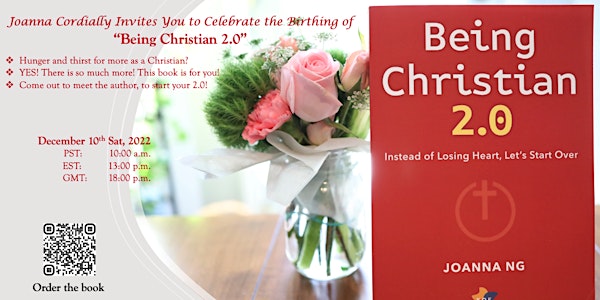 Celebrating the book, "Being Christian 2.0" by Joanna Ng
Cordially inviting you to the celebration of the birth of the book, "Being Christian 2.0", authored by Joanna Ng
About this event
Being Christian but not tasting life to the full that Jesus promised?
Distraught by the disarrays of today's evangelicals?
Hunger and thirst for more of God and of people of God?
Do not lose heart!
Let's start over is why the book "Being Christian 2.0" was written.
Cordially inviting you to come out to celebrate the birthing of this book - meet the author and hear the reading of excerpts.
Hope to see you online!
About the Book:
Being Christian 2.0: Instead of Losing Heart, Let's Start Over.
Available at Amazon.com - https://amzn.to/3i1JLnU and Amazon.ca - https://amzn.to/3VdILeC.
About the Event:
Book Launch Event Online
Date: Sat, Dec 10
Time: 1-1:45pm EST (10-10:45am PST / 6-6:45pm GMT)
Format: Zoom event (A link will be sent to registered guests, before the event.)