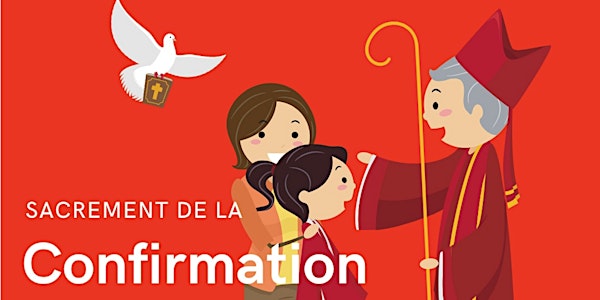 Célébration de la Confirmation-pour ceux qui ont suivi le parcours de prépa
Location
St. John of the Cross Carmelite Church
6890 Glen Erin Drive
Mississauga, ON L5N 2E1
Canada
Réservation d'un banc de l'église pour la famille immédiate et la/le témoin. Attention... NOTEZ LE LIEU DE LA CÉLÉBRATION et SOYEZ PONCTUEL
About this event
Date limite pour la réservation
Veuillez noter que le guichet sera fermé le vendredi 20 mai à 18 h. Merci de faire vos réservations dès que possible.
Bon retour à l'église
L'église de la Sainte-Famille est ouverte à pleine capacité. Nous sommes heureux de pouvoir vous accueillir en communauté pour célébrer la Confirmation de ceux et celles qui auront complété le parcours de catéchèse et participé à la retraite du 14 mai. Cependant, pour accommoder la grande "classe" de confirmandis, nous célèbrerons le sacrement à l'église St. John of the Cross, au 6890 Glen Erin Dr, Mississauga, ON L5N 2E1
Nombre de billets limité
Une réservation est nécessaire pour chaque membre de la famille ou invité(e), y compris pour le(la) témoin - que vous devez identifier. Si vous avez besoin de billets pour plus de 10 personnes, nous vous demandons de voir directement avec les familles moins nombreuses. Nous ne pouvons pas garantir des billets additionnels.