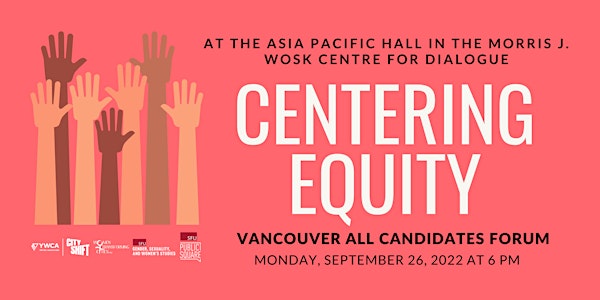 Centering Equity: Candidates Forum
A panel where municipal candidates will be asked about key issues that have been identified as priorities for equity-deserving genders.
When and where
Location
Asia Pacific Hall in the Morris J. Wosk Centre for Dialogue 580 W Hastings St Vancouver, BC V6B 1L6 Canada
About this event
Join Women Transforming Cities, YWCA Metro Vancouver, SFU Department of Gender, Sexuality and Women's Studies, and SFU Public Square as we ask Vancouver City Council candidates about their priorities and platforms, and how they will work together to make Vancouver a city where everyone belongs.
In Vancouver's first municipal election since the pandemic began, as residents continue to adapt and rebuild to the ongoing impacts of COVID-19, join us in conversation with moderator Ginger Gosnell-Myers and candidates from the major parties for Vancouver City Council as we discuss how they are centering equity in their policy platforms, and what commitments they will make to ensure Vancouver is a city where everyone belongs.
This event is presented by Women Transforming Cities and YWCA Metro Vancouver City Shift and supported by SFU Department of Gender, Sexuality and Women's Studies and SFU Public Square.
Registration
The forum will be in-person and also live streamed via Zoom. When you register, please select whether you will be attending in-person or virtually.
The in-person event will start at 5:30 PM with canapés and drinks beforehand. The forum will begin at 6:30 PM. The online event will start at 6:30 PM.
Disclaimer: As this event is free, and free events routinely have a high number of no-shows, it is our policy to overbook. In case of a full event, registration may not guarantee entry. Seating is limited and will be available to registered attendees on a first-come, first-served basis.
Format
All major parties have been invited to send 1 or 2 Council candidates.
75 minute panel where candidates will be asked about key issues that have been identified as priorities for equity-deserving groups in Vancouver.
45 minutes of networking with residents who are interested in learning more about party commitments to the municipal issues that are most important to women and equity-deserving communities.
Location
The event will take place in the Asia Pacific Hall in the Morris J. Wosk Centre for Dialogue at 580 W Hastings St, Vancouver. Enter via Seymour Street courtyard entrance.
Close to Waterfront Station & on the bus routes of lines 10, 19, 4, and R5.
Street parking/parking garages are available nearby at 500 & 400 W. Cordova St.
Bike stalls are available outside the Hastings entrance of SFU Harbour Centre (located across the street).
Refreshments
Light refreshments will be provided that suit most dietary needs such as vegetarian, vegan, gluten-free, and dairy free.
Covid Protocol
We strongly recommend wearing masks while moving around.
Please do not attend if you have symptoms of any kind.
Hand sanitizer will be provided.
Accessibility
Washrooms are located on the lower level, second, third, and fourth floors. The venue has a gender-neutral washroom, available on the second floor (take the hallway to the right).
All floors within the building are wheelchair accessible and serviced by elevators.
The chairs within AP Hall have armrests, with the seat measuring 50cm (w) x 48cm (d).
There will be an ASL interpreter at the event.
The event will be streamed virtually with closed captioning.
Media
If you are attending the event as media, please indicate in your Eventbrite registration in order to be allocated a reserved media seat. All media inquiries can be sent to media@womentransformingcities.org
Questions
If you have any questions about the event, please email monique@womentransformingcities.org
Moderator Bio:
Ginger Gosnell-Myers (she/her), from the Nisga'a and Kwakwak'awakw Nations is passionate about advancing Indigenous rights and knowledge through public policy and engagement processes. Truth is the pathway to reconciliation, and her award-winning projects have broken down barriers while co-creating new approaches for systemic change.
In November 2019, Ginger was appointed as the first Indigenous Fellow with the Simon Fraser University Morris J. Wosk Centre for Dialogue. This appointment reflects her distinguished achievements as a thought leader and practitioner who brings a deep understanding of urban Indigenous issues, years of practice in bridging Indigenous and non-Indigenous communities in developing public policy, and a passion for innovating new engagement processes that advance the United Nations Declaration on the Rights of Indigenous Peoples. Ginger's fellowship will focus on Decolonization and Urban Indigenous Policy and Planning, and builds upon the 20+ years she has in this field.
In 2022 Ginger authored "Co-creating the Cities We Deserve through Indigenous Knowledge" as part of the book "Sacred Civics: Building Seven Generation Cities". In 2012 as part of the CBC documentary series "8th Fire", Ginger was highlighted and profiled for her views on Indigenous issues and relations in Canada. She has delivered a TedX Talk - 'Canadian Shame: A history of Residential Schools', and a Walrus Talk - 'Who do you think we are'.
Candidate Bios:
Progress- Morgane Oger (she/her) Born in France and raised in Vancouver, Morgane Oger spent 25 years working as an international High-Tech consultant specialized in robotics, FINTEC, Energy, Search And Rescue, Internet, and Telecoms industries and is on the Canadian Technology Management team of an international big-box electronics retailer.
With a track record of activism dating back to the 1990s focused on systemic injustice, this transgender mom lives with her two school-age children in the heart of downtown Vancouver. Morgane Oger's work as a community organizer and changemaker is recognized for its success reaching the hearts and minds of others by working with everyone and convincing opponents there is better way. Morgane has helped others throughout Canada win significant victories on issues focused around equality and inclusion at all levels of Government and successfully spearheaded the push to convince Canadians to support human rights law that protects us all against discrimination based on gender identity or expression.
Morgane Oger is the founder of the Morgane Oger Foundation which helps narrow the gap between Canada's laws and the experience of people on the ground who face systemic discrimination because of who they are. Through the foundation, Morgane drives public-policy change for a more-inclusive society and supports vulnerable persons in BC and elsewhere. This includes developing free technological solutions to help people facing systemic discrimination address hate-motivated violence and supporting the Canadian Human Rights Commission to advocate for Transgender persons engaged in its Human Rights tribunal. Read more here.
Greens: Dr. Devyani Singh (she/her) is a climate scientist and an economist with expertise in energy and climate policy, oil and gas emissions, energy transitions, natural climate solutions, environmental finance, and sustainable forestry. Working extensively across disciplines and stakeholders, she understands the importance of collaboration between industry, academia, government, Indigenous communities, and nonprofits to promote the inclusion of science, decolonization, and social justice in decision-making across all sectors of the government.
We are in the middle of multiple crises - climate crises, a global pandemic (it's not over yet!), housing and affordability, among others. Moreover, the past few years have shown us how societal inequalities have a disproportionate impact on marginalized communities – BIPOC, LGBTQ2+, seniors, people living in poverty, and those with disabilities. As a climate scientist, an immigrant, a woman of colour, and a renter in Vancouver – Devyani understands these struggles faced by us all and is dedicated to collaborating across parties to build a sustainable city which is affordable and livable for all.
As we emerge from the pandemic, we need to ensure a stable economic future for Vancouver and for Canada, one that is Just and Green. We have the opportunity to be a global leader on environmental issues – for that we need to make tough decisions based on scientific evidence and put people before corporations or politics. As your future City Councillor, Devyani will promote the inclusion of science, decolonization, and social justice in decision-making across all sectors of the government. Read more here.
Greens: Stephanie Smith (she/her) is a labour and social justice activist living in the Downtown Eastside of Vancouver. She has worked in community service since the 1990s, as a legal advocate and union activist.
Stephanie was born in St. Paul's Hospital, attended high school in East Vancouver, and grew up around a small family business downtown. Her work with housing and economic justice issues has involved housing co-operatives, grassroots community groups, legal and government working groups, her unions, and the Vancouver and District Labour Council. She is a proud member of UFCW 1518 and USW 2009.
Stephanie wants to protect and build truly affordable housing so that people can stay and enrich the city they love, no matter what their income. She believes that public land should be used for public good and not for private gain. She has supported and worked with the independent music community since the 1980s and wants venues and art spaces, and the artists who work in them, to thrive.
She believes that a strong and diverse Green caucus can make Vancouver a city that is affordable for all: a city that leads on our environmental challenges, on housing, on health, and on our parks and green spaces. Read more here.
NPA: Melissa de Genova (she/her) is currently serving her second term as a Vancouver City Councillor and she was previously elected to the Vancouver Park Board.
Elected in 2014, Councillor Melissa De Genova has a long history of community and public service. She previously served as a Non-Partisan Association (NPA) Park Board commissioner from 2011–2014 and developed a passion for civic issues at a very young age.
Councillor De Genova is a strong advocate for seniors, working with both federal and provincial governments and the community to secure funding and move forward with a seniors centre in Southeast Vancouver.
Melissa brings professional experience working in both private and non-profit housing development to her role at city hall. She holds a political science degree from Simon Fraser University and has in the past worked in senior management roles for many companies and organizations in both non-profit and private sectors. As the first millennial ever elected to serve on Vancouver City Council, Councillor De Genova has worked to make Vancouver a safe, affordable, and family friendly city. Melissa lives in East Vancouver with her husband and their 4 year-old daughter. Read more here.
NPA: Arezo Zarrabian (she/her) is running for City Council with the NPA. She has demonstrated a lifelong commitment to supporting those within her community and is passionate about making Vancouver safer for all. Arezo was born in North America and grew up in an Iranian-immigrant family that worked hard to provide and establish themselves. Growing up in the Lower Mainland, her family experiences taught her to be proud of every achievement and to cherish safety within the community.
Her upbringing inspired her outlook, Arezo believes in hard work and that every human being has a duty to give back to their community in one form or another. For more than 13 years, Arezo has worked in some of Vancouver's largest districts as a leading Crime Analyst with the Vancouver Police Department (VPD). During this time, she has shown a strong ability to understand the safety issues affecting her community. The exposure provided her insight into crime data analytics, revealing crime patterns that required development of data-driven solutions. In one of her roles, Arezo was the sole analyst responsible for assessing all major violent crime incidents – including serious robberies and assaults – in the City of Vancouver.
For her efforts, she has received three Chief Commendations from the VPD; Arezo is one of few civilians earning this recognition. Read more here.
Forward Together: Tesicca Truong (she/her) My name is Tesicca Truong 張慈櫻 Trương Từ Anh. I have many names because I span many worlds. I'm the daughter of immigrants and refugees. I'm young and I'm racialized – and I am running for city council not in spite of these identities, but because of them. I believe that our city councillors need to reflect the true diversity of Vancouver.
I've been working to bring people together to find solutions for almost a decade. I have advised B.C.'s Minister of Environment and Climate Change Strategy on climate change policy, and co-founded CityHive, a not-for-profit organization focused on engaging young people with government and institutions. I have served on the Mayor's Engaged City Task Force under the previous mayor and have been awarded Vancouver's Greenest City Leadership Award.
In the 2020 provincial election, I ran with the BC NDP in Vancouver-Langara, and I currently work as the Manager of Engagement and Social Enterprise at the SFU Morris J. Wosk Centre for Dialogue. What I know is that political decisions are made by those who show up, and I want to show up for Vancouverites. Read more here.
Forward Together: Jeanette Ashe (she/her) I am an educator, author, and advocate who has dedicated my professional career to increasing equity, diversity, and inclusion in government and helping women get elected to political office.
I hold a PhD in political science, and am the chair of the Political Science Department at Douglas College and a Senior Research Fellow at King's College, London. Through this work, I've seen just how critical it is to advocate for equality, justice, and a better, more compassionate, and inclusive Vancouver.
I'm proud to call Yaletown home. During the last two years, I saw first hand the huge challenges and massive changes the pandemic brought to all our lives – but especially the most vulnerable in our community.
As part of Forward Together I will fight hard every day for what matters the most to people. That means building housing with complex care, expanding overdose prevention sites, and building public washrooms. It means opening more affordable childcare spaces in our community and tackling climate change through the fully funded Climate Emergency Action Plan. Read more here.
COPE: Nancy Trigueros (she/her)I bring over 20 years of experience as a community advocate for immigrant rights, civil rights, and labour rights. In Vancouver, I've worked on many campaigns fighting systemic discrimination in our city, where over 40% of residents are immigrants. As Co-Chair of COPE for the past three years, I've been endlessly inspired by our wonderful COPE elected officials and dedicated volunteers who fight selflessly for social and environmental justice. I describe myself as an activist who believes that politics is a means to empower people into action, and that politics should be in the hands of everyday citizens rather than traditional politicians. My hope is that as City Councillor I can work to visibilize the issues of the larger community in a way that better represents us all and meets our needs.
My first priority is to keep making progress on the key issues COPE has been fighting for, including taxing the rich to end homelessness, eliminating poverty, winning rent control, decriminalizing drugs, and preventing violence against women.
As an immigrant rights advocate, I'll work tirelessly to ensure that permanent residents finally have the right to vote in municipal (and other) elections. It's time for permanent residents to claim their political rights, as they have in many cities around the world. Read more here.
COPE: Tanya Webking (she/her) My name is Tanya Webking and I'm Dene/German from the Tlicho Nation. I began working in the Downtown Eastside of Vancouver 25 years ago. I have a background in mental health and addiction issues, counselling, advocacy, mediation, research, and grassroots community organizing. Currently I'm the Indigenous Health Promotion Case Manager at AIDS Vancouver and I am also co-chair of the City of Vancouver's Renters Advisory Committee.
As I don't recognize colonial borders, I've been involved in grassroots community work all over Coast Salish Territories, focusing for the past several years on tenants rights and anti-poverty work. I was a founding member of the Tacoma Tenants Organizing Committee where we got seven pro-tenant laws passed in seven months through grassroots organizing. I am also the VP of the Tenants Union of Washington State.
We need to build collective power in this election year so that we can get progressive representation on City Council and pass progressive policies. We live within a colonial paradigm where all systems of power are imbalanced. Through my work in the Downtown Eastside, I witness the direct effects of colonization every day. Indigenous systems of community tell us that no one should be uncared for. It's time to move from empty land acknowledgments into systemic changes that break down colonial systems of power – for decolonizing to move from theory to action. I look to uplift the principles of equity, inclusion, diversity, intersectionality and trauma-informed care in all of my work and I would love to represent COPE for City Council. Read more here.
ABC: Rebecca Bligh (she/her) was first elected to Vancouver City Council in 2018. Motivated by a core value of community, Rebecca's conviction and receptivity are now serving our city at large.
During her time on Council, Rebecca has fought for taxpayers, accountability and fiscal responsibility. She has stood up for diverse and inclusive communities. A champion for livability, over the past four years she has voted time and time again to make life more affordable for Vancouverites.
Rebecca is dedicated to addressing many of the major challenges facing Vancouver including the affordability crisis and issues around public safety and the poisoned drug crisis. Rebecca has served since 2018 as a director for the Federation of Canadian Municipalities, currently Chair of Governance and is the Chair of the Standing Committee on Finance with the City of Vancouver.
Outside of politics Rebecca is the founder of BLACKPiiN a consulting and facilitation practice providing leadership development to executives and teams, working with them to define, develop and implement strategies to enable success by uncovering how their leadership can achieve their desired results. Read more here.
Vote Socialist: Sean Orr (he/his) From the birth of this city,, which was itself an insider real estate deal, to the birth of social movements in the 60s and 70s, the fight against displacement during Expo 86, the APEC riots in the 90s, Woodsquat, cancel 2010, to today- I'm proud to be part of the next chapter in the fight for social justice.
I've been writing about this city for decades. I love it. But I hate what it's become. A playground for the 1%. A Hedge City where the financialization of real estate has destroyed the social fabric. A police state on stolen native land.
We can't let the right wing dominate the narrative that Vancouver is overrun with crime without first understanding the root causes of crime- inequality. These parties don't want real solutions- they want the status quo, and the status quo is clearly not working. But what can we expect from a former Parks Board commissioner who doesn't even know what garden shears look like!
We need radical action at city council- not pearl clutching and constant points of order. Policy not pet projects. People over profits. We need a large scale transfer of wealth. We need to protect renters. We need safe supply. We need free transit. We need to protect small businesses. We need to refund our communities. We need to tax the rich. We need to punch up not down! We need a Vancouver for All! Read more here.
TEAM: Cleta Brown (she/her) Born in Vancouver, Cleta has watched the city's livability and affordability erode. She feels the incredible potential of this city is still within reach if we act boldly with democratic principles, intelligence, pragmatism and understanding.
What Cleta will bring to City Council:
Her legal experience – prosecuting trials and conducting hearings – has given Cleta capability in assessing information. She will quickly learn and make effective use of City Council procedures, focussing on critical aspects.
Ombudsman work has given her investigating, mediating, negotiating and advocacy skills and knowledge, and experience resolving citizen complaints.
Cleta's strong interest and belief in procedural fairness will lead her to examine the various processes (Is this fair to all impacted or interested? Has there been reasonable and timely dissemination of relevant information to enable informed participation in decision making? Are we serving the public constituencies by our process and decision?)
Having lived in Vancouver all her life both as a renter and homeowner, she is familiar with the city. She has observed and spoken before Council meetings. Read more here.
TEAM: Grace Quan (she/her) Grace has a range of experience with corporate governance, negotiation, leadership, team building and marketing. Her childhood connection to Chinatown inspires her commitment to making a difference in one of Vancouver's earliest neighbourhoods.
What Grace will bring to City Council:
Experience with high levels of bureaucracy and an understanding of how to achieve change.
On-the-ground knowledge of Chinatown where she stayed in an SRO with her grandmother as a child.
As a Gastown resident, a keen interest in finding solutions to the problems facing the DTES. Read more here.
OneCity: Iona Bonamis (陶思穎) (she/her) works for the City of Vancouver as a senior transportation planner, with a Masters of Science in Community and Regional Programming from UBC and more than 13 years experience as an urban planner. Bonamis is a small business owner and a Vancouver-born, first-generation Chinese-Canadian who speaks fluent Cantonese. Read more here.
OneCity: Matthew Norris (he/him) is the president of the Urban Native Youth Association, which provides programming for Indigenous youth and their families. Norris brings years of policy experience with the Union of BC Indian Chiefs, the Canadian Centre for Policy Alternatives, and as an Indigenous delegate to the United Nations. He is Nehithaw and a proud member of Lac La Ronge First Nation. Read more here.
Vision: Lesli Boldt (she/her) Lesli cares about the work she does, and the community she lives in. She is the owner of Boldt Communications Inc., a Vancouver-based communications firm founded in 2001.
Lesli is passionate about public and community service. Before founding her own company, Lesli worked at Vancity Credit Union and held progressively senior positions with the B.C. government in Victoria and Vancouver between 1992 and 2000. She directed marketing and communications for Vancouver Public Library (2004-2007), and led the City of Vancouver's 2010 Winter Games-related public communications (2008 to 2010).
Lesli is passionate about environmental protection and climate action. Between 2012 and 2020, she was a member of the board of directors of Georgia Strait Alliance, a BC-based environmental advocacy organization, serving two years as president. In her professional life, she's also worked with leading environmental and climate action organizations like the David Suzuki Foundation, Clean Energy Canada, Climate Smart and more. Lesli lives without a car, and gets around the city on foot, bicycle, transit or in a Modo, Evo or carpool. Read more here.
Vision: Honieh Barzegari هانیه برزگری (she/her) moved to Vancouver from Tehran in 2015. She proudly obtained her Canadian citizenship in 2019. She earned her medical degree in Tehran, Iran where she had a rewarding career as a family doctor. She then began to work for a pharmaceutical company and advised on best medical practices and ensured compliance to medical standards and ethics. During this time, she earned her Certificate in Business Management. When she arrived in Vancouver, her first job was teaching at a private post secondary college, where she used her medical knowledge to train clinicians in a vibrant and diverse atmosphere. For the past four years, she has worked at a Vancouver-based healthcare technology startup company, combining her medical knowledge and business experience.
As an immigrant and relative newcomer to Vancouver, Honieh has personally faced the challenges of starting over, growing roots and making a new place home. Since settling here, she has made many new friends and admires the strengths and diversity of her fellow Vancouverites. Honieh's experience in business and tech has given her an understanding of the importance of technology jobs and their contribution to Vancouver's growth and future prosperity.
The Covid pandemic has taught us that all aspects of personal health and well-being are essential to the health of our community. Honieh's medical background and volunteer experience gives her the ability to integrate public health concerns into every issue she considers. Read more here.
About Women Transforming Cities and the Hot Pink Paper Campaign
Women Transforming Cities is a grassroots organization that works to make things better where we live. We collaborate with community members who have experience and wisdom on issues that need to be changed to build a better community for everyone. You can find out more at womentransformingcities.org
Our Hot Pink Paper Campaign brings together people and organizations to talk about the most pressing city-based issues and hear what it is that we need to belong. We compile that community feedback to share with municipal candidates to challenge their platforms so they can commit to implementing the policy we need.
After the election, we track the new Mayor and Council's follow through on the solutions raised during the Hot Pink Paper Campaign.
About YWCA City Shift
YWCA City Shift aims to make our cities more equitable, prosperous, and just by supporting Metro Vancouver municipalities to adopt an intersectional lens across policy, funding, and service decisions. City Shift is funded by Women and Gender Equality Canada.
About YWCA Metro Vancouver
YWCA Metro Vancouver is a registered charity, gender equity advocate and community service provider. We boldly envision a just and equitable world for women, families and allies. We deliver affordable housing, early learning and child care, training and employment services, and a range of holistic programs that help support individual, collective and economic well-being.
We acknowledge that the event will take place on the stolen, unceded ancestral territories of the xʷməθkwəy̓əm (Musqueam), Skwxwú7mesh (Squamish), and Səl̓ílwətaʔ/Selilwitulh (Tsleil-Waututh) Nations.
Authorized by Ashleigh Peplow Ball, registered sponsor under LECFA, ash@womentransformingcities.org