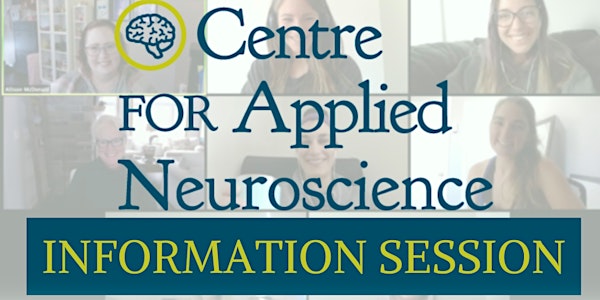 Centre for Applied Neuroscience Life Coaching Certification Info Session
Learn more about our Life Coaching Certification Courses! We blend neuroscience, positive psychology & mindfulness to build meaningful lives
About this event
At Centre for Applied Neuroscience (CAN), our mission is to inspire and support discovery and curiosity of mind, body, and brain in a way that honours individual differences and shared experiences with an ultimate goal of improving wellbeing for all. Find out more about CAN here (https://www.knowyourbrain.ca/)
We currently offer our Life Coaching Certification online and in Toronto. You can check the dates for our upcoming courses on our events page here: https://www.knowyourbrain.ca/events
The purpose of this course to learn concepts and techniques that can be used for our own personal growth journey and the journey of others through life coaching. The course samples a variety of topics within neuroscience, Western/modern psychology, Eastern/ancient psychologies (e.g., Yoga and Buddhism philosophy), and mindfulness.
Throughout this course, students are encouraged to explore and develop their own inner wisdom by thinking critically about the concepts in neuroscience and psychology, by cultivating awareness through meditation, yoga, and mindfulness, and by inspiring our intuitive sense of knowing through deep reflection and contemplation and through independent studies. Students of this course learn from a variety of perspectives including their own existing knowledge, the knowledge of the course facilitators, and knowledge of others who take part in the group. Learn more here (https://www.knowyourbrain.ca/courses/life-coaching-certification)
Please Note: After registering here on Eventbrite, you will be emailed a Zoom link for the info session!