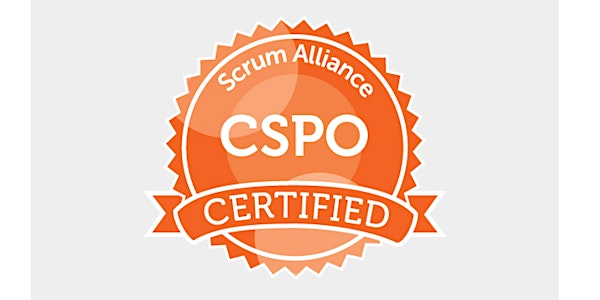 Certified Scrum Product Owner(CSPO)Training from Aakash Srinivasan
CSPO Virtual training delivered by Aakash Srinivasan (CST) https://www.simpliaxis.com/ca/cspo-certification-training#730271
Refund Policy
Contact the organizer to request a refund.
Eventbrite's fee is nonrefundable.
About this event
Course Overview:
Product Owner opportunities are endless in the Agile market. Every organization using the Scrum framework needs a professional who can maximize the business value by getting an early return on investment. A product owner is a professional who can as an intermediary and maintain a relationship with the stakeholders. They also get to work with the Scrum team to understand the product requirement so that the maximum outcome is gained without any impediments. They also ensure that business priorities are set, and the customer gets the highest satisfaction from the Scrum team's product.
The CSPO Certification teaches the numerous aspects of on-time high-values releases and ways to maximize the ROI. It enables the candidate to widen the scope of their career with the knowledge of popular Agile practices. The CSPO training helps professionals to make better products by leading and implementing Scrum in the team. It also enhances an individual's capabilities to spread the adoption of Scrum and assist others in acquiring an Agile mindset.
Agenda
Product Owner Core Competencies
Fundamentals of the Product Owner Role
Working with Stakeholders
Product Ownership with Multiple Teams
Describing Purpose and Strategy
Product vision
Product planning and forecasting
Planning a product release
Understanding Customers and Users
Performing discovery and validation work
Approach for segmenting customers and users
The technique to prioritize conflicting customer needs
Product discovery and successful product outcomes
Approaches to connect the Development Team directly to customers and users
Benefits of Development Team direct interactions.
Validating Product Assumptions
Validating product assumptions.
Working with the Product Backlog
Differentiating Outcome and Output
Defining Value
Creating and Refining Items
Key Features:
Gain 16 PDUs and SEUs in 2 days of the workshop
Training by experienced Certified Scrum Trainers (CSTs)
Practical knowledge by hands-on Scrum activities
Succeed as a useful Product owner by addressing Scrum challenges
Experiential learning format to advance your Scrum knowledge
Certification by Scrum Alliance, a globally acclaimed accreditation body
Certification Process:
Step 1: Signing up with a Registered education provider of Scrum Alliance.
Step 2: Understand basic Scrum concepts and terminologies from the Scrum Guide and Agile Manifesto to be ready for the training.
Step 3: Attend the 2-day CSPO course instructed by Certified Scrum Trainers (CSTs)
Step 4: After course completion, the CST will update your details to the Scrum Alliance website.
Step 5: Scrum Alliance will send an email to log in to your Scrum Alliance account.
Step 6: Log in through this link, reset your login credentials, and accept your license.
Step 7: Download your CSPO certification by accepting a license.
For any Registration, Group Discount and inquiries, Please contact us
3 Participants 7% Discount
5 or more Participants 12% Discount
10 or more Participants please contact us at support@simpliaxis.com or
+1 361-998-9988 or +1-249-500-3143
About The Instructor:
Mr. Aakash Srinivasan CST from Scrum Alliance
Aakash Srinivasan is the co-founder of Scrumatics, an agile training and coaching service company based in Silicon Valley, California that is focused on educating organizations new to agile, about the structural changes needed to facilitate agile adoption and helping them execute a transformation of their culture towards an environment welcoming of change and adaptability.
Aakash frequently speaks at Agile conferences and Scrum user groups. Some recent instances include; Global Scrum Gathering MN 2018, Southern Fried Agile 2016, ADC West 2016, Heart of Agile 2016, Big Apple Scrum Day 2016, Global Scrum Gathering Orlando 2016, Innovate VA 2016, AgileIndy 2015, Agile 2015, IIBA DC, Illinois Regional Agile Users Group, Washington DC Scrum User Group, Baltimore Agile, Agile Professionals VA, Agile Chicago Style podcasts.