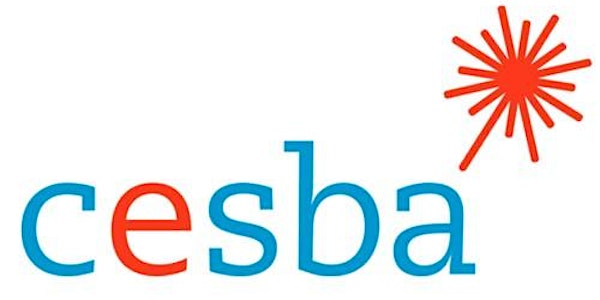 CESBA West Regional Meeting- in person
An in person meeting of the members of the West Region of CESBA.
Date and time
Thu, Jun 8, 2023 8:30 AM - 1:30 PM EDT
Location
G.A. Wheable Centre Wheable Adult Education Centre 70 Jacqueline Street LONDON, ON N5Z 3P7 Canada
About this event
This in-person event is primarily for CESBA members - those working in adult and continuing education through Ontario Boards of Education or their affiliates. Please use your work email to register.
Please join us to share your experiences and your learning tools. This meeting will include updates from Ministry and CESBA colleagues, and small group discussions by sector.
Coffee, Tea and light Lunch will be provided
For more information please visit: https://cesba.com/events/
Joignez-nous pour partager vos expériences et vos outils d'apprentissage. Cette réunion comprendra des mises à jour des collègues du ministère et du CESBA et des discussions en petits groupes par secteur.
Thé, café et un déjeuner léger seront servis
Pour plus de renseignements veuillez visiter https://cesba.com/events/
About the organizer
CESBA is a provincial non-profit association that represents, advocates for and supports adult and continuing education (A&CE) program staff working in school boards across Ontario. 

In addition to advocacy and professional development opportunities, we support and build capacity for professionals working in the A&CE sector through information, tools, resources and community partnerships.

Our members provide programs to over 300,000 adult learners in Ontario every year. To learn more about our work, visit us online at www.cesba.com.

---------------
CESBA est une association professionnelle sans but lucratif qui représente et soutient le personnel chargé de l'éducation des adultes et de l'éducation permanente (EAEP) dans une soixantaine de conseils scolaires de l'Ontario.
CESBA s'assure que les programmes d'éducation des adultes et d'éducation permanente des conseils scolaires sont accessibles et abordables, et qu'ils permettent aux apprenants d'atteindre leurs objectifs d'éducation, de formation et d'emploi.
Nos membres offrent des programmes à quelque 300 000 apprenantes et apprenants adultes en Ontario chaque année. Pour en savoir plus, veuillez nous vister à www.cesba.com