Description
Are U.S. equities overvalued?
U.S. equities have risen over 300% since the depth of the Great Recession. The Shiller Adjusted PE ratio now stands at over 28X, while the historical median is only 16X. However, with treasury bond yields still low, the equity risk premium remains substantial, suggesting continued upside potential. How does the current market environment impact the advice investment professional give clients regarding their U.S. equity holdings?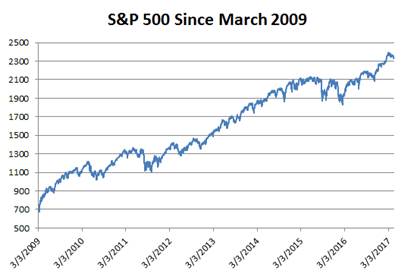 Those are the topics for discussion at the next CFA Society Ottawa Ideas Night, where fellow members and candidates can discuss and debate topics relevant to the investment profession, in an informal setting.
When: Thursday May 18th from 5:00 – 6:30 p.m.

Where: Brixton's British Pub, 210 Sparks St. (corner of Bank and Sparks).

Cost: Free to members and candidates (includes one complementary beverage and snacks).

Please register by Tuesday May 16th.

For some different perspectives on the discussion topics, check out the links below:

Happy Birthday, Bull Market! It May Be Your Last
http://fortune.com/2017/03/09/stock-market-bull-market-longest/
The end of the bull market is nigh warn Bank of America analysts
http://business.financialpost.com/news/economy/the-end-of-the-bull-market-is-nigh-warn-bank-of-america-analysts
Robert Shiller: With stock valuations high, it's time to reduce your holdings
http://www.cnbc.com/2017/02/24/robert-shiller-with-stock-valuations-high-its-time-to-reduce-your-holdings.html
Equity Risk Preium Still 'Very Wide', Feroli Says - Bloomberg

https://www.bloomberg.com/news/videos/b/1d1e2d1f-48a9-40b2-b0fd-936d072ec047

Bernhard Eichenlaub, CFA
Past President
CFA Society Ottawa