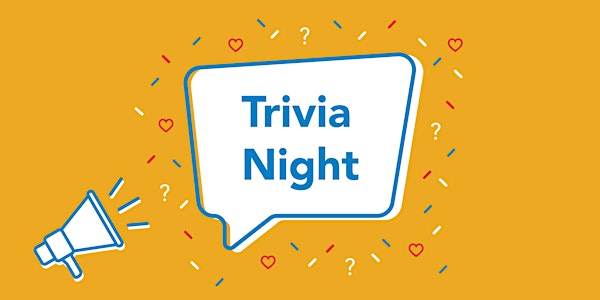 CFB Trivia Night # 3 - for United Way
Welcome newcomers and returning quizzers to Trivia Night #3 in support of the United Way KFL&A, taking place over Zoom
By United Way Kingston, Frontenac, Lennox & Addington
Date and time
Tue, Oct 13, 2020 5:00 PM - 7:00 PM PDT
Refund Policy
Contact the organizer to request a refund.
About this event
Stuck at home with nothing to do? Looking to help others while enjoying yourself? Consider yourself a know-it all? Enjoy friendly competition and learning new things about the world? If you answered yes then this Trivia challenge is perfect for you!
Compete by yourself or raise a team and challenge others for ultimate Trivia dominance and bragging rights against your colleagues!
We will be hosting 6 weeks of Trivia fun! Each week will have 75+ questions, separated into 15 different categories. You might not know-it-all, but you're bound to know something! For those whose teammates are scattered we recommend coordinating via Whatsapp, Facetime, Skype or other means. There will be categories like food, geography, pop culture, history, dinosaurs, and much much more! No one is too young to help out, some weeks that may even be an advantage!
Trivia will be held over Zoom, the account generously donated by United Way KFL&A, so you can enjoy a night of entertainment in the comfort of your own home! All money raised goes to the United Way of KFL&A to help them keep up their good work of supporting programs and agencies helping so many in our community.
You can buy your tickets on EventBrite at the link below - donate what you can, suggested minimum donation is $2 per person but any donation is appreciated, it is for a good cause.
Thank you for your donations and enjoy!
Pris à la maison avec rien à faire? Vous voulez aidez les autres en ayant du plaisir? Est-ce-que vous pensez tout savoir? Aimez-vous apprendre de nouvelles choses à propos du monde tout en ayant une compétition amicale? Si vous avez répondu oui cette compétition de 'Trivia' est pour vous!
Participer par vous-même ou monter une équipe et défier les autres pour prouvez votre dominance du Trivia et obtenir les droits de vous vanter à vos collègues!
Nous allons faire 6 semaines de Trivia! Chaque semaine aura 75+ questions, séparé entre 15 catégories différentes. Vous n'allez peut-être pas tout savoir, mais vous allez savoir quelque chose! Pour ceux donc leurs équipe sont dispersé, nous suggérons utiliser Whatsapp, Facetime ou Skype pour coordonner vos efforts. Il y aura des catégories tel la nourriture, la culture populaire, l'histoire, les dinosaures et plus encore! Personne n'est trop jeune pour aider, pour quelques semaine, cela pourrait même être un avantage!
La Trivia sera tenu sur Zoom, le compte ayant été généreusement offert a notre usage par Centraide KFL&A pour que l'on puisse profiter d'une soirée de divertissement dans le confort de notre maison! Tout l'argent collectionner ira aux programmes de Centraide afin de les aider a continuer leurs excellent travail de support aux programmes et agences qui aide tant de gens dans notre communauté.
Vous pouvez acheter vos billets sur EventBrite aux liens ci-dessous-donnez ce que vous pouvez, la donation suggéré est de $2 par personne par semaine mais n'importe quel montant est apprécier, c'est pour une bonne cause. Vous n'avez besoin que d'une seule donation par équipe pour participer au Trivia de cette semaine.
Le Trivia sera en Anglais uniquement mais le MC pourra répondre en Français au besoin s'il y a des questions.
Merci pour vos dons et amusez-vous bien!