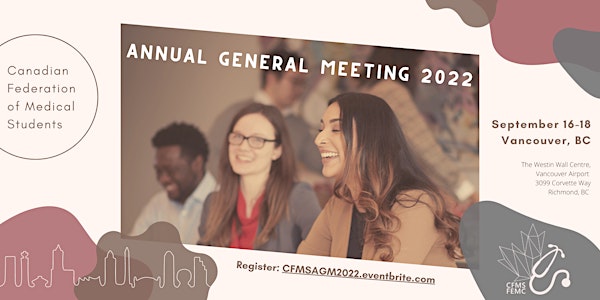 CFMS Annual General Meeting 2022 - Vancouver, BC
The CFMS SGM 2022 will be held in Vancouver, BC for 2 full days of roundtables, networking, exhibition booths and social events!
When and where
Location
The Westin Wall Centre, Vancouver Airport 3099 Corvette Way Richmond, BC V6X 4K3 Canada
About this event
ALL attendees of the CFMS Annual General Meeting (AGM) 2022 must complete this registration form. Registration deadline: Sunday August 14th at 11:59pm PST
REGISTRATION FEES: Registration fee is $150.00 per delegate. This fee includes AGM attendance, meals, and social events.
The fee DOES NOT include hotel accommodations. Students must arrange for their own hotels (excluding CFMS-funded delegates or award winners).
We have partnered with the Westin Wall Centre to offer our attendees a special group rate of $239/night! Please click here to book your room by Monday, August 15th 2022.
If you would like to speak to a hotel representative, feel free to email: reservations@wallcentre.com or call: 604-331-1000
Agenda Outline
Thursday September 15th
Registration | 6:00-8:00 PM
Friday September 16th
Presidents/Academic/Wellness Roundtables | 8:00 AM - 10:00 AM
Reps/Global Health/Gov. Affairs Roundtables | 10:00AM -12:00PM
Exhbition Booths | 9:00 AM - 5:00 PM
AGM General Assembly | 12:00 - 5:00 PM
CFMS Dinner Reception | 7:00 PM - 11:00 PM
Saturday September 17th
Equity, Diversity & Inclusion (EDI) Roundtable | 9:00 AM - 10:00 AM
Exhibition Booths | 9:00 AM - 5:00PM
AGM General Assembly | 10:00AM - 5:00PM
UBC Evening Social | TBD
Sunday September 18th
CFMS Board Meeting | 9:00AM - 12:00PM
PLEASE NOTE: Accommodation and meals are charged to the CFMS based on registration numbers collected by the deadline (August 14th) and thus cancellation or refund is not possible.
Please contact office@cfms.org with any questions.