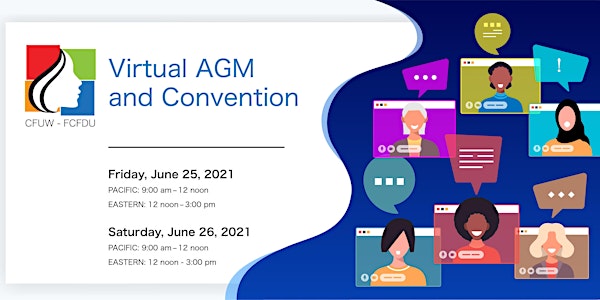 CFUW Virtual AGM and Convention
CFUW Virtual AGM and Convention
About this event
The CFUW Annual General Meeting (AGM) will take place electronically on Friday, June 25, 2021 from 9:00 a.m. – 12 noon PACIFIC (12 noon — 3:00 p.m. EASTERN) and Saturday, June 26, 2021 from 9:00 a.m. to 12 noon. PACIFIC (12 noon — 3:00 p.m. EASTERN).
The meeting will take place in the form of a webcast. This means people will need to have access to an internet-enabled device to see the slides and hear what is being said. You will receive all of the relevant information to join the meeting sent to your email on June 10, 2021 from cfuwgen@rogers.com.
Please register here by including your name, Club, if you are a board member, regional director, or past president and whether or not you are a voting delegate.
Also, please consider making a donation to the CFUW Charitable Trust at https://cfuwcharitabletrust.ca/how-to-donate/. A tax receipt for the amount of the donation will be issued by the Trust.
We look forward to "seeing" you there!