CGS-SOS 2019 Workshop - Fundamentals of Risk in Geotechnical Engineering

Wednesday, 13 February 2019 at 7:30 AM

-

Thursday, 14 February 2019 at 5:00 PM (EST)
Event Details
This technical workshop is designed to provide insights into the concept of risk, risk management and mitigation from legal, business and engineering standpoints in geotechnical engineering and includes case histories in underground constructions. The workshop highlights the importance of adopting rationale, consistent and documentable design approaches that are informed of and accounting for the uncertainties in the geotechnical parameters, analysis and design approaches. It will provide the participants with a concise understanding of risk, its implications for projects with significant ground engineering components from owner, consultant and contractor perspectives, and aims to promote risk-informed decision making in the field of geotechnical engineering.
Distinguished speakers with diverse backgrounds in this field are invited for this workshop to cover technical, business, regulatory and legal aspects of this topic.
Each day of the workshop qualifies for up to 8 hours of Continuing Professional Development (CDP) hours.  The workshop is suitable for Geotechnical and Geo-structural Consultants and Designers, Contractors, Government Agencies, University Students and other practitioners who desire continual improvement to their engineering skills. This workshop is an excellent source of information and professional development for professionals in the field of geotechnical engineering and other interrelated fields.
Presenters - Ms. Annette Bergeron, President of Engineers of Canada; Prof. John Christian, University of Massachusetts Lowell; Ms. Sharon Vogel, Singleton Urquhard Reynolds Vogel; Mr. John Westland, Ground Truth Engineering; Mr. Randall Essex, Mott MacDonald; Dr. Dennis Becker, Golder Associates 
When: Wednesday, Thursday - February 13 and 14, 2018; 7:30 am to 4:45 pm
 Day One Topics:
1.1        A Regulatory Perspective: The Role of Engineers in Managing Project Risks
1.2        The Evolution of Risk-Informed Geotechnical Engineering
1.3        Geotechnical Failures - Perspectives and Examples (1)
1.4        Managing Legal Risks in Geotechnical Engineering
1.5        Panel Discussion 
Day Two Topics:
2.1        The Role of Load and Resistance Factor Design (LRFD) in Managing Geotechnical Risks 
2.2        The Role of Geotechnical Baseline Reports in Managing Project Risks (Tunneling/Excavations)

2.3        Geotechnical Failures - Perspectives and Examples (2)

2.4        The Role of Geotechnical Baseline Reports in Managing Project Risks (Case Studies)

2.5        Panel Discussion

Link to the Workshop Brochure: 
http://cgs-sos.ca/event/february-2019-workshop-fundamentals-of-risk-in-geotechnical-engineering-technical-business-regulatory-and-legal-perspectives/
When & Where

Pearson Convention Centre
2638 Steeles Avenue East
Brampton, ON L6T 4L7
Canada

Wednesday, 13 February 2019 at 7:30 AM

-

Thursday, 14 February 2019 at 5:00 PM (EST)
Add to my calendar
Organizer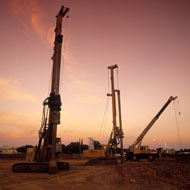 About Us
The Canadian Geotechnical Society Southern Ontario Section (CGS-SOS) represents the national organization at the local level centered at the Greater Toronto Area (GTA) and covering some cities in Southern Ontario. The CGS-SOS was established in the early 1970s and forms the largest region of the Society. Its purpose is to provide opportunities for continuing education (through lectures and seminars), and for constructive dialogue and sharing of experiences. This is accomplished through organizing events on about a monthly basis.
The Canadian Geotechnical Society (CGS) is an independent, federally incorporated, non-profit learned society which exists to serve and promote the geotechnical and geo-science community in Canada. It encompasses a wide spectrum of scientific and engineering disciplines within the geotechnical field. Membership is open to individuals from all sectors including private consulting, universities, industry, contracting and public services.