CGS-SOS Summer Workshop - Pile Capacity Verification & Testing Methods (8 Hours PEO PEAK / DAY)

Wednesday, 25 July 2018 from 7:30 AM to 4:00 PM (EDT)
Event Details
Summer Workshop: Pile Capacity Verification & Testing Methods
CGS-SOS is pleased to present a one-day summer workshop, designed for Geotechnical Consultants, Geo-structural Designers, Specialty Geotechnical Contractors, Government Agencies, University Students and other contractors and designers who desire continual improvement to their geotechnical engineering skills.
This workshop is an excellent source of information and professional development for geotechnical engineers practicing in Ontario.  The Professional Development Hours (PDH) noted on the registration ticket will be the certificate for proof of PDH for this event.
Registration fee covers your spot at the workshop, an access to workshop materials, continental breakfast, lunch and coffee breaks.
PRESENTERS:
Mr. Tony Sangiuliano, P.Eng. 
Senior Foundation Engineer – Ministry of Transportation, Ontario, Toronto, ON
Dr.  M Yogi Yogendrakumar, Ph.D., P.Eng.        
Principal, Senior Geotechnical Engineer – Golder, Vancouver, BC
Mr. Denny Kort, M.Eng., P.E. 
Country Manager, Land USA-Atlantic – Fugro, Gainesville, FL
Mr. Naresh Gurpersaud, P.Eng.                          
Vice President – Keller Foundations Ltd., Acton, ON
Mr. Wesley Saunders, P.Eng. 
Business Development Manager – GKM Consultants, Thunder Bay, ON
AGENDA:
1.1        Importance of Pile testing from Owner's Perspective
1.2        Pile  Driving Analyzer
1.3        Osterberg Cell Test  
1.4        Full Scale Pile Load Test 
1.5        Pile Instrumentation                        
1.6        Case History –  Pile Conventional Load Test
1.7        Question and Answer – Panel Discussion
Link to the Workshop Brochure: 
http://cgs-sos.ca/event/summer-2018-workshop-pile-capacity-verification-and-testing-methods/
When & Where

St. Bernard Church
1789 Lawrence Avenue West
Toronto, ON M6L 1E3
Canada

Wednesday, 25 July 2018 from 7:30 AM to 4:00 PM (EDT)
Add to my calendar
Organizer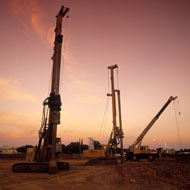 About Us
The Canadian Geotechnical Society Southern Ontario Section (CGS-SOS) represents the national organization at the local level centered at the Greater Toronto Area (GTA) and covering some cities in Southern Ontario. The CGS-SOS was established in the early 1970s and forms the largest region of the Society. Its purpose is to provide opportunities for continuing education (through lectures and seminars), and for constructive dialogue and sharing of experiences. This is accomplished through organizing events on about a monthly basis.
The Canadian Geotechnical Society (CGS) is an independent, federally incorporated, non-profit learned society which exists to serve and promote the geotechnical and geo-science community in Canada. It encompasses a wide spectrum of scientific and engineering disciplines within the geotechnical field. Membership is open to individuals from all sectors including private consulting, universities, industry, contracting and public services.