CGS-SOS Two-Day Workshop on Earthquake Design in Geotechnical Engineering - How do Ontario's Seismic Codes impact our designs? (8 Hours PEO PEAK / DAY)

Wednesday, 21 February 2018 at 7:30 AM

-

Thursday, 22 February 2018 at 5:00 PM (EST)
Event Details
Two-Day Workshop: Earthquake Design in Geotechnical Engineering - How do Ontario's Seismic Codes impact our designs? 
CGS-SOS is pleased to present a two-day workshop, designed for Geotechnical Consultants, Geo-structural Designers, Specialty Geotechnical Contractors, Government Agencies, University Students and other contractors and designers who desire continual improvement to their geotechnical engineering skills.
This workshop is an excellent source of information and professional development for geotechnical engineers practicing in Ontario.  A certificate for proof of Professional Development Hours (PDH) will be available upon request. 
Registration fee covers your spot at the workshop, an access to workshop materials, continental breakfast, lunch and coffee. 
Workshop Day One
Presenters - Dr. John Adams, Canadian Hazards Information Service, Natural Resources Canada, Government of Canada; Dr. Ali Nasseri-Moghaddam, GHD; Mr. Michael Snow, Golder Associates Ltd.
When: Wednesday - February 21, 2018; 7:30 am to 5:00 pm
Day One Topics:
1.1        Introduction to Earthquakes, Ground Motion and Selection of Earthquake Tme Histories
1.2        Site Response Analysis
1.3        Geophysical Methods for Shear Wave Velocity Measurement  
1.4        Introduction to Seismic Design in Ontario 
1.5        Design for Seismic Loads in Geotechnical Engineering 
Workshop Day Two
Presenters - Dr. Mason Ghafghazi, Department of Civil Engineering, University of Toronto; Dr. Alex Sy, Klohn Crippen Berger.    
When: Thursday - February 22, 2018; 7:30 am to 5:00 pm
Day Two Topics:
2.1        Fundamentals of Liquefaction Behaviour 
2.2        Liquefaction Assessment and Methodology
2.3        Cyclic Softening in Clays and Plastic Silts 
2.4        Consequences of Liquefaction and Mitigation
2.5        Design for Liquefaction in Geotechnical Engineering
Link to the Workshop Brochure: 
http://cgs-sos.ca/wp-content/uploads/2018/01/2018-CGS-Workshop-Brochure.pdf
When & Where

Pearson Convention Centre
2638 Steeles Avenue East
Brampton, ON L6S 6J9
Canada

Wednesday, 21 February 2018 at 7:30 AM

-

Thursday, 22 February 2018 at 5:00 PM (EST)
Add to my calendar
Organizer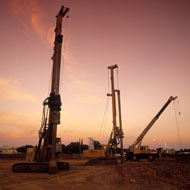 About Us
The Canadian Geotechnical Society Southern Ontario Section (CGS-SOS) represents the national organization at the local level centered at the Greater Toronto Area (GTA) and covering some cities in Southern Ontario. The CGS-SOS was established in the early 1970s and forms the largest region of the Society. Its purpose is to provide opportunities for continuing education (through lectures and seminars), and for constructive dialogue and sharing of experiences. This is accomplished through organizing events on about a monthly basis.
The Canadian Geotechnical Society (CGS) is an independent, federally incorporated, non-profit learned society which exists to serve and promote the geotechnical and geo-science community in Canada. It encompasses a wide spectrum of scientific and engineering disciplines within the geotechnical field. Membership is open to individuals from all sectors including private consulting, universities, industry, contracting and public services.