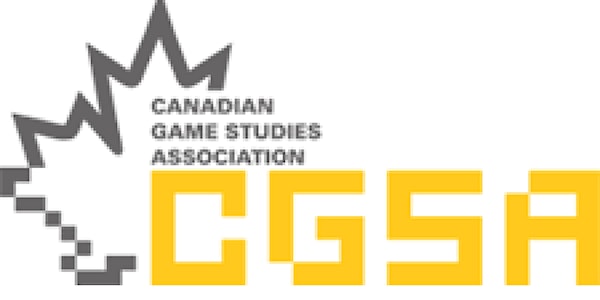 CGSA/ACÉJ 2023 Conference
The annual conference of the Canadian Game Studies Association! This year's theme is Sustainable Action.
Refund Policy
Contact the organizer to request a refund.
Eventbrite's fee is nonrefundable.
About this event
3 days 10 hours

Mobile eTicket
The 2023 Canadian Game Studies Association (CGSA/ACÉJ) annual conference will be held June 6 to June 9 through a virtual format. This virtual format will build on lessons from the 2021 and 2022 conferences and combine pre-recorded paper and panel presentations with synchronous Q&A discussion sessions. It will also feature the return of many beloved activities including Keynote Speakers, the Book Launch, a Plenary Panel, CGSA's Next Top Model, Top Paper Awards, and Trivia Night.
Even as a virtual conference, as an organisation CGSA/ACÉJ is made possible by infrastructure and resources located in and extracted from lands across Turtle Island. In particular, the current leadership of the association are primarily situated in Southern Ontario in the traditional territories of the Attawandaron, Anishinaabeg, Haudenosaunee, and Huron-Wendat peoples. As a direct beneficiary of this ongoing colonial violence, CGSA/ACÉJ affirms its commitment to support marginalised scholars and creators and proactively make space for studies of gender, race, sexuality, ability, class, and other forms of diversity in games and gaming cultures.
This year's theme, Sustainable Action continues the conversation on from our 2021 and 2022 conferences where we showcased work engaging in action informed by commitments to anti-racist and decolonial game studies. We invite submissions that consider how we can support, nourish, and extend the critical and transformative game studies practices and actions we've discussed in previous years. The question of how to sustain action and change is particularly pressing in light of the challenges of both co-optation and visible backlash/re-actions against social justice in research and games alike. Papers addressing this theme might consider among other options questions of preservation of historical games collections, the wellbeing of advocacy and activism groups and initiatives in critical games work, and player, community, and industry practices related to action, reaction, and sustainability. We also invite submissions that engage with the theme of sustainability in other transformative senses, for example game studies concerned with ecological and environmental questions, challenges, and initiatives for greater balance, renewability, and climate justice. Such papers might touch on ecological games, initiatives in games addressing climate change, industry challenges and movements towards sustainable practices, or policy directions for sustainable futures in games, to name a few potential directions. Papers considering the intersections between sustainability and economic, technological, cultural, and social questions in games are also welcome.
Accepted papers and panels that address these facets of the theme Sustainable Action will be highlighted in special sessions throughout the conference.
We also invite submissions from researchers in any disciplines in the humanities and social sciences working on any topic related to games, digital or analog. Graduate student submissions and submissions from scholars outside of Canada are welcome and encouraged!
Black and/or Indigenous graduate students accepted to the conference will be able to register at no cost. All other presenters are required to have current membership and register for the conference to attend the conference. The membership and fee schedule is further along in our eventbrite page.
Submission Guidelines:
CGSA/ACÉJ accepts submissions in both English and French, but please note that most presentations and social events will be in English. Additionally, presenters are asked to limit their submissions to no more than 1 paper as first author and no more than 1 workshop or other event.
For help preparing abstracts, including recommendations for works cited, please refer to this guide (available in English only). Please also note that all submissions must be anonymized and should include at least 3 references.
This year we will be accepting proposals for three kinds of submissions:
Individual Paper Submissions
For individual paper submissions please submit an anonymized abstract no longer than 500 words (excluding references). We welcome presentations that take advantage of the virtual conference format.
Panel Submission
For panel submissions please include a 250-word panel overview and 150 words (excluding references) describing each individual presentation. The panel organiser should assemble all materials and submit as a single anonymized submission to EasyChair. When submitting the panel to EasyChair, the organiser should be listed as corresponding author, and all other panel participants should be listed as co-authors. Please clearly indicate if one of the panelists will serve as the panel chair.
Workshops/Other Formats
CGSA/ACÉJ welcomes other types of submissions including workshops, demonstrations, fishbowls, etc, especially those that take advantage of the virtual conference format or might be uniquely possible in a virtual conference format. Please contact the CGSA/ACÉJ 2023 organisers in advance of the deadline with a brief summary of your proposed submission, anticipated equipment needs, and an estimated length of time requested.
Deadline for submission is Friday December 30th by midnight EST.
About the organizer
CGSA is an organization dedicated to the interdisciplinary study of digital games. Its primary goal is to support the work of Canadian researchers, graduate students, artists, game designers, programmers, theorists, and others working in this field. CGSA will also attempt to provide opportunities for interdisciplinary collaboration and cross-disciplinary support for its members, in part, through Loading: A Journal of the Canadian Game Studies Association.
Please direct all inquiries to canadiangamestudies@gmail.com 
L'ACÉJ est une organisation dédiée à l'étude interdisciplinaire des jeux vidéo / numériques. Son rôle premier est de supporter le travail des chercheurs, étudiants, artistes, concepteurs de jeux, programmeurs et théoriciens canadiens s'intéressant à ce champ de recherche. L'ACÉJ essaie aussi de fournir des opportunités de collaboration interdisciplinaire et un support transdisciplinaire pour ses membres, en partie par l'entremise de  Loading: la revue de l'Association canadienne des études vidéoludiques
Veuillez adresser toute question concernant l'adhésion et le renouvellement à l'adresse canadiangamestudies@gmail.com.