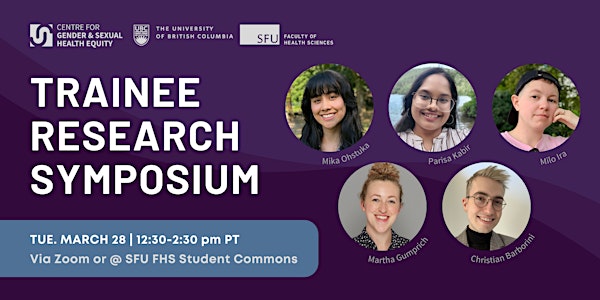 CGSHE Trainee Research Symposium
CGSHE trainees from SFU and UBC present their research related to gender and sexual health equity.
By Centre for Gender and Sexual Health Equity (CGSHE)
Date and time
Tue, Mar 28, 2023 12:30 PM - 2:30 PM PDT
Location
FHS Student Commons - Simon Fraser University 8888 University Dr Burnaby, BC V5A 1S6 Canada
About this event
The Centre for Gender & Sexual Health Equity is proud to present our next Trainee Research Symposium! The symposium will showcase ten-minute presentations by CGSHE trainees from UBC and SFU on intersectional approaches to gender equity and sexual health, followed by a Q&A session. Moderated by UBC Postdoctoral Fellow, Dr. A.J. Lowik. The CGSHE Trainee Research Symposium is co-hosted by CGSHE in the UBC Faculty of Medicine, and SFU's Faculty of Health Sciences.
This event will take place in person on Tuesday, March 28, 12:30 - 2:30 p.m. at the SFU FHS Student Commons at SFU's Burnaby Campus. It is open to the broader UBC and SFU community to attend. Join us for an afternoon of thought-provoking research and discussion. Lunch will be provided for attendees.
For those who cannot join us in person, we invite you to join us via Zoom. Please select the virtual option when selecting a ticket for this event if you would like to attend via Zoom.
Agenda
12:30 PM - 12:45 PM
Snacks
12:46 PM - 12:50 PM
Introduction
12:51 PM - 1:03 PM
Presenter: Mika Ohstuka
---
Investigating the Impact of Violence on Health and HIV Care
1:04 PM - 1:15 PM
Presenter: Parisa Kabir
---
Barriers to Mental Health Services Access Among Women Living with HIV in Metro Vancouver, BC
1:36 PM - 1:47 PM
Presenter: Milo Ira
---
Two(Spirit)-Eyed Seeing for Autistic Wellbeing
1:48 PM - 1:59 PM
Presenter: Martha Gumprich
---
The Experiences of Non-Binary Youth in Organized Team Sport in Canada
2:00 PM - 2:12 PM
Presenter: Christian Barborini
---
Exploring Cannabis Use Amongst Transgender, Non-Binary & Gender Non-Conforming Youth
2:13 PM - 2:30 PM
Moderated Q&A by Dr. A.J. Lowik