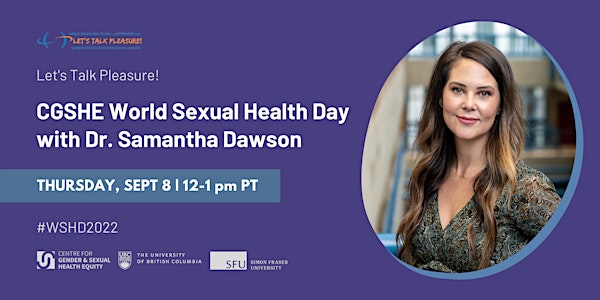 CGSHE World Sexual Health Day with Dr. Samantha Dawson
This talk will discuss research about sexual health & pleasure conducted by Dr. Dawson's Sexual Well-being (SWELL) Lab at UBC.
About this event
CGSHE World Sexual Health Day with Dr. Samantha Dawson
ABOUT THE TALK
CGSHE presents a World Sexual Health Day Lunch & Learn with Dr. Samantha Dawson, CGSHE and UBC Psychology faculty member and Director of the Sexual Well-being (SWELL) Lab at the University of British Columbia. Aligned with WSHD 2022's theme, Let's Talk Pleasure, Dr. Dawson will discuss current research on sexual health and pleasure conducted by the SWELL Lab, including the Instagram mythbusting campaign, MisconSEXions.
ABOUT THE SPEAKER
Dr. Samantha Dawson (she/her) is a faculty member at the Centre for Gender & Sexual Health Equity and an Assistant Professor in the Department of Psychology at the University of British Columbia, where she is also the Director of the Sexuality and Well-being (SWELL) Lab. She completed her PhD in Clinical Psychology at Queen's University, followed by a SSHRC Banting postdoctoral fellowship at Dalhousie University. Her multi-method research program focuses on identifying cognitive and affective mechanisms contributing to sexual function in individuals and couples, with the goal of using these mechanisms to develop targeted and gender-specific interventions for sexual dysfunction. Her research program involves experimental laboratory-based research using various sexual psychophysiological measures, such as eye tracking, genital plethysmography, as well as more ecologically-valid daily experience and longitudinal methodologies.
ABOUT THIS EVENT: The CGSHE Lunch & Learn Series is an informal sharing of the latest research in the field of gender and sexual health equity by renowned experts to a broad audience of researchers, practitioners and students, creating a unique opportunity for education and dialogue.
FINALLY: Currently, our event is only available in English, which we recognize is a colonial language. We acknowledge that language should not be a barrier to participation and we hope to host our Speaker Series in various languages in the future, based on participants' needs and as resources allow.