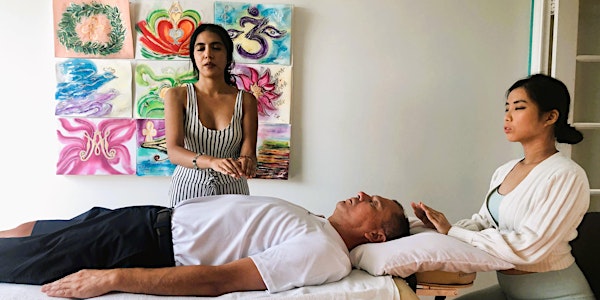 Chakra Reiki Master Healer Practitioner - 150 hrs. training
Chakra Reiki Master Certification with Crystals, Angels, Dowsing rods and Mediumship certification (150 hours training) including practices
When and where
Location
Alternative Healer Toronto 150 Dan Leckie Way Toronto, ON M5V 0C9 Canada
Refund Policy
Refunds up to 7 days before event
About this event
Chakra Reiki Master Practitioner course is a full curriculum program preparing you to become a licensed practitioner and to eventually open your own Reiki practice!
Our Alternative Healer community has over 200 Reiki practitioners and our goal is to make Reiki practice an attractive career option for lightworkers. We provide the support you need to learn to heal yourself and others. This training involves Chakra, Crystal, Angel therapy and Mediumship training with Dowsing rods and pendulums as well. Also we included 25 hours of practice that many students otherwise have a hard time completing to qualify for the Reiki insurance by CRA or Preventative Health Services Canada.
Those who want to take the classes separately, it's also possible however this way is more economical and focused on finishing in 6 months. Master Marta will be your Reiki Master Teacher & Coach along your healing journey. If you have completed Reiki Level 1 & 2 already then kindly submit your certificate for review and you may join the rest of the classes. 
For full description please refer to our course listing below:
https://alternativehealer.ca/healing-classes/
Planned Schedule:
Sun. Sept. 18th: 11am-6pm Reiki level I. ( value $250)
Sun. Sept. 25th:11am-6pm Reiki level II. (value $350)
Sun. Oct. 2nd: 12-5pm Crystal Healing Certificate (value $150)
Sun. Oct 16th:12-5pm Chakra Healing Certificate (value $150)
Sun. Oct 23rd: 12-5pm Mediumship class (value $200)
Sun. Oct.29th: 12-5pm Reiki practice day 5 hrs. (value $150)
Sun. Nov. 6th & 13th Catch-up opportunity for Reiki Level I or II.
Sun. Nov.20th: 12-5pm: Angel Therapy class (value $150)
Sun. Nov.27th: 12-5pm: Radiesthesia (dowsing rods & pendulums) (value $150)
Sun. Dec 4th: 11am-6pm: Reiki Business Class (value $350)
Sun. Dec 11th: 12-5pm Reiki practice day 5 hrs. & Xmas party (value $150)
Sun. Dec 18-Jan.8th various practice opportunities 15hrs. for CRA (value $300)
Sun. Jan. 8th: Reiki Master class ($550)
Sun. Jan. 15th: Reiki practice last 5 hrs., Reiki exam and Graduation (value $450)
>>>>>>
If you want to save on HST or Eventbrite fees please feel free to email me directly to marta@alternativehealer.ca
150 hours Chakra Reiki Master practitioner - At the end you of this training will be able to apply for insurance and qualifications to the CRA & the Preventative Health Services of Canada.  
Students can join in throughout the 6 months as long as they have other required courses completed separately.
For more information please visit: www.AlternativeHealer.ca or email to marta@alternativehealer.ca