Challenge d'outrigger du grand Montréal - 2018 - Greater Montreal Outrigger...
Description
(English below)
Le Challenge d'outrigger du grand Montréal (GMOC) est une compétition de rame ouverte à plusieurs types d'embarcations et promet un défi de qualité tant pour les novices que les pagayeurs expérimentés.
Située dans un décor pittoresque, la compétition se déroule sur la Rivière des Outaouais et le Lac des Deux-Montagnes, dans la grande région de Montréal. La portion au sol a lieu au Club de voile de Hudson, qui offre toutes les infrastructures nécessaires aux participants et visiteurs.
Des exposants font découvrir et essayer gratuitement plusieurs types d'embarcations toute la journée, pour toute la famille.
Plusieurs prix à gagner sur place!
Catégories d'embarcations: OC1, OC2, OC6, planche à pagaie (SUP), Surfski, C1, C2, C4, K1, K2, Kayak, Rabaska, Aviron de mer, canot à glace
Cinq (5) participants sont requis pour qu'une catégorie soit formée avec des médailles distinctes. Si vous souhaitez vous inscrire avec un type d'embarcation autre que ceux prévus, SVP contacter les organisateurs à info@montrealoutriggerchallenge.com.
Distances:
Plache à pagaie:
4km / 2 miles (parcours court)
12 km / 7 miles (parcours long)
OC6 :
18km / 11.2 miles
Autres embarcations :
18km / 11.2 miles (parcours court)
30km / 18.6 miles (parcours long)
La course est sanctionnée par la WPA (World Paddle Association) et régie par Eau Vive Québec.

OC6 :
La course de OC6 a lieu en 2 vagues. Les équipes de la première vague effectuent leur course, reveniennent au rivage et cèdent le bateau à l'équipe assignée de la 2e vague. Chaque équipe peut avoir son propre steer, ou un même steer peut guider une équipe de la première vague et ensuite l'équipe qui utilise le même bateau dans la 2e vague. Chaque steer s'inscrit une seule fois au GMOC.
Chaque capitaine qui souhaite monter une équipe de OC6 est invité à contacter les organisateurs à info@montrealoutriggerchallenge.com pour obtenir tous les détails, confirmer la location des bateaux et indiquer si l'équipe dispose de son propre steer.
Pour toute l'information: www.montrealoutriggerchallenge.com et suivez la page Facebook de l'événement pour les dernières nouvelles.
Exposants et Cliniques
Plusieurs exposants mettront en démonstration leurs plus récents produits directement sur la plage. Des experts organiseront des cliniques pour donner des conseils sur la technique de rame. Une excellente opportunité d'essayer de nouveaux équipements et de recevoir des conseils des pros!
Lunch d'après-course
Tirage de prix de présence, musique, remise des médailles, beaucoup de plaisir!
Tous les participants à la course ont un repas inclus avec leur inscription. Des options végétariennes sont disponibles sur demande. Les visiteurs n'ayant pas coursé peuvent se joindre au repas en achetant le lunch à partir de ce formulaire-ci d'enregistrement (choisir l'option du repas seul). Un bar et une cantine sont aussi présents sur les lieux de la course.
Horaire (sujet à de légers ajustements)
6h30 Le Club de voile ouvre ses portes aux participants
6h45 –8h00 Enregistrement
8h00 –8h15 Mot de bienvenue et réunion pré-course
8h45 –10h00 Départs une catégorie à la fois
9h00 Ouverture des kiosques; démos et essais d'équipement
13h15 Heure approximative de la fin de la course
13h30 BBQ d'après-course
14h30 – 15h30 Remise des médailles et prix de présence
16h30 Fermeture approximative des kiosques
17h00 Départ des participants du Club de voile
Toute la journée Piscine, plage, parc pour enfants, terrasse du club pour les supporteurs
Pas de chiens ni d'alcool personnel permis sur le site.
Coût de l'inscription: 65$ CAD par pagayeur (frais EventBrite en sus)
Le coût inclut:
Enregistrement à la course
Assurance responsabilité civile
Repas après la course
T-shirt
Accès à toutes les installations du Club de voile de Hudson, incluant la piscine
Massage
Nombreux prix de présence
Spectacle
Des questions? Consultez la FAQ sur le site web de l'événement:
http://montrealoutriggerchallenge.com/index.php/fr/contact/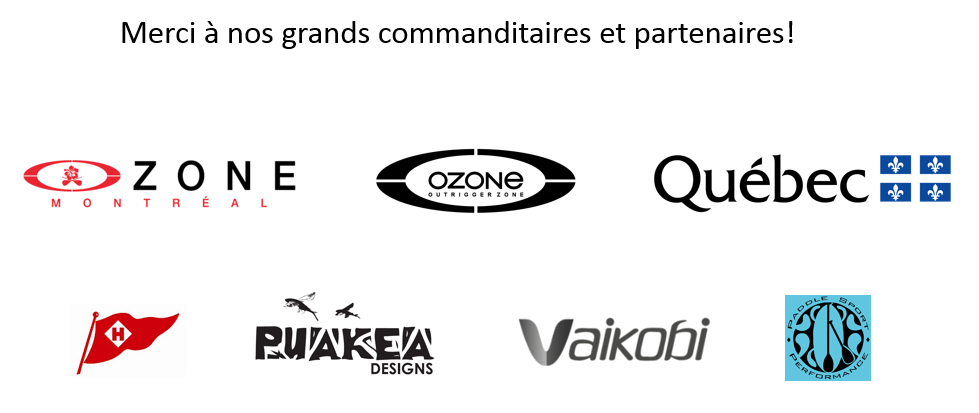 ****** ENGLISH ******
The Greater Montreal Outrigger Challenge (GMOC) is a paddling competition open to many paddle craft types and promises a high quality challenge for novice and experienced paddlers alike.
Set in a picturesque scenery, the Challenge takes place on the Ottawa River and Deux Montagnes Lake, in the greater Montreal area. Off-water activities surrounding the event take place at the Hudson Yacht Club, which offers all needed infrastructures for paddlers and visitors.
Exibitors help the whole family discover and try a wide variety of equipment and crafts all day, for free.
Boat types: OC1, OC2, OC6, SUP, Surfski, C1, C2, C4, K1, K2, Kayak, Rabaska, sea rowing, ice canoe.
Five (5) participants required to form a category with distinct medals. If you wish to register using a boat type other than what is planned, please contact the organizers at infomontrealoutriggerchallenge.com.
Distances:
Stand-Up Paddleboard (SUP):
4km / 2 miles (short course)
12 km / 7 miles (long course)
OC6 :
18km / 11.2 miles
Other boat categories :
18km / 11.2 miles (short course)
30km / 18.6 miles (long course)
The race is sanctioned by the WPA (World Paddling Association) and governed by Eau Vive Quebec.

OC6 :
The OC6 race will be split in 2 heats. Teams in the first heat complete their race, come back to shore and hand the boat to the assigned team of the second heat. Each team can have its own steer, or the same steer can paddle with each of the two teams that share a same boat. Each steer registers only once to GMOC.
Each captain who wishes to setup an OC6 team is invited to contact organizers at info@montrealoutriggerchallenge.com to get all details.
For all the info: www.montrealoutriggerchallenge.com & follow us on Facebook for the latest news
Exhibitors & Clinics
Multiple exhibitors will showcase their latest paddling equipment directly on the beach. Pros will also organize free paddling technique clinics. A great opportunity to try gear and get advice from the experts!
After-race lunch
Raffle prizes, award ceremony, band, lots of fun!
All race participants have a lunch included in their entry fee. Vegetarian options available upon request. Other visitors are welcome to join and can purchase a meal via this registration form (chose the ''meal only'' option). Bar and canteen available on site.
Schedule (subject to small adjustments)
6:30 Hudson Yacht Club opens for racers
6:45 –8:00 Registration
8:00 –8:15 Word of welcome, Race meeting
8:45 –10:00 Staggered race starts per category
9:00 Booths open; clinics, equipment demo and trials
1:15 Approximate finish of last race
1:30 After-race BBQ on the club terrace
2:30 –3:30 Award ceremony and prizes
4:30 Approximate closing time for booths
5:00 Departure of racers from the Hudson Yacht Club
All day Beach, pool, kids park, club terrace for supporters
No dogs and no personal alcohol allowed on site.
Registration fee: 65$ CAD per paddler (Eventbrite fees extra)
The cost includes:
·
Registration to the race
·

I
nsurance
·

A
fter-race meal
·
Race t-shirt
·
Access to all facilities of the Hudson Yacht Club, including the pool
·
Massage
·
Great prizes
· Show
Questions? Checkout the Q&A section on the event website.
http://montrealoutriggerchallenge.com/index.php/en/contact-us-faq/