Challenges of Canada's Newcomers and Opportunities in Canada's Thriving Con...
Description
An event focused on assisting Victoria's immigrant business owners, entrepreneurs, professionals and interested parties to connect with the community of like-minded professionals.
Challenges of Canada's Newcomers and Opportunities in Canada's Thriving Construction Industry
Come and learn about opportunities in the construction industry and the challenges newcomers face when arriving in Canada from our expert speaker.
Linda Ryan, coach, consultant and change management specialist, has dedicated her career to working with multiple stakeholders; bringing people and process together. Hands-on experience in management, corporate communications and leadership coaching has enabled her to support semi-state, for-profit and not-for profit initiatives grow their impact.
A dual Irish-Canadian citizen and Vancouver Islander, Linda builds collaborations within Canada's construction industry between employers, professional bodies and settlement services as an Employment Liaison for the BC Construction Association-Integrating Newcomers (BCCA-IN) program.
Integrating Newcomers is a nationally funded pre-arrival program for PR approved applicants by Immigration, Refugee and Citizenship Canada (IRCC) that helps newcomers outside of Canada successfully settle anywhere within Canada. Linda ensures skilled immigrants successfully transition their careers and lives in Canada creating stronger communities, industries and economies.
Linda will speak about opportunities in the construction industry on Vancouver Island, the challenges newcomers face when arriving in Canada to access employment and the role of settlement services such as Integrating Newcomers to ensure newcomers are successful upon arriving in Canada.
When:
Thursday, February 20, 2019 @ 5.30 pm - 7.30 pm. Please note: Registration begins at 5.00 pm.
Where:
theDock, 300-722 Cormorant St, Victoria, BC V8W 1P8

Parking at the following parkades (see map below) is free for the 1st hour and free after 6 pm. That means if you park at 5 pm, you will have free parking for the event. More details here.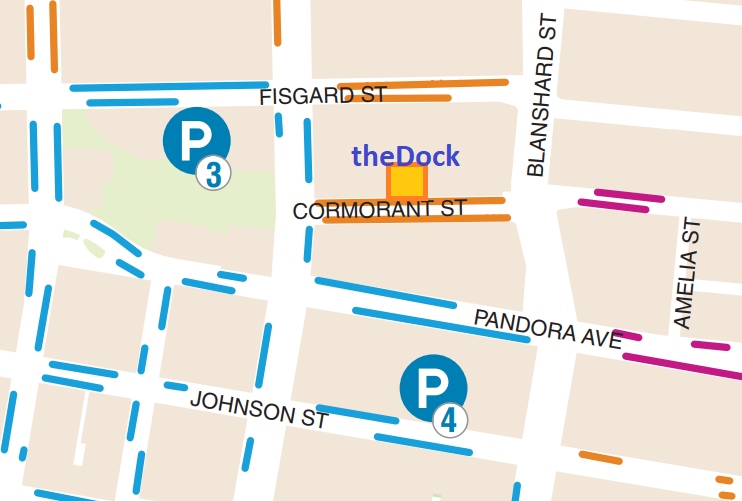 Organized by:
Victoria Multicultural Business Connector (VMBC)
Sponsors:
Benefits:
Consult with experts

Find resources

Build network

Meet investors
Disclaimer Notice:
Please be advised that photographs may be taken at the event for use on the VMBC website and in the press, VMBC marketing materials, social media and other publications. By entering this event, you consent to the VMBC photographing and using your image and likeness.
If you do not want to be on the pictures for some reason, please let us know at the front desk when entering the event.