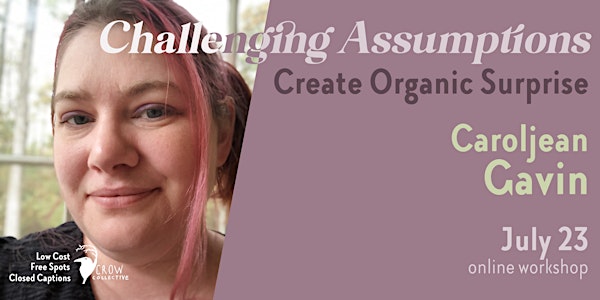 Challenging Assumptions: Unstick your Fiction and Create Organic Surprise
Learn to identify, challenge, and control the assumptions your stories are operating under.
About this event
What will be covered in this workshop?
You know what they say about assumptions?
Whether we realize it or not, when we write a story, it operates under unspoken assumptions. A story opens on a woman flying to Paris. The writer doesn't say what she's flying, so the reader assumes she is on a plane, not astride a giant eagle.
In this class we will identify the assumptions our stories are operating under, and by using an exercise to challenge those assumptions, learn how to unstick a stuck piece. If you've been in a rut, this is also a great way to fresher concepts. If you have a stuck piece, bring it with you! If not, no worries, there will be a brief generative exercise, so you'll have something to work to learn the exercise.
We'll also discuss intentionally crafting your prose toward assumptions that the story later proves false, leading to the coveted satisfying twist!
Who is teaching this workshop?
Caroljean Gavin is a writer and editor. Her work has appeared in places such as Milk Candy Review, Fractured, New World Writing, Best Small Fictions, and X-R-A-Y Literary Magazine. She's the author of the flash fiction chapbook, Shards of a Stained-Glass Moving Picture Fairytale (Selcouth Station Press), and editor of What I Thought of Ain't Funny, an anthology of short fiction based on the jokes of Mitch Hedberg (Malarkey Books/Mythic Picnic) and Saturnalia '21 (LUPERCALIApress) She is on Twitter: @caroljeangavin
When does this workshop happen?
July 23, Saturday: 8 AM PDT / 11 AM EDT / 4 PM BST / 8:30 PM IST
How long is this workshop?
Two hours.
How is this workshop presented?
This workshop is online, live, and interactive. Participants are encouraged (but not required) to keep their video cameras on, as online events are much more fun when we can all see each other.
We'll gather on Google Meet, which is very similar to Zoom and has built-in closed captioning. I will send you the link for the workshop two days before it begins.
Will this workshop be recorded?
No, this workshop will not be recorded.
Are there more workshops?
You bet! Just click here to see the Crow Collective workshops open for registration.
Do you have a mailing list?
Yes - click here to sign up for my free, biweekly mailing list.
Do you have a podcast?
Yes - your favourite writing game is now a daily podcast. I'll give you a word every thirty seconds, and you include that word in the sentence you're writing. It's that simple. Click here to come play!
What is the Crow Collective?
Crow Collective workshops are by the writing community, for the writing community. The prices are low so they are more accessible, and there are two free spots (if needed).
Why can't I access the ticket button using the Apple Eventbrite app?
This is a decision on Eventbrite's part. You should be able to access the ticket button using the website instead. If you're still having troubles, feel free to get in touch.