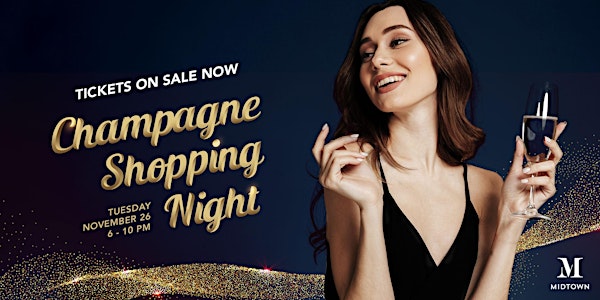 Champagne Shopping Night 2019
When and where
Location
Midtown 201 1st Avenue South Saskatoon, Saskatchewan S7K 1J9 Canada
Description

Saskatoon's fabulous private holiday shopping night is back for a second year!
Come and enjoy the evening's exclusive deals, prizes, entertainment, food and champagne at your leisure. Buy the perfect holiday gifts (and maybe a little something for yourself).
Ticket proceeds support RUH Foundation Women Leading Philanthropy— women empowering women to achieve better health – together – for everyone. Last year, Champagne Shopping Night ticket sales raised $50,000 for the Foundation!
All ticket purchasers receive a $25 Midtown gift card redeemable at any of Midtown's retailers. We heard your feedback from last year and have extended the event until 10 p.m.
Put together a group of 6 or more friends and family and get $10 per ticket! Choose the Party of 6 or more option when you select your ticket.
Visit our Facebook page to stay in the loop with event updates including prizes, food, entertainment and more.
FAQs
To help you get the most out of your evening of shopping and champagne, check out this FAQ to ensure you know everything happening on November 26.

What time do the doors open? Doors open at 6 p.m. Stores will be open at this time as well.

Which entrances are open for Champagne Shopping Night? We'll have six different entrances open to get into Champagne Shopping to make the night as stress-free as possible! These include 1st Avenue, the Office Lobby from the parkade, the Retail Lobby from the parkade, the new West entrance (facing Idylwyld Drive) and from both levels of Hudson's Bay.

Where can I park for this event? Parking is available in the North and South lot above ground, the new West lot (facing Idylwyld Drive) and the Underground Parkade. Parking during Champagne Shopping Night is complimentary for ticketholders, based on availability. We recommend carpooling with your crew for the best experience!

How do I get my $25 Midtown gift card? You will receive your gift card after your ticket is scanned at one of our six entrances.

Do I need a physical ticket? There's no need to print your ticket out, but we will need to be able to scan it. Be sure to save your ticket to your phone or bring a printed copy to make admission a breeze.

Where are the Champagne Gardens this year? There are two Champagne Gardens this year — one in Midtown Common, our new food hall on the upper level and one by Midtown Guest Services on the main level.

Can I get a picture with Santa? Santa will be taking photos at his new Village in Midtown Common. You can get a complimentary digital copy — only available to Champagne Shopping Night guests — or purchase a photo package as a keepsake of the evening.

Are there any services available if I purchase large items or I need to free up my arms to shop or sip? Absolutely! We'll have complimentary Parcel & Coat Check down the corridor near the new West Entrance, just past Tim Horton's.

Are there beverage options other than Champagne? We've got you covered! New this year, you'll have access to our Midtown Lounge where you can try sophisticated cocktails and high-end drink samples from our local partners. The Lounge is located on the main level near the new Shoppers Drug Mart and Beauty Boutique or enjoy some red wine at any of the Champagne Gardens.

If you would prefer a non-alcoholic beverage, please visit one of the participating vendors in Midtown Common for a complimentary, medium fountain drink.

Will Food Hall vendors be open? Yes! Our Midtown Common vendors will be open for dinner during the event.