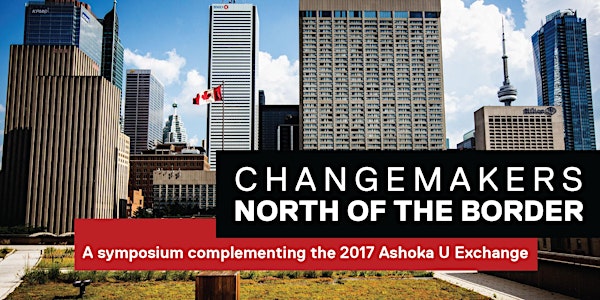 Changemakers North of the Border
When and where
Location
Ryerson Univeristy Digital Media Zone 6th Floor 10 Dundas St. East @ Yonge-Dundas Square Toronto, Ontario M5B 0A1 Canada
Description
You are cordially invited to Ryerson University downtown Toronto for a day-long exchange of social innovators and social entrepreneurs. This ad hoc event complements the 2017 Ashoka U Exchange, which takes place in Miami, Florida, and was organized to enable all members of our community, including those potentially impacted by the American travel ban, to participate. It is part of our collective commitment to equity, diversity and inclusion across our campuses.
Topics of discussion include: best practices in student social entrepreneurship; social impact measurement; the Syrian refugee crisis; critical empathy and racial justice; and more. The event features student and faculty panels, workshop sessions, and networking opportunities. It also includes a call to action exploring how the social innovation community can advance progressive ideas for innovation and change making. We invite all those who are interested in helping create a movement for a better world.
This event is free of charge and open to all. Lunch and reception will be provided—vegetarian, vegan and gluten free options will be available. We are committed to accessibility for persons with disabilities. Please contact Jessica Machado at 416-979-5000, ext. 3115 or jmachado@ryerson.ca in advance of the event if you have any particular accommodation requirements or other dietary restrictions.
This event is hosted by the Office of Social Innovation at Ryerson University in proud partnership with: Ashoka Canada, The Institute for Canadian Citizenship (6 Degrees), Ryerson University Relations & Community Engagement, Ryerson Diversity Institute, Wilfrid Laurier University, St. Paul's Greenhouse at the University of Waterloo, Ryerson International, and Ashoka U (USA).
Our tentative agenda includes:
9:30 - 10:00 Registration
10:00 - 10:10 Opening Remarks
10:10 - 10:45 (Scadding Court, Barbra Schlifer Commemorative Clinic, Triec)
10:45 - 11:00 Break
11:00 - 11:35 Telling the Impact Story of Social Innovation on Campus
11:35 - 12:30 Lunch & World Cafe Discussions
12:30 - 2:00 Inclusion: A Lifeline to Innovation (In collaboration with 6 Degrees and This Is Worldtown)
2:00 - 3:30 Social Innovation in Response to the Syrian Refugee Crisis
3:30 - 4:00 Break
4:00 - 4:20 Critical Empathy & Building Racial Justice on Campus
4:20 - 5:00 Art & Cultural Innovation
5:00 - 5:15 Closing Remarks by Wendy Cukier
---
The 7th annual Ashoka U Exchange, co-hosted by Miami Dade College, will take place on March 2-4, 2017 in Miami, Florida.
The Exchange, Ashoka U's annual global convening, is one of the largest annual gatherings for leading innovators transforming higher education in an engine for social change. The agenda showcases exciting new ways the budding field of social innovation is taking hold across colleges and universities and making an impact around the world.
The Exchange is a program of Ashoka U, an organization dedicated to advancing the social innovation education as a key objective of global higher education.