Changing the Narrative: Dispelling Homophobia towards the ACB Queer Community
About this event
The Afro-Caribbean Mentorship Program (ACMP) in partnership with The Royal Bank of Canada Presents
Changing the Narrative: Dispelling Homophobia
The Afro-Caribbean Mentorship Program (ACMP), in partnership with the Royal Bank of Canada, continues its thought-provoking, Changing the Narrative. This follow-up event will provide a safe space for critical reflection and discussion that seeks to dispel homophobia towards our African Caribbean Black (ACB) LGBTQ2+ community members. This event not only recognizes that African descent LGBTQ2+ community members do experience a sense of unbelonging within academia but in our broader Canadian communities.
The ACMP encourages audiences to receive two amazing keynote addresses from Tyler Boyce and Debbie Owusu-Akyeeah. Both speakers will provide solutions and encourage a deep conversation on how we can build and sustain a relationship of solidarity among all ACB community members, but with a focus on dispelling African descent homophobia. This will be followed by a Q&A session which will encourage audience members to challenge their preconceived notions, while learning the dangers of homophobia. The Changing the Narrative event will be offering a space for ACB LGBTQ2+ folks to discuss their experiences as well as a wider conversation on the homophobia that exists in the within the ACB community. Our goal is to foster an inclusive and safe space for students, professional and community members from all walks of life to communicate, learn, and discuss.
Due to COVID-19, this year, ACMP and the Royal Bank of Canada will be holding a FREE event on Zoom to accommodate a broader audience.
Incentives: Giveaway
ACMP will be giving away prizes from a local LGBTQ2+ shop.
Date: November 3rd, 2021
Time: 6-8pm
Location: Zoom
Although this is event is being held at Carleton University, this event is open to all members of the public. The Changing the Narrative event is suited for all individuals of different races/ethnicities, genders, and social classes who positively add their thoughts and opinions to the discussion.
Featured Speakers: Tyler Boyce and Debbie Owusu-Akyeeah
Topics of Discussion:
• Being ACB and Queer in the Academy
• Addressing homophobia in the ACB community
Stay in touch!:
• Website: weareacmp.com
• Social Media: Instagram, Facebook, and Twitter @ACMPOttawa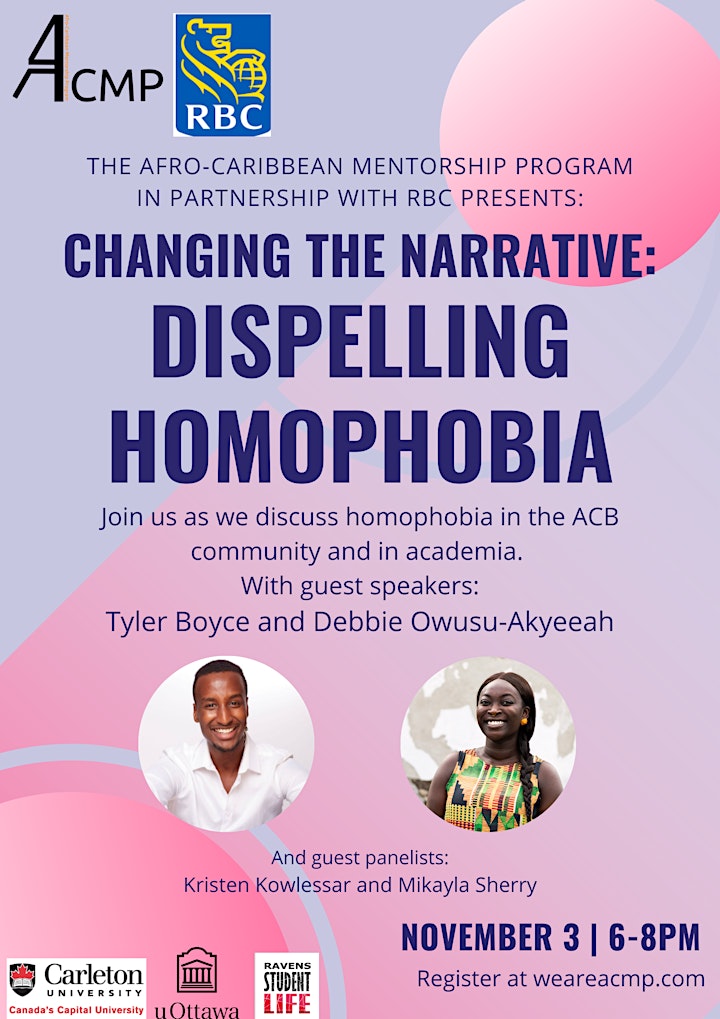 Organizer of Changing the Narrative: Dispelling Homophobia
The Afro-Caribbean Mentorship Program (ACMP) is an initiative dedicated to supporting the success of Afro-Caribbean Black (ACB) and other racialized undergraduate and graduate students on campus. We recognize that the experiences of ACB and other racialized minorities are unique due to the potential micro-aggression that they may encounter throughout their academic and professional experiences. Advocating for an inclusive campus is ACMP's mission while supporting the success of racialized students.Through this mentorship program, participants will be able to: 1) Be able to understand financial literacy 2) Build confidence 3) Enhance social network 4) Be aware of their current behaviours that might make others feel uncomfortable, while being open to change 5) Understand how to access Carleton's academic resources as a way to better their student experience.