Changing the Narrative: Using entertainment to locate and discuss our traumas
About this event
Changing the Narrative: Using entertainment to locate and discuss our traumas– January, Friday 22nd, 2021
The use of entertainment can, at times, encourage critical thinking, and moments of reflection. It is through movies and tv dramas, particularly, where audience members can view how social oppressions impact people. With many moments of entertainment, audience members are reminded that anti-Black racism is a reality not only on screen but a continuous struggle for the ACB community. Visually, entertainment (fiction or non-fiction) shows how black men, women and children are oppressed in our contemporary societies, yet still these visuals seem to unmove oppressors from stripping the humanity from ACB people, where they suffer extreme measures of mental health concerns.
In efforts to address mental health concerns in the Black community the Afro-Caribbean Mentorship Program (ACMP) has organized its second, FREE movie screening, with an open and thought-provoking discussion to follow.
Hosted by, Warren Clarke, the event will screen the following:
1) Black Mirror Eps. Black Museum (20 mins)
Description - Haynes' Black Museum is a highway attraction out in the desert that houses artifacts of criminology. When a young ACB woman named Nish, played by Letitia Wright (Black Panther, Suri), enters the museum, enticing audience members to assume she has time to kill. However, Nish has other plans to address deep rooted family concerns which impacted her immediate family members mental health.
2) Movie - Sick (30 mins)
Description - A Story about the challenges of a young ACB man with mental health issues. This film was made by Paul McKenzie with young people during a 1 week half term holiday period.
3) Thought provoking discussion (1 hour)
The ACMP goal is to foster an inclusive and safe space for students, professionals and community members from all walks of life to communicate, learn, and discuss the mental health concerns among the ACB community.
Themes - Black masculinity, Black femininity, Black family, white supremacy, mental health, Blackness, Criminalization
ACMP recognizes that the fiction behind the films sportrays and acknowledges a social reality that many Black Canadians and Americans deal with on a day to day basis. We use this film not only to entertain our guests but also to encourage critical thinking.
When: Friday, January 22nd, 2021
Time: 7:30 pm to 9:30 pm
Where: Zoom
Cost: Free
Leading questions for group discussion – 1 hr to host group discussion
In what ways can ACB people seek and sustain positive approaches to mental health concerns?
How can you act as an ally in helping ACB people you know seek help to address mental health concerns?
In what ways can we as an ACB community start feeling vulnerable to seek help to address our mental health concerns?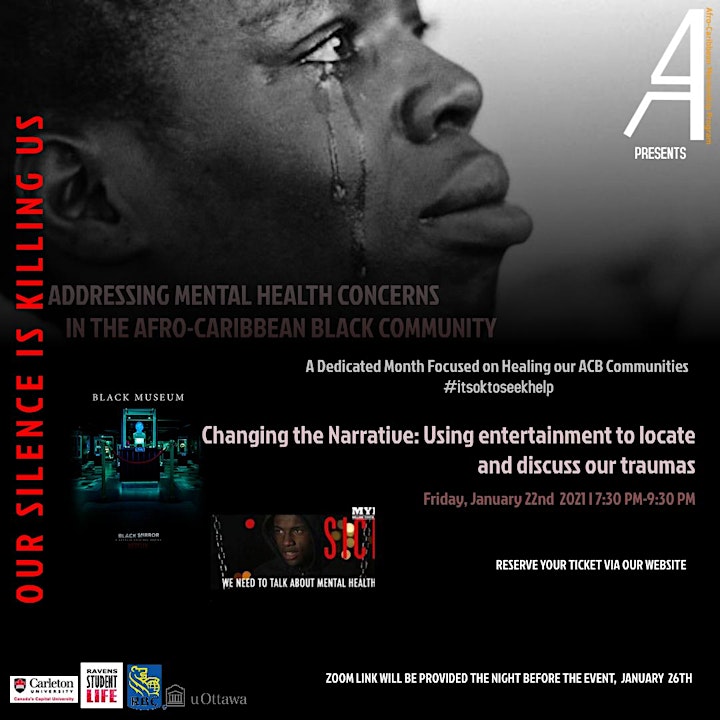 Organizer of Changing the Narrative:Using entertainment to locate and discuss our trauma
The Afro-Caribbean Mentorship Program (ACMP) is an initiative dedicated to supporting the success of Afro-Caribbean Black (ACB) and other racialized undergraduate and graduate students on campus. We recognize that the experiences of ACB and other racialized minorities are unique due to the potential micro-aggression that they may encounter throughout their academic and professional experiences. Advocating for an inclusive campus is ACMP's mission while supporting the success of racialized students.Through this mentorship program, participants will be able to: 1) Be able to understand financial literacy 2) Build confidence 3) Enhance social network 4) Be aware of their current behaviours that might make others feel uncomfortable, while being open to change 5) Understand how to access Carleton's academic resources as a way to better their student experience.