Sales Have Ended
Registrations are closed
Sorry, sales has ended. Please join us for another ChannelNEXT event.
Event Information
Refund Policy
Refunds up to 7 days before event
Sales Have Ended
Registrations are closed
Sorry, sales has ended. Please join us for another ChannelNEXT event.
Welcome to our 9th annual Canadian Channel Manager Summit! Get the inside scoop on the latest channel intelligence!
About this Event
Fine-tune your channel development plans for the new year!
What do channel partners really need from vendors for mutual success in the new digital-first economy? Find out at the panel discussion.
What should you do to grow the sales of your channel partners? Learn how to best empower and sustainably grow your their sales.
What is your pain point in your channel development game? Experience a peer-to-peer collaborative session facilitated by experts to find answers.
Want to learn some success secrets from your channel peers? The Channel Manager Summit is an industry networking event where you can connect with your peers to learn from each other and explore new opportunities.

We need an optimistic uplift to unmute ourselves. Join us and ask your questions!
Agenda
9:00 AM: Registration and Networking
9:30 AM to 10:15 AM:  Panel Discussion: What Channel Partners Need From Vendors During & Post Pandemic?
Channel Partners and vendors were forced to pivot into a digital-only environment in 2020. We are still in the middle of the pandemic with the second and third waves hitting harder than the first.  What did smart vendors do to help their partners and what should they be doing in 2021? This panel of MSPs will share their experiences and insights on their vendors.
Hosted by Julian Lee, CEO, Technoplanet. Panelists: Michael Contento, CEO, My Blue Umbrella and Erez Zevulunov, President, Telecom Corporation.
10:15: 11:00 AM:  Automating Your Channel Partner Business
There are 7 layers of Channel Process Automation (CPA) being fed by about 180 vendors. Some vendors overlap on multiple layers. Some specialize. Depending on your channel game, you will need to pick the right tools and layers to support your channel partner community and become more competitive. We will explore the various layers of CPA and what it means to your channel effectiveness, growth and future.
Speaker: Jay McBain, Principal Analyst – Channels, Partnerships & Alliances, Forrester Research, Inc.
11:00 AM to 11:30 PM: The new Digital-First Channel Sales Warrior
With in-person selling off-limits for some time (probably most of 2021), what do vendors need to do to realign their channel sales team in a digital-only environment? What will the most successful channel sales reps have to do in 2021? We will discuss the new channel sales rep playbook and highlight one power tool that can become the key to opening up new sales opportunities.
Speaker: Shane Gibson, Speaker, Author and B2B/Enterprise Sales trainer

11:30 PM to 1:00 PM: Lunch Break
1:00 PM to 1:30 PM: Empowering your Channel Partners in a Digital-First Economy
While vendors continue to build out their digital channel playbook, they will only be as successful as partners' abilities to also thrive in the digital economy. How can vendors empower their channel partners to be successful and accelerate in the digital business environment? Failure here will literally mean a shrinking partner base and growth. We will discuss some of key best practices for building a digital channel development playbook.
Speaker: Julian Lee, President Technoplanet
1:30 PM to 3:00 PM: Vendor Mastermind Peer-Groups
Vendors will join tables of 6 to discuss their current challenges and pain points in a unique "mastermind" format. In this 90-minute session, you will experience something special that will leave you wanting for more.  Each table will have a facilitator to help guide your group through the process.
Facilitators: Julian Lee (Marketing), Paolo DelNibletto (Awareness), Shane Gibson (Sales)  Randal Wark (Partner Empowerment), Glynis Devine (Diversity)
3:00 PM to 3:30 PM: EXPO & Freestyle Networking 
We will wrap this up with an expo to showcase a few tools that vendors can explore to help improve their channel automation platforms, relationships and partnerships..
3:30 PM: Event adjourns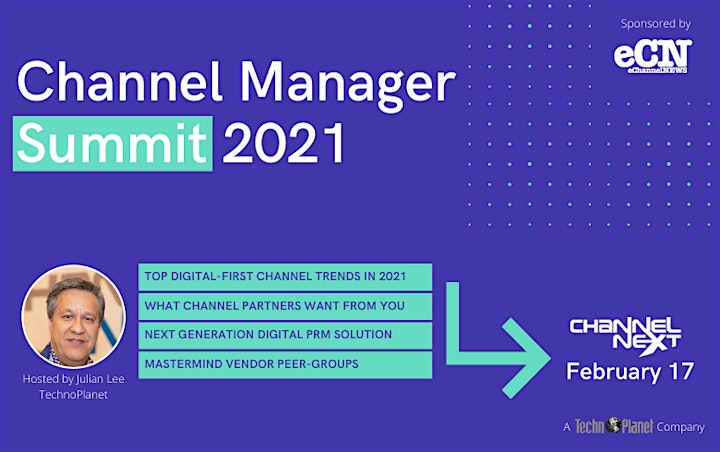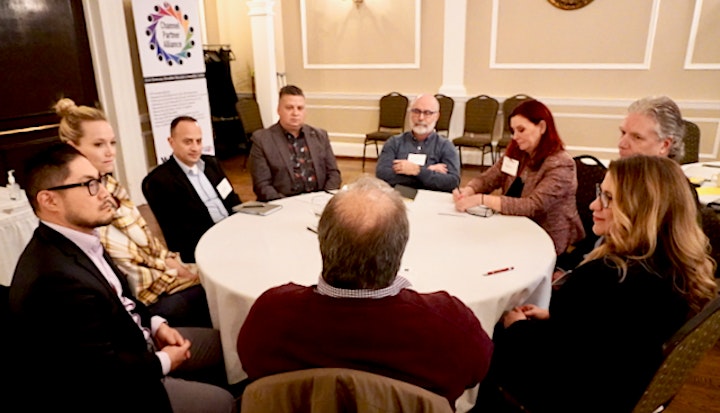 Date and Time
Location
Refund Policy
Refunds up to 7 days before event