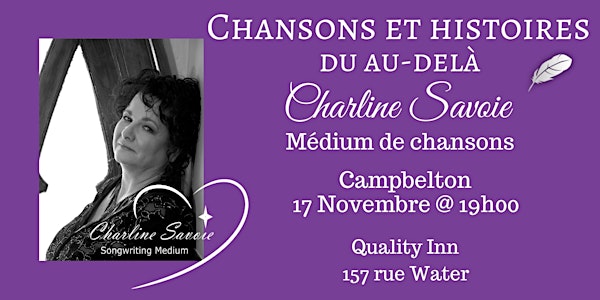 CHANSONS ET HISTOIRES DU AU-DELÀ
When and where
Location
Quality Hotel & Conference Centre 157 Water Street Campbellton, NB E3N 3H2 Canada
Description
CHANSONS ET HISTOIRES DE L'AU-DELÀ
CHARLINE SAVOIE
MÉDIUM DE CHANSONS

* "Grief Recovery Specialist" Certifié ®
* Maître Reiki
17 Novembre @ 19h00
Portes ouvrent à 18h00
Quality Hotel
157 rue Water
Animée en français avec des chansons françaises et anglaises
Vous demandez-vous s'il a plus à la vie que ce qu'on peut voir ou comprendre?
Dans ce concert interactif, Charline divulgue les messages des êtres transcendés dans les chansons et les histoires du au-delà. Une portion de cet évènement inclus des chansons pigées au hazard par les spectateurs de la salle du vaste répertoire de chansons canalisées de Charline.
Les spectateurs peuvent s'attendre à une expérience touchant les sentiments du coeur qui:


• Elève le voile du deuil
• Crée des nouvelles perceptions
• Accroît les sentiments profonds de connexion
• Amplifie la conscience et l'intuition naturelle
Voici les commentaires des participants:
"Beau message d'espoir. Ta voix est magnifique
Ça m'a fait du bien, surtout dans ces moments ici.
Merci!" Rachel
"Wow!!! C'était super beau et intéressant. Tu as tellement vécu de belles expériences. Merci infiniment pour ce beau partage. Je suis convaincu que ce que tu m'as partagé va m'aider dans mon cheminement. Merci du fond du coeur." Anonyme
Ma chère Charline
Je te dis merci et c'est certain que tu es dans ton "calling'. Tu m'as fais tellement debien. Bravo! "
Denise
UN PEU SUR CHARLINE..
Jaser et chanter sont nées simultanément en moi. Mes plus beaux souvenirs d'enfance sont sur les genoux de ma mère qui me berçait pendant qu'on chantait des chansons ensembles et elle me lisait des histoires.
En 2010, avec la pratique de la méditation et du Reiki, j'ai découvert le don de la canalisation de messages à travers mes compositions. Ces expériences m'ont guidé de créer mon premier album "Eve of Change", qui a été lancé en 2011 et nominé pour l'album spirituel de l'année en 2012 au Prix Musique NB.
En novembre 2011, j'ai canalisé la chanson "Twinkle of an Eye" de l'esprit d'un bébé mort-né. Je chante maintenant cette chanson pendant les évènements de pertes périnatals aux hôpitaux de Moncton.
Lien au vidéo Youtube: https://www.youtube.com/watch?v=GKPn4rCy2m8

Cette expérience était la première de plusieurs à venir des âmes transcendées et qui font maintenant parti de mon répertoire avec plus de 200 chansons du au-delà.
J'ai le plaisir de partager ces chansons et ces histoires pour inspirer et relier les gens avec leurs êtres transcendées, par des spectacles, des levées de fonds, ou des consultations privées.
Pour plus d'info sur mes autres évènements dans la région, ou mes services,
veuillez visiter mon site web charlinesavoie.com
Vous aurez la chance de marcher un labyrinthe.

Il aura des articles à vendre comme crystaux et CD, en plus d'une exposition de toiles de Natacha Haché, et une exposition de mandalas de Nathalie Drapeau.

Pour 19 ans et plus.