Experience & photograph the frosty landscapes of Banff & Lake Louise as we observe the seasonal changes of winter's approach.
About this event
DATES: November 5-7, 2021
EVENT COST: $750 + GST
SKILL LEVELS: All
ABOUT THIS WORKSHOP


Some of the most dramatic weather comes with the changing seasons and with dramatic weather, comes dramatic light - perfect photography conditions! During this workshop, we'll be visiting dynamic landscapes throughout Banff, observing the changes in season and welcoming the arrival of winter. It's a very unique and photogenic time of year!
Our base will be in Lake Louise, in the heart of Banff National Park. Each day we'll venture to different locations in the surrounding area.
This workshop will cover a range of shooting conditions including sunset, night time, and morning light all while learning new techniques and strategies to strengthen your existing knowledge no matter your current skill level or camera gear. All the while you will have access to ask questions and gain inspiration from your two instructors, Kahli April and Nick Fitzhardinge.
We will share tips on composition and technical settings to best suit the landscape and light conditions. We will discuss artistic approach, long exposure techniques and way to add a little magic to your images!
What's Included:
Personalized photography Instruction from two experts in the areas of astrophotography & landscape photography.
What's Not Included:
Accommodation. Our base for the workshop will be in Lake Louise. We recommend staying at Lake Louise Inn where we'll meet each day.
Travel (you will need to have your own mode of transport)
Meals
Insurance (medical, travel and equipment)
Personal expenses
National Park Pass (Can be obtained from the park entry gate or the visitor information centre)
ITINERARY
November 5th (Friday)
- Meet and greet at 3.30pm at our accommodations.
- Explore a nearby location for sunset with potential for night sky, weather dependent.
November 6th (Saturday)
- Sunrise at Banff Location
- A full day of shooting different locations along the world famous Icefields Parkway.
- Return to base for a quick rest and reset
- Explore a nearby location for sunset
- Extend our shooting into the night if conditions are looking good.
November 7th (Sunday)
- Sunrise/morning light session
FAQ's
What should I bring to the event?
- DSLR/Mirrorless camera
- Wide angle and telephoto lens
- Tripod
- Filters
- Camera bag
- Cold weather + wet weather clothing - lots of versatile layers! We recommend bringing good wet weather gear just in case and the warmest down jacket you have as the weather is unpredictable this time of year.
- Gloves - inner and outer pairs, beanie/toque
- Sturdy hiking boots or similar footwear which holds up in uneven terrain or wet/cold conditions.
- Thermals
- Spare batteries
- Spare memory cards
- Headlamp
- Neckwarmer
- Hand/toe warmers
- & lots of energy! (bank some sleep before this event)
What level photographer is this for?
All photographers from complete beginners to seasoned professionals, we will be able to tailor our guidance & instruction to you through our personalized approach.
CANCELLATION POLICY
This workshop must have a minimum of 4 participants to run. A full refund will be issued in the unlikely case that the workshop is cancelled.
Places are non-refundable but are transferable. This is the responsibility of the participant to find a new replacement and handle fee transfer.
COVID-19 POLICY
We will follow Alberta Health recommended safety guidelines & group size limitations. All in person instruction will adhere to the currently mandated guidelines at the time of the workshop.
We ask that anyone with symptoms of COVID-19, or with close contact with a confirmed case of COVID-19 in the past 14 days must remain at home.
Contact us directly with any further questions. We look forward to hearing from you!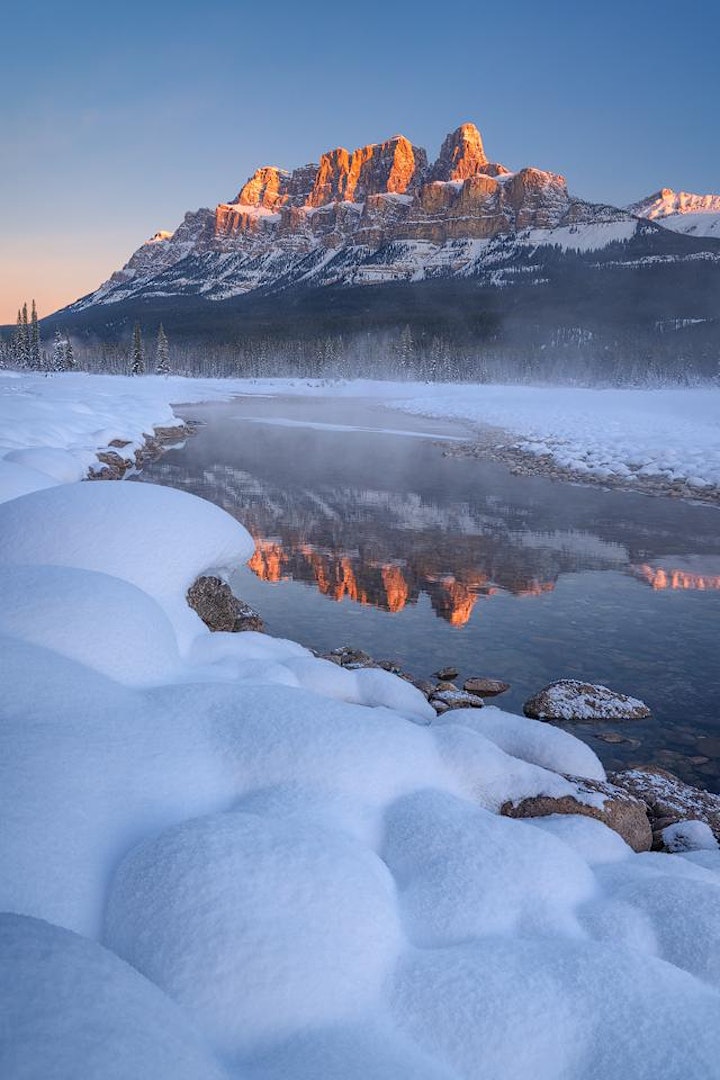 Organizer of Chasing Light: 'Banff & Lake Louise at Winter's Edge'
Nick is a landscape photographer based in Canmore in the Canadian Rockies. His love of nature & wilderness experiences is equally matched by a desire to portray these places through photography, blending documentation, creativity & artistic vision to create stunning works of art. You can find his portfolio of the Canadian Rockies at www.nickfitzhardingephotography.ca or information on his photography workshops & tours at www.mountainphototours.ca.
.......................................................................................................................................................
Kahli is a landscape, night and travel photographer often found hiking in the mountains or chasing the aurora in the middle of the night. Kahli enjoys the challenge of finding unique scenes and interesting light which has taken her on many journeys in her home of the Canadian Rockies and further afield in far flung locations such as Antarctica. Kahli finds nothing more rewarding than helping others develop their photography and get those shots you'll be proud of.