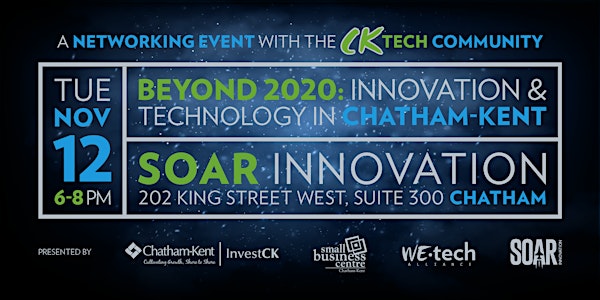 Chatham-Kent TeCK Night: Beyond 2020
TeCK Night Beyond 2020 looks at innovation and technology in Chatham-Kent
When and where
Location
SOAR Innovation - Daily Planet Building 202 King Street West Suite 300 Chatham, ON N7M1E5 Canada
About this event
The fall edition of TeCK Night looks to explore a combination of the successes over 2019 and delve into the future of technology in Chatham-Kent moving into 2020 and beyond. The evening will include a presentation from Mayor Darrin Canniff on his vision for the future of tech in Chatham-Kent and a collection of announcements that will help to set the stage for a greater landscape of innovation in our community.
In addition, a panel discussion from a variety of leaders across sectors such as small business, industry, agriculture, government, and business acceleration.
5:30 p.m. Registration
6:00 p.m. Emcee: Yvonne Pilon, President and CEO, WEtech Alliance
Welcome and introductions - Overview of the event
6:05 p.m. MP-Designate Dave Epp Remarks
6:10 p.m. Darrin Canniff , Mayor, Municipality of Chatham-Kent
Keynote presentation regarding themes, issues, and opportunities that will help us create an even better environment for success
6:20 p.m. Wen Teoh, Director of EPICentre, University of Windsor
Announcement regarding formal partnership between SOAR Innovation, the University of Windsor, and the Municipality of Chatham-Kent
6:30 p.m. Stuart McFadden, Director of Chatham-Kent Economic Development
Announcement regarding Digital Main Street and the new Digital Service Squad
6:40 p.m. Wilson Luo, Business Development Specialist, Mitacs
Mitacs presentation on how they are working with Economic Development to help businesses in the region access tools, people, and funding in order to expand their research and development projects.
6:45 p.m. Setup for Panel Discussion/Media Q&A
7:00 p.m. Panel discussion: Helping CK Plan for 2035
• Panelist 1: Small business representation
Maureen Geddes: Human Resources and The Future of People in Technology - maureen@geddesglobal.ca
• Panelist 2: SOAR Innovation
Gaurav Gupta: Soar Innovation - gg@ekagratagroup.com
• Panelist 3: Municipality of CK
Taylor Hughes: Economic Development – taylorh@chatham-kent.ca
• Panelist 4: Industry representation
Bill Johnson: Scribendi - bill.johnson@scribendi.com
• Panelist 5: Internet connectivity
Phil Cameron - phil@mpvwifi.com
7:25 p.m. Wrap up
7:30 p.m. Networking
Featured Chatham-Kent Companies to Watch
• Status Dress Rentals – Online clothing rental company that is going Canada-wide
o Founder: Stephanie Owen
• Nurse Next Door – Uses an innovative scheduling system to coordinate staff and care
o Director: Dakota Hodgson
• Position One SEO – Develops advanced social media and marketing strategies
o Owner: Katie Vilaranda
• MPV Wifi – Expanding quality high speed Internet access in rural Chatham-Kent
o Owner: Phil Cameron
• Flashpoint Chatham-Kent – Bringing high-tech entertainment systems to Chatham-Kent starting with state-of-the-art laser tag
o Owner: Jay Denorer