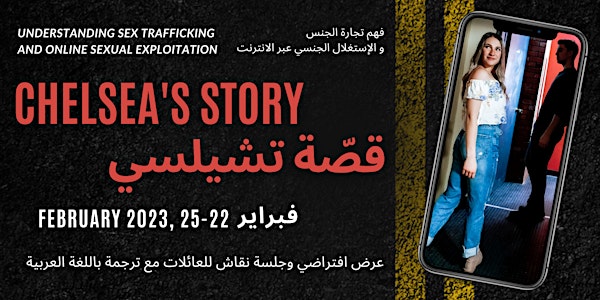 Chelsea's Story Virtual Play & Talkback (Arabic translation available)
A virtual play with facilitated talk-back by SASC about Human Sex Trafficking and Child Sexual Exploitation for Caregivers and Youth 12+.
When and where
Date and time
Thu, Feb 23, 2023 3:00 PM - 5:00 PM PST
About this event
مسرحية إفتراضية مع تعقيب من قبل مركز دعم ضحايا الإعتداء الجنسي في منطقة واترلو,عرض عن قضية الإتجار بالبشر والاستغلال الجنسي للاطفال , موجّهة للمربيين والشباب من عمر 12 و ما فوق.
سوف يقدم هذا العرض مقترناً بخيار اللغتين العربية والانكليزية، يتلو ذلك اسئلة واجوبة موجهة للمجتمع والعائلات (بما فيها اليافعين) ايضا باللغتين. ستتوفر الترجمة بشكل شفهي وكتابي.
Special performance:
This performance will be streamed simultaneously in two language options: English and Arabic. The Q&A geared to community & families (including youth), will also feature concurrent translation. These translations will be available in both verbal and written closed captioning formats.
هذا العرض مجاني وافتراضي!
This event is virtual and free.
قصّة تشيلسي مبنية على قصّة حقيقة، تركز القصّة على ثلاثة طلاب يكتشفون دفتر مذكرات لفتاة بسن الخامسة عشر من العمر اسمها تشيلسي ,قد تم استهدافها وتهييئها من قبل رجل، رجل يقدم نفسه كصديق لها ليتاجر بها جنسيا. تم كتابة هذه القصة من قبل شان ماك غراث من منظمة غير نفعية تحت اسم "التر ايغو كرياتيف سولوشن" في بريطانيا. تعمل هذه المنظمة على نشر الوعي عن موضوع التجارة بالبشر لمن هم من سن 12 وما فوق، وتركّز تحديدا على أولئلك المعرضين والمستهدفين من فتيات وشابات، من اللوات يتم تهييئهم لتجارة الجنس.
Chelsea's Story is based on a true story. It centres on a group of three students who discover the diary of a 15-year-old girl named Chelsea, who is targeted and groomed by a man posing as her boyfriend to be trafficked for sex. Chelsea's Story was written by Sean McGrath from Alter Ego Creative Solutions in the UK for people as young as 12 to understand what trafficking is about and the ways in which those who are vulnerable, particularly girls and young women tend to be targeted and groomed.
من ينبغي عليه حضور العرض؟
كل العروض متوفّرة و موجّه لعامة الناس. العرض الذي سوف يتم تقديمه في 23 شهر فبراير من الساعة السادسة لغاية الساعة الثامنة مساءا، يدعو الأهل والأولاد من عمر 12 وما فوق للمشاركة في التعقيب والنقاش حول موضوع الإتجار بالبشر و استغلالهم.
• 22 فبراير – من الساعة 6:00 إلى الساعة 8:00 مساءا ,ملحقة بجلسة نقاش موجّهة للعامة

• 23 فبراير – من الساعة 6:00 إلى الساعة 8:00 مساءا , ملحقة بجلسة نقاش للعائلات ( مع ترجمة باللغة العربية)

• 25 فبراير – من الساعة 1:00إلى الساعة 3:00 ظهرا , ملحقة بجلسة نقاش للعائلات
Who Should Come?
All performances are open to the general public. The February 23 showing invites parents, caregivers, and the general public to take part in the facilitated talkback around Anti-Human Sex Trafficking and exploitation in Waterloo Region geared specifically to this audience.
بشكل عام، هذا العمل سوف يكون ذات اهتمام لثلاث مجموعات:
• اليافعين من سن 12 وما فوق
• الأهل، المربيّن، المعلّمين والاختصاصيين العاملين في مجال الأطفال والشباب
• العاملين في السلك الأمني وفي مجال الضيافة
As a whole, the production is of particular interest to three different groups:
Young people (aged12+)
Parents, caregivers, teachers, and professionals working with children & youth
Law enforcement and people in the hospitality industry
تحذير: رغم أن العرض موجّه الى فئة اليافعين ما سن 12 عام وما فوق، الا أن هنالك بعض المشاهد المزعجة. لذلك ننصح بوجود الاهل خلال العرض و التعقيب ، حيث ممكن أن يكون هنالك بعض التاثيرات السلبية على بعض المشاهدين. اذا احتجتم الى الدعم، هنالك خدمة متوافرة ليلا نهارا, 24 ساعة في اليوم عبر مركز دعم ضحايا الاعتداء الجنسي لمنطقة واترلو على الرقم : 519.741.8633
Warning: Although this play is written for people as young as 12, there are some scenes that are disturbing. We recommend that children be accompanied by a caring adult as it may trigger some viewers. If you need support at any time, 24h support is available through SASC's Support line 519.741.8633
لقد تمّت مشاهدة هذه المسرحية من قبل ما يزيد عن عشرة الاف شخص وآلاف من المختصّين في بريطانيا، بالاضافة الى أكثر من ألف شخص في منطقة واترلو. اعتبرت هذه المسرحية ذات اهمية كبيرة حيث تتطرأ إلى مواضيع أساسية منها:
• العوامل التي تنتج علاقة صحية
• العوامل التي تنتج علاقة غير صحية
• الإستخدام الآمن للإنترنت و المرسالات ذات المضمون الإباحي
• تمييز الإستغلال الجنسي وفهم عملية التهيئة للإتجار بالجنس
• تجنٌب إلقاء اللوم على الضحية
• كيفية الحصول على المساعدة والنصح
The play has been seen by over 10, 000 young people & thousands of professionals in the UK, and over 1000 here in Waterloo Region and has proven highly effective at covering:
What makes a Healthy Relationship
What makes an Unhealthy Relationship
Safe Internet Use/Sexting
Recognizing exploitation and understanding grooming
Avoiding Victim Blaming
Where to go for help & advice
للمشاهدين من الكبار، يساعد هذا العرض ايضا في:
• بناء الوعي حول مؤشّرات التحذير الدالّة على الاستغلال الجنسي
• بناء الوعي حول المسار الذي قد يسلكه شخص يافع ويؤدي به أن يُدفع نحو الاستغلال الجنسي – حيث يمكن بسهولة ان يظهر ذلك للمستهدَف و كأنه اختار هذا الاستغلال ، ليتهيأ للمستهدَف أنّه ليس ضحية فيحارب بالتالي اي تدخّل لمساعدته.
For adult audiences it also:
Raises awareness of the warning signs of exploitation
Raises awareness of the journey that young people may have been on that has resulted in them being exploited – a journey that can all too easily make it seem as though they have 'made their own choices and can leave them not seeing themselves as victims and fighting against any intervention.
هذه المسرحية كتبت لتكون أداة لفهم و تمييز الاستغلال الجنسي، ماذا يمكنك ان تفعل اذا رأيته وكيف تكون أنت واصدقاءك بأمان منه. لقد أتيحت لنا الفرصة لعرضها أمام 450 شخص في الصف السابع والثامن في العام 2019 وقد لاقى العرض والتعقيب اهتمام خاص لدى المشاهدين. كما أثنى الأهل والمدرّسون عليها في عروض سابقة.
This play is written as a tool to understand and recognize exploitation, what to do if they see it and how to keep themselves and their friends safe. We had the opportunity to show it to 450 grade 7 and 8 students in 2019 and they were really engaged both with the play and in the after performance talk back. Feedback for the teachers and parents at other shows was also very positive.
"الطريقة الوحيدة للمساعدة هي بنشر الوعي لدى الاطفال, ولدى الجميع بصراحة"
- مشاهد وطالب في الصف السابع 2019
"The only thing that can help is spreading awareness to kids, and honestly just anybody." - Grade 7 Student Audience Member 2019
#KnowtheSigns | #EndHumanTrafficking | #ChelseasStoryWR
يقوم مركز دعم ضحايا الإعتداء الجنسي (SASCWR) في منطقة واترلو بتوفير برنامج متخصص لمكافحة ظاهرة الإتجار بالبشر. يستخدم تربية حساسّة الصدمات النفسيّة وتقليص الأذى ومقاربة النهج النسوي. يؤمن هذا البرنامج خدمة متكاملة للذين يتعايشون مع تجربة الاستغلال الجنسي بالاضافة الى اولئلك الذين هم عرضة لهذا خطر ضمن منطقة واترلو. الخدمات مجانية, مؤتمنة و سرّية, ودّية و لا تصدر احكاما مسبقة على أي شخص. هذا البرنامج متوفر لكل الأجناس وجميع الأنواع الإجتماعية (الجندرية) من عمر 12 وما فوق, بغض النظر عن وضعهم الحالي ضمن نُظُم الإقامة .
The Sexual Assault Support Centre of Waterloo Region (SASCWR) offers a specialized Anti-Human Trafficking Program. Using a trauma-informed, harm reduction, and feminist approach, this program provides wrap-around services to those experiencing sexual exploitation and those who are at risk within Waterloo Region. Services are free, confidential, and non-judgmental. This program is accessible to all genders ages 12 and up and is available regardless of immigration status.
التجارة بالبشر تعتبر تجارة منظّمة ومربحة. كثير من الفتيات من سن 12 وما فوق يتم استدراجهم لهذا العمل عبر وعود رومانسية مغامرة. لقد تم توجيه 45 تهمة جنائية متعلقة بالإتجار بالبشرعام 2020 و121 تهمة جنائية في العام 2021 من خلال العمل المشترك ما بين وحدة منطقة واترلو غوالف والينغتون لمحاربة الاتجار بالبشر. نشر الوعي هو الخطوة الاولى باتجاه الإقدام على الفعل.
Human Sex Trafficking is the sale of humans for sex and it is growing in Waterloo region. Sex Trafficking is organized and lucrative. Girls as young as 12 are lured and trapped into sex trafficking through promises of romance and adventure. Our Joint Waterloo Region Guelph Wellington Human Trafficking Unit laid 45 Criminal Charges pertaining to Human Trafficking in 2020, 121 Criminal Charges pertaining to Human Trafficking in 2021. Awareness is the first step towards action.
أوجدت ام تي سبيس لإستكشاف نقط التقاطع الثقافية بين الناس، في ماضيهم ونُظُم تعبيرهم، لإتستقطاب الغنى الحاضر في تعدد الثقافات والهوّيات لدى سكّان منطقة واترلو. تسعى ام تي سبيس الى رفع مستوى الفعاليات بين فنانيّ الأداء من مختلف التخصّصات والخلفيات الثقافية وأنماط التدريب.
The MT Space exists to explore cultural intersections amongst people, their histories, and their forms of expression. Drawing upon the wealth of multicultural identities living in the Waterloo Region, The MT Space aims to increase activity between performance artists of many disciplines, cultural backgrounds and styles of practice.
الأولويات :
• جلب عدد من الفنانين ذات ثقافات متنوعة لمشاركة افكارهم ليتعاونوا على تطوير أشكال جديدة من التعابير المسرحية
• توفير فرص للفنانين المهاجرين لمتابعة مهنتهم والمشاركة في تشكيل الثقافة الكندية.
• خلق, انتاج وتقديم اعمال معاصرة محلية، وطنية وعالمية.
• المساهمة في تطوير مجمتع شامل و نابض بالحياة .
Priorities:
Bringing together culturally diverse artists to share ideas and to collaborate in the development of new forms of theatrical expression.
Give professional immigrant artists an opportunity to pursue their careers and take part in shaping Canadian culture.
Create, produce and present contemporary productions locally, nationally and internationally.
Contribute to the development of a vibrant and inclusive community.