Multiple Dates
Cheryl's Autumn Story Club - Saturday Mornings
About this Event
Since 2007, Cheryl Thornton's live and online storytelling programs have been used by over one million children, families and educators in Canada, Australia and China.
Now located in Southwestern Ontario, Cheryl is thrilled to offer a new online program for kids in all locations, aged 2 to 9 years old: 'Cheryl's Autumn Story Club'.
This 14-week program will engage children with interactive myths and folktales from around the world, including art projects and original music, all presented in a way that supports positive character, cultural awareness, personal creativity and communication skills.
Join Cheryl Thornton and special musical guest Matthew Giffin every Saturday from September 19 to December 19, at 10:30 - 11:15 EST for an engaging, fun, and creative way to explore the wonderful world of storytelling, art and music! There will also be 5 talks for parents with educational expert, Michele Blumberg.
The fee for Cheryl's Autumn Story Club is only $150.00 plus HST per family for all 14 sessions and 5 educational sessions.
**Help us grow our storytelling community! A 50% discount will be offered for those who provide two referrals that result in memberships.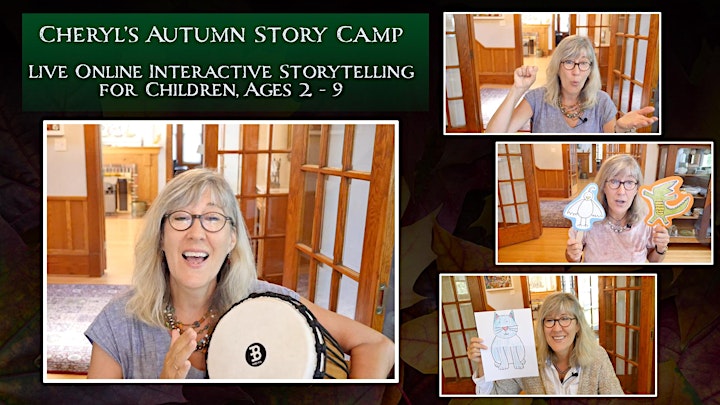 Kids really respond to Cheryl's engaging style of interactive storytelling. In this short clip we hear a chorus of howling 'ghost dogs' participating in the story!
Cheryl's live and online storytelling programs have been extensively used in schools and households internationally to support curriculum, positive character development, creativity and communication skills.
We are thrilled to have added Michele Blumberg, M. Ed., as our resident educational expert. All participants of 'Cheryl's Autumn Story Club' will be able to attend 5 live Zoom sessions with Michele, to answer questions and deliver essential information to help parents maintain educational consistency during these challenging times!