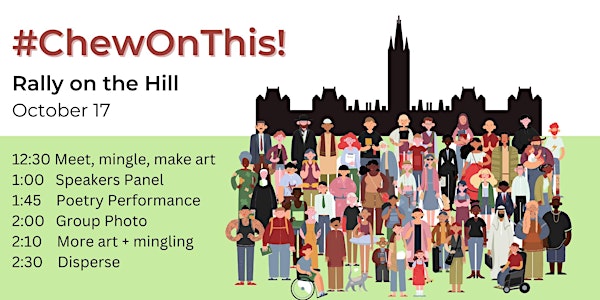 Chew on This! rally on Parliament Hill
Join the call for an end to food insecurity in Canada! *** Speakers Panel | Poetry Performance | Participatory Art Activity***
When and where
Location
Parliament Hill Wellington Street Ottawa, ON K1A 0A9 Canada
About this event
#ChewOnThis is an annual, cross-country campaign calling for rights-based solutions to poverty and food insecurity in Canada.
Events are held on October 17, the International Day for the Eradication of Poverty.
Join us at our Ottawa rally on Parliament Hill and add your voice - and your art!
Together we'll be co-creating a mural of what food security means & looks like in our communities.
12:30 - Meet, mingle, make art
1:00 - Speakers Panel - Learn about the real, systemic causes of food insecurity & the rights-based solutions we need to act effectively and equitably. Featuring representatives from Pauktuutit Inuit Women of Canada, Disability Without Poverty, and Citizens for Public Justice, as well as Dignity for All co-leads.
1:45 - Poetry Performance by King Kimbit
2:00 - Group Photo
2:10 - More art + mingling
2:30 - Disperse
Questions? Please contact Natalie or Emilly at dignity@dignityforall.ca
Not in Ottawa? Organize or attend a #ChewOnThis event in your local community! Visit chewonthis.ca for more information.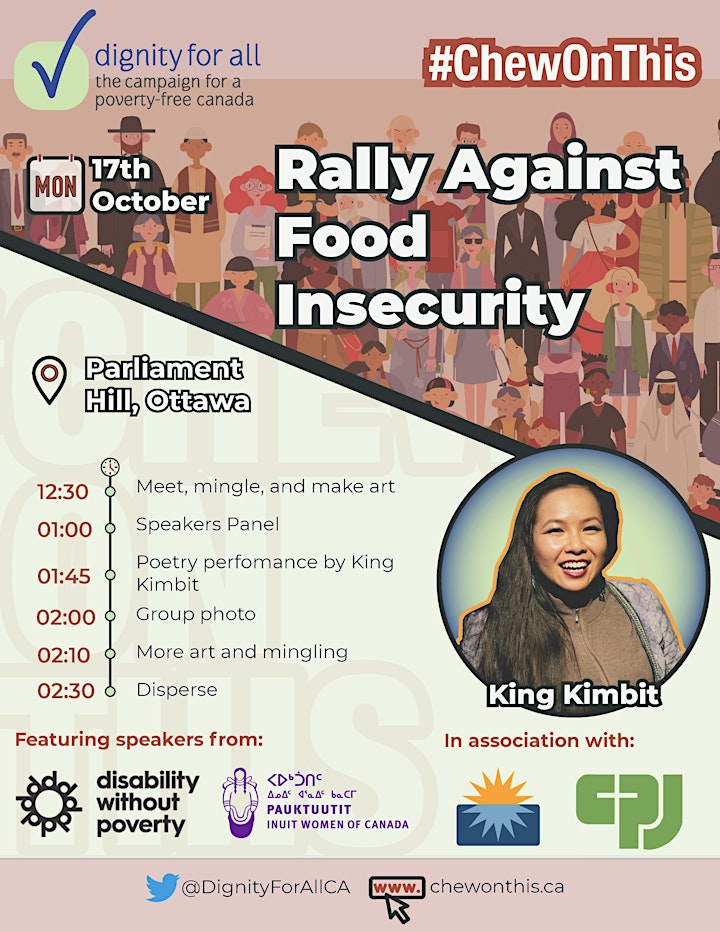 #ChewOnThis is a non-partisan campaign committed to upholding the dignity and human rights of all people. Any individuals or groups inciting hate or violence towards any others are not invited to participate.
Chew on This! is a campaign initiated by Dignity for All, which is co-led by Canada Without Poverty, Citizens for Public Justice, and Campaign 2000, all registered charities. If you would like to support our work, please subcribe to our mailing list and consider making a donation.