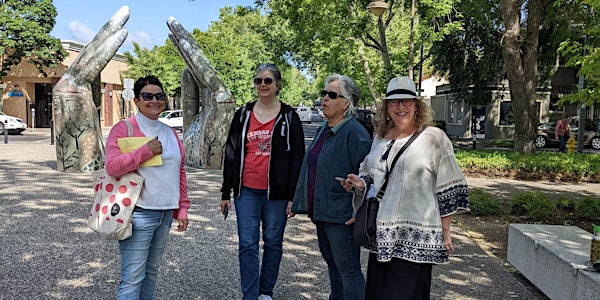 Chico Arts & Culture Foundation Downtown Art Tour
Location
The Hands sculpture
160 East 4th Street
Chico, CA 95928
The Chico Arts and Culture Foundation is excited to announce it will resume tours of Chico's downtown public art.
About this event
The tours will be held on the first Saturday of every month from June - October, 2022 with a special Chico State Parent Week. Tours begin at 10:00 am and are one hour long. Kick-off: Saturday, June 4th. To join a tour all you need to do is show up at the Our Hands sculpture next to the Chico municipal building on East Fourth Street at 10:00 am. The following month, on Saturday, July 2nd we will be having our first Family Art Tour. The tour will be modified to be kid friendly and will include a patriotic art project, and a scavenger hunt. The dates for all our Saturday Public Art Tours are as follows: June 4th, July 2nd, August 6th, September 3rd, & Oct. 1st and 8th.
For more information, email info@chicoartsandculture@gmail.com or visit www.chicoartsandculture.org.