Childhood Obesity Conference/Conférence sur l'obésité infantile
Description
* If you have any questions, please contact Beverly Kemp at bkemp@hsf.nb.ca or 506-634-1620
* Si vous avez des questions, SVP contactez Beverly Kemp à bkemp@hsf.nb.ca ou à 506-634-1620.
REGISTRATION CLOSES ON MAY 30th, 2018.
The Heart and Stroke Foundation of New Brunswick, in partnership with the Government of New Brunswick, is proud to present their first ever conference on childhood obesity: Promoting Healthy Weights in Children.
This conference aims to bring together healthcare professionals, policy makers, educators, community advocates, and others, to share strategies, develop partnerships, and coordinate efforts to combat the growing epidemic of childhood obesity.
Keynote speakers Dr. Yoni Freedhoff, Sara Kirk, and Manuel Arango will be joined by an exceptional group of experts to inspire a movement in the fight against childhood obesity.
Simultaneous translation will be available.
----------------------------------------------------
L'INSCRIPTION SE TERMINE LE 30 MAI 2018.
De concert avec le gouvernement du Nouveau-Brunswick, la Fondation des maladies du coeur et de l'AVC du Nouveau-Brunsswick est fière de présenter son premier colloque sur l'obésité infantile: Promotion du poids santé chez les enfants.
Ce colloque entend réunir, entre autres, des professionnels des soins de santé, des décideurs, des éducateurs et des intervenants communautaires et leur permettre de partager leurs stratégies, de créer des partenariats et de coordonner leurs efforts, afin de lutter contre l'épidémie croissante d'obésité infantile.
Conférenciers principaux — Les docteurs Yoni Freedhoff, Sara Kirk, et Manuel Arango jouiront de la collaboration d'un groupe de spécialistes exceptionnels en vue d'entreprendre un mouvement dans la lutte contre l'obésité infantile.
----------------------------------------------------------------------------
AGENDA: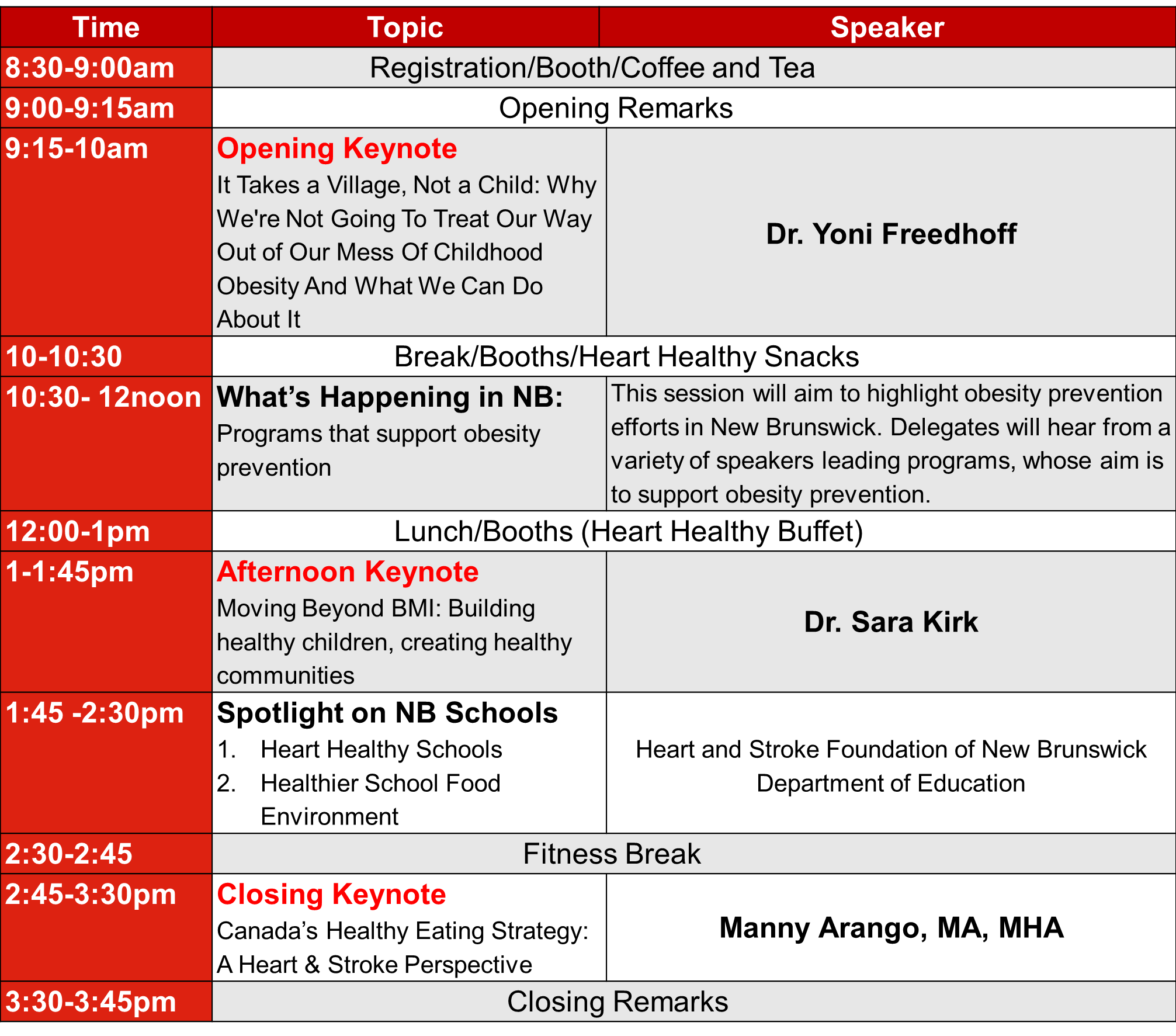 ---------------------------------------------------------------------------
ORDRE DU JOUR: