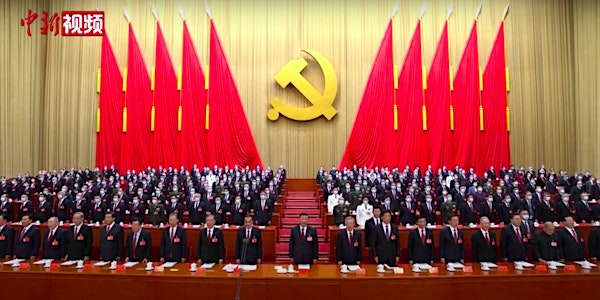 China's 20th National Congress: President Xi's New Team And What It Means
China's 20th National Congress: What President Xi's new team means for China and the rest of the world.
About this event
As China wrapped up its 20th National Congress and the new members of the Politburo Standing committee walked on stage, it became clear that only loyalists now surround Xi Jinping. Gone were any potential rivals, as illustrated with the forced removal of former General Secretary Hu Jintao during the final day of the congress. With this consolidation of power, some are referring to this period as "Maximum Xi", but what does this mean for the Chinese people and what does this mean for the rest of the world?
Join us for an engaging discussion on this topic as we feature acclaimed author Joanna Chiu and former ambassador Phil Calvert to explore this new political order in China.
ABOUT JOANNA CHIU (website)
Joanna Chiu is a senior reporter covering national and foreign stories for the Toronto Star and the author of China Unbound: A New World Disorder.
"Doggedly reported and fiercely argued, according to Publishers Weekly, the book details China's rapid international rise, and the ways Western nations have contributed to a state of global disorder. China Unbound is the winner of the 2022 Writers' Trust Shaughnessy Cohen Prize for Political Writing. Chiu previously served as bureau chief of the Star Vancouver.
As a globally-recognized authority on China, Chiu is a regular commentator for international broadcast media. She was previously based in Beijing as a foreign correspondent, including for Agence France Presse (AFP) and Deutsche Presse-Agentur (DPA) specializing in coverage of Chinese politics, economy and legal affairs.
In Hong Kong, she reported for the South China Morning Post, The Economist magazine and The Associated Press.
As a passionate connector within the global China experts' community, she is the chair of the NüVoices editorial collective, which celebrates the creative and academic work of women working on the subject of China.
ABOUT PHIL CALVERT (website)
Philip Calvert is a Senior Fellow with the China Institute of the University of Alberta. He served in Beijing as a Trade Commissioner (1984-87), Economic Counsellor (1994-1997) and Minister & Deputy Head of Mission (2004-2008). In Global Affair Canada he served as Director General for North Asia, Deputy Chief Negotiator for Canada during China's accession to the WTO and as Director of the Technical Barriers to Trade Division. Most recently he spent 2012-2016 as Canada's ambassador to Thailand, Cambodia and Laos.