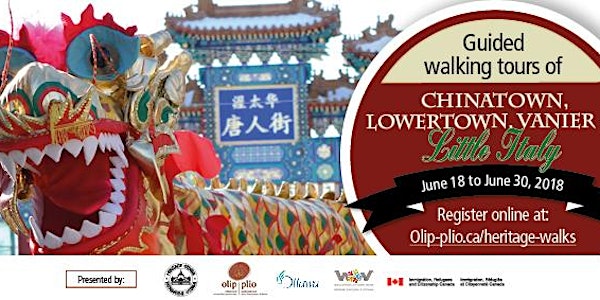 Chinatown Walk2 (English) / Tournée de Chinatown2 (anglais)
Event Information
Location
Plant Recreation Centre
930 Somerset Street West
Ottawa, ON K1R 6R9
Canada
Description
Chinatown Walk
Guided walk with Don Kwan throughout Chinatown to learn about the contribution of immigrant communities to the neighbourhood, along with its history, people and vibrant culture. They learn about the multicultural village this neighbourhood has become, not only including Asian cultures, but also influences from French Canada, the Middle East, Latin America and more.
Tournée de Chinatown
Visite guidée avec Don Kwan à travers Chinatown pour en apprendre plus sur la contribution des communautés immigrantes au quartier, avec son histoire, ses gens et sa culture rayonnante. Ils en sauront plus sur comment ce quartier est devenu un village multiculturel où l'on retrouve non seulement des cultures asiatiques mais aussi des influences du Canada français, du Moyen-Orient, de l'Amérique latine et bien d'autres.
For more information/Pour de plus amples renseignements:
http://olip-plio.ca/what-we-do/welcoming-ottawa-week/welcoming-ottawa-week-2018/heritage-walks/
Philippe Dieudonné
dpecomanagementc@gmail.com

Phone : 819 329-9379
WhatsApp : 613 413-7993
Don Kwan: 613 857-7434
Date and time
Location
Plant Recreation Centre
930 Somerset Street West
Ottawa, ON K1R 6R9
Canada