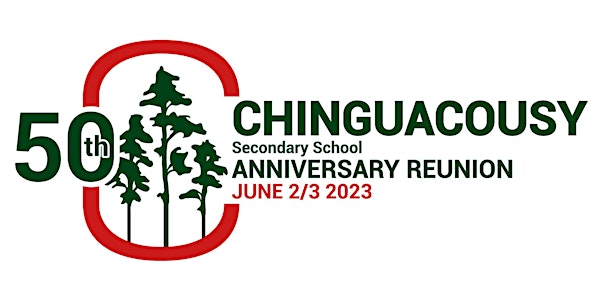 Chinguacousy Secondary School 50th Anniversary Reunion - June 3, 2023
Join us to celebrate Chinguacousy SS's 50th anniversary! Reunite with old friends and faculty throughout the weekend of June 2 & 3.
By Ching Alumni 50th Anniversary Reunion Committee
Date and time
Sat, Jun 3, 2023 3:00 PM - 11:00 PM EDT
Location
Chinguacousy Secondary School 1370 Williams Parkway E. Brampton, ON L6S 1V3 Canada
Agenda
3:00 PM - 11:00 PM
Saturday, June 3rd CHING Alumni 50th Anniversary Reunion at Chinguacousy SS
---
Let's Celebrate CHING'S 50th Anniversary and toast to Great Friends and Good Times! 3PM Arrival / Tour the school
3:00 PM - 8:00 PM
Visit the Decades Rooms - Remember the 70's, 80's 90's and 2000's
---
DECADES ROOMS Classrooms decked out to honour the 70's, 80's, 90's and 2000's
3:30 PM - 6:15 PM
Panel & Open Mic in the Auditorium - Share your best stories and experiences
---
Come participate in the DECADES PANEL & OPEN MIC gathering in the Auditorium to hear former students, teachers and staff tell their favourite Ching stories. Audience participation is definitely going...

6:00 PM - 11:00 PM
DINNER & DANCE - CHING Alumni DJ Rammy will rock you down memory lane
---
Warm up with an 80's Video Dance Party for the first hour, hosted by former CFNY DJ and CHING alumni, Ivar Hamilton. Then DJ Rammy takes the controls and gets everyone up and on their feet for the re...

5:00 PM - 8:00 PM
Catered Meal - Spot 1 will be serving up our meal options
---
Spot 1 catering is providing boxed meals included in the admission price with your choice of sandwich & salad, chips & water. Food will be served and consumed in the Ching Cafe.
3:00 PM - 8:00 PM
ALUMNI & STAFF MEMORIAM in the Library
---
Visit the Library to pay respects and view a video tribute to Ching students, teachers and staff that have passed away.
About this event
CHINGUACOUSY SS ALUMNI 50th ANNIVERSARY REUNION CELEBRATION:
SATURDAY, JUNE 3RD AT CHINGUACOUSY SS
Join us to celebrate our CHING high school days to full effect! We look forward to reuniting with old friends and faculty at this 50th Anniversary milestone event. Let's celebrate our fabulous school and all our special memories of the 70's, 80's, 90's and 2000's as we reflect on our shared experiences at Chinguacousy Secondary School.
This once-in-a lifetime event will feature a packed day and evening as we relive the glory days of our youth and walk through the hallowed halls of Chinguacousy Secondary. Come early on June 3rd starting at 3 PM and visit the various classrooms decked out and decorated for the decades when you attended Ching. We will honour our Ching alumni that are no longer with us with a special In Memoriam taking place in the Ching Library. Watch our memories videos featuring all the great music, movies and TV that were a part of your growing up. Join us in the auditorium for our panel and open mic event as we reminisce about major milestone events from each decade. We'll gather in the cafe and enjoy a catered meal from our partners at Spot 1 who will also be operating the licensed cash bar. Then we move to the main gyms and get the night rocking as local celebrity DJ and former Ching alumni, Bryan Ramsammy, AKA DJ RAMMY, will be taking us on a musical journey as we dance the night away with the hits from back in the day for this one special night!
Note: all children under 19 years of age must be off the premises no later than 5:00 PM as the evening session will be an adults-only event.
Agenda Details
Begins at 3 PM - Finishes at 11 PM
Free admission to tour from 3 PM to 5 PM.
PURCHASE OF AN ADMISSION TICKET IS REQUIRED TO REMAIN ON THE PREMISES FROM 5 PM ONWARD (INCLUDES DANCE, BAR ACCESS, CATERED MEAL AND SURPRISE EVENTS)
3 PM to 8 PM - Decades Rooms, In Memoriam in the school Library, touring of the school and featured classrooms.
3:30 PM to 6:15 PM - Panel and Open Mic in the Auditorium (70's, 80's and 90's)
5 PM to 8 PM - Meals available in the Cafeteria
5 PM to 11 PM - Cash bar is open and drinks available for purchase
6 PM to 11 PM - Dance with DJ Rammy in the main GYM A & B
Don't miss a moment!
PREFERRED HOTELS
The Ching Alumni Committee has been in contact with several of our local hotels to obtain preferred rates for the weekend of the event. Please see the details below and contact your preferred venue ASAP to get this special rate before the room allocations are gone.
1. Monte Carlo Inn - 45 Coventry Rd, Brampton
"Ching 50th School Reunion" Group Code: 420449 Pin: 0623 * Book by: May 9th
https://brampton.montecarloinns.com/?_ga=2.144909488.546399557.1666726405-371385826.1612974525
2. Hampton Suites by Hilton - 8710 The Gore Road, Brampton
"Ching 50th" Group Code: CHHCHI * Book by: May 12th
https://www.hilton.com/en/book/reservation/deeplink/?ctyhocn=YTOBMHX&groupCode=CHHCHI&arrivaldate=2023-06-02&departuredate=2023-06-04&cid=OM,WW,HILTONLINK,EN,DirectLink&fromId=HILTONLINKDIRECT
3. Courtyard Marriot Toronto Brampton - 90 Biscayne Cres, Brampton
"Chinguacousy Reunion" for discount rooms. $199 for King or Queen room * Book by May 9th
https://www.marriott.com/event-reservations/reservation-link.mi?id=1681401265882&key=GRP&app=resvlink
Chinguacousy Secondary School opened in 1972, to mark the 50th anniversary of its opening Ching Faculty, Students and Alumni are planning a special weekend of events on Friday, June 2nd and Saturday, June 3rd, including a special party on the Saturday evening with DJ & dance in our old gym, catered meal and cash bar. We hope you can attend and enjoy the festivities as we take a walk down memory lane with one another.
Day 1: Friday, June 2nd, 2023
Chinguacousy Secondary School - Open House
https://chinguacousy.peelschools.org/news/chinguacousy-ss-50th-anniversary-1676046074471
Current Ching faculty and students will be hosting an open house beginning with onsite registration at 11:20 AM, followed by opening ceremonies at noon in the auditorium and an afternoon spent touring the building, viewing Ching through the decades or participating in various athletic events. More details to come as the schedule is finalized by the school administration.
Friday Night Social at Spot1 Grill & Music Hall - 7 PM to 1 AM
Get the weekend started with a fun night of music and laughs at one of Brampton's most enduring venues, Spot 1 Grill & Music Hall. There will be a cash bar and food available from the menu with the house DJ playing all of our favs from back in the day. There will be a $10 cover fee payable at the door. Don't party too hard because Saturday is going to be the big event of the weekend.
289 Rutherford Rd S, Brampton, ON L6W 3R9
Day 2: Saturday, June 3rd, 2023
Chinguacousy Alumni Celebration 3:00 PM - 11:00 PM
(Tickets required for the evening event from 5 PM onward)
Chingaucousy Secondary School
1370 Williams Pkwy E, Brampton, ON L6S 1V3
DON'T DELAY BUY TODAY!
EARLY BIRD REGISTRATION (PURCHASE BY MAY 17) $50
TICKET PRICE AFTER MAY 17 WILL BE $60
SEE AGENDA DETAILS BELOW FOR THE ALUMNI EVENT
THE ALUMNI EVENT INCLUDES:
Dance with special guest DJ and Ching alumni, "DJ RAMMY"
Licensed event with cash bar (debit & credit cards accepted)
Meal selection from Spot1 Catering
50/50 draw and a silent auction with all proceeds going to the Chinguacousy Alumni 50th Reunion Scholarship Fund