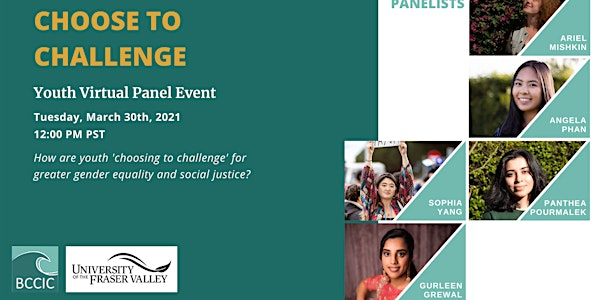 'Choose to Challenge' Youth Virtual Panel Event
Youth panelists will speak about how they "choose to challenge" for greater gender equality and social justice.
About this event
The 2021 International Women's Day campaign theme is 'Choose to Challenge,' referring to individuals choosing to challenge and call out gender bias and inequality. The University of the Fraser Valley (UFV) Global Development Studies program, in partnership with the British Columbia Council for International Cooperation (BCCIC), will host a webinar on this theme.
This webinar will include youth panelists from BCCIC's delegation to the 65th session of the United Nations Commission on the Status of Women (CSW65), from March 15-26 March 2021. The theme of this year's event is women's full and effective participation and decision-making in public life, as well as the elimination of violence, for achieving gender equality and the empowerment of all women and girls. Women's empowerment and the link to sustainable development will also be reviewed based on agreed conclusions of the sixtieth session.
Youth panelists will speak about how they "choose to challenge" for greater gender equality and social justice, and what they have learned about global youth advocacy and change-making by attending the Commission on the Status of Women.
The Panelists:
Ariel Mishkin: Ariel is a first year Norman Patterson School of International Relations student who has an academic focus in intersectional feminist program implementation in Latin America.
Her previous international development experience includes being a board member of the British Columbia Council for International Cooperation (BCCIC) from (2017-2020), where she represented British Columbian youth at Women Deliver 2019, the United Nations' Sixty-Third session of the Commission on the Status of Women, and the United Nations High Level Political Forum in 2018.
Previously, Ariel worked as a research and communications consultant for the Lao PDR's Gender Development Association, where she supports ethnic minority women's climate justice advocacy and economic adaptation. She has also worked as an Event Planner for the First Nations Health Authority where she managed the implementation of conferences and workshops on sexual health, tuberculosis, harm reduction, HIV, and immunizations with an Indigenous lens across British Columbia. Ariel has worked in Mongolia and India where she supported grassroots development projects. She graduated with a Bachelors of Commerce from the University of Victoria in 2016.
Angela Phan: Angela is the Sustainable Development Goals (SDG) Programming Assistant at the British Columbia Council for International Cooperation (BCCIC), and is grateful to reside on the traditional, ancestral, and unceded Indigenous territories of the xʷməθkʷəy̓əm (Musqueam), Selilwitulh (Tsleil-Waututh), and Sḵwx̱wú7mesh (Squamish) peoples.
Angela has a Bachelor of Arts in International Relations from the University of British Columbia (UBC) where she focused a lot of her undergraduate research in environmental issues, politics, and Indigenous rights along with the intersections of feminism and the female experience.
When she is not in office at BCCIC, she is a research assistant with the School of Nursing at UBC as part of the ART & Justice program, an art initiative that aims to promote the mental health of incarcerated men. She also volunteers with Ocean Wise as part of their Ocean Bridge Program, which aims to connect youth to make a difference in ocean conservation. Previously, she held several other positions with UBC, the federal government, and environmental non-profits.
At the CSW 65, Angela is looking forward to learning more about topics relating to women's participation and leadership in the public sphere, intersectionality, and the economic empowerment of women globally.
Sophia Yang: Sophia is the Founder & Executive Director of Threading Change, a youth-led ethical fashion organization working at the intersections of climate, gender, and racial justice in alignment with the necessary transition to a circular economy. Threading Change was born because Sophia wanted to help raise young people's voices in one of our world's most polluting industries—the fashion industry. Doing so for our planet, and people. Fun fact, Sophia was actually inspired to start Threading Change after attending COP25 with BCCIC! "So, being a part of a BCCIC delegation is an experience that I cherish and hold very dear to my heart."
Being a BIPOC women-led organization, gender equality and the eradication of violence against women are very important to Threading Change. They operate on the 6Fs principles: a Feminist Fossil Fuel Free Fashion Future. Sophia is very excited to be a part of BCCIC's CSW65 delegation because she strongly believes that any knowledge she picks up at CSW65 will be immensely helpful to her and Threading Change's growth.
As a dedicated climate justice changemaker, Sophia has worked for over a dozen environmental organizations ranging from federal government agencies (Parks Canada, Natural Resources Canada), NGOs (Nature Conservancy of Canada, SPEC, Parkbus, CityHive), industry (CNRL), and academia (UBC, SFU). Sophia has a Bachelor of Science degree from the University of British Columbia in the Natural Resources Conservation program.
Sophia is the recipient of the Starfish Canada's Top 25 Under 25 Environmentalists award in 2017 and 2018 for her work in community engagement and renewable energy dialogues, has attended the United Nations Climate Change Conference (COP 24 & 25) twice with BCCIC, and DJs as 'THIS IS: KALEIDO' when the weight of the world gets too heavy. To her, music and social impact are the answers!
Panthea Pourmalek: Panthea Pourmalek is a 4th year student at the University of British Columbia completing an undergraduate degree in Political Science and International Relations, and a current policy and research volunteer with the British Columbia Council for International Cooperation. Most recently, she created a set of guidelines for the equitable selection and support of youth delegations to international conferences, such as the CSW. She is passionate about facilitating dynamic and meaningful inclusion of racialized youth, women, and gender minorities in important conversations and decision-making tables.
Her academic work is focused on non-international armed conflicts and International Humanitarian Law. She is completing her thesis on the governance structures of armed rebel groups in civil wars. She hopes that her research will share new insights on protecting vulnerable peoples in areas subjected to extended armed conflict with the policy and academic community and contribute toward greater consideration of these populations in development and human security initiatives.
Gurleen Grewal: Gurleen Grewal recently completed her MA in English at Simon Fraser University where her research interests were in the fields of Black Studies, Discourse Analysis and Gender and Sexuality. Throughout her scholarship, she examined how gendered and racialized forms of being interacted and affected one's lived experience: ways of knowing, being, moving through and with/in the world.
Seeking to better understand how she might contribute to global solidarities, Gurleen took on a volunteer position with BCCIC as a Public Engagement Writing Assistant. Her time with BCCIC was invaluable in elucidating the overlapping precarities that shape the landscape of women and girls' lives in the Global South, and in more local contexts as well. It is in this role that she first learned of the robust civil society activity that sustained and interrogated the efficacy of Canada's global engagement in the form of feminist promises, such as those manifested in the Feminist International Assistance Policy.
She is now serving as International Development Communications Specialist with World Neighbours Canada, a small civil society organization based in the Interior of BC. In this role, she wrote a case study on gender equity and sustainable development for BCCIC's report prepared for the UN's 64th Commission on the Status of Women (titled, "Localizing SDG 5: A Case Study on Rural Development Work that Addresses Interlinkages), and she participated in one of BCCIC's Groundtruths webinars speaking on holistic approaches to advancing the health and wellbeing of women in girls in Burkina Faso, Nepal, and Honduras. Most recently, she has worked alongside WNC's Executive Director, Bruce Petch, and their Country Coordinator for Burkina Faso, Judy Gray, to submit a funding proposal for a project that will research the potential efficacy of a gender-transformative approach that identifies and addresses root obstacles to women's full and equitable economic participation in the livestock smallholder sector in rural Burkina Faso.
Through the process of working with WNC and its partner organization in Burkina Faso, Gurleen has come to reflect upon the challenges in ensuring women and girls' voices lead how the processes of conceiving, monitoring, evaluating, and calibrating any given solution proceed. She has come to understand the necessity of using tools such as a Rapid and In-Depth Gender Scan, or a Gender Equality Strategy to rigorously interrogate how each point of a given solution can address gender barriers in design, testing, and intended results. "I still have much to learn," she concedes.
"In attending CSW65, I plan to better grasp how one can develop and integrate locally-appropriate methods of monitoring and mitigating gender-based violence that may result from the very efforts to dismantle patriarchal obstacles to women and girl's empowerment. I will work to understand how small and medium civil society organizations in Canada can be better-equipped to harness existing resources to ameliorate the present lack of data that impedes the development of sufficient evidence regarding progress for many of the targets under SDG 5. And, I will question how data gathered on development interventions that focus on women and girl's empowerment during the COVID-19 pandemic can help inform more robust crisis response plans for the future."