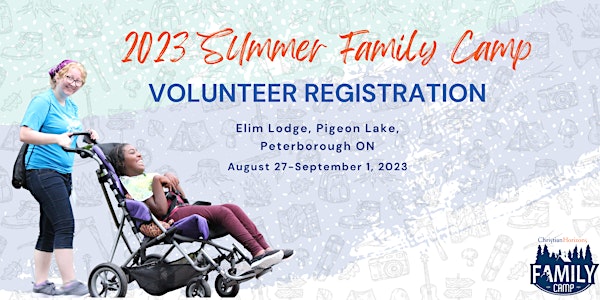 Christian Horizons Summer Family Camp 2023 Volunteer Registration
Christian Horizons Summer Family Camp 2023 Volunteer Registration
About this event
Please fill out this online registration form to confirm your commitment in Volunteering with Christian Horizons at our Elim Lodge Family Camp.
Volunteers arrive on Sunday, August 27 to train, and prepare for the families to arrive at camp. The family camp is from August 28th to September 1 2023.
The cost of registration for volunteers is $100. More information about fundraising will be emailed to you.
For questions or more information, please contact familycamp@christian-horizons.org
About the organizer
Christian Horizons is a non-profit, faith-based organization that serves nearly 2000 people who experience disabilities and their families in Ontario and Saskatchewan. Not only do we offer programs and services that can be tailored to meet a wide variety of needs for those we serve in Canada, but we are also serving in over 60 communities in six developing countries (Haiti, Guatemala, Nicaragua, Ethiopia, Uganda and Kenya), making a positive impact in the lives of over 300,000 people.