Description
Trauma Treatment Through the Eyes of Faith
Join us on June 23rd 2018 as the Family Life Centre hosts a day full of networking opportunities. Located on the Tyndale Campus, the Family Life Centre is pleased to host a seminar featuring the best practice in clinical care of trauma-related mental Health issues.
The Christian Mental Health Practitioners Network is a group of clinical professionals responding to an expressed need for integrated training, networking, personal and professional development opportunities for Christians working in the mental health care field. Medical doctors, psychiatrists, psychologists, psychotherapists, social workers, psychiatric nurses and others who serve in client care are invited to join us for our first annual presentation focusing on clinical trauma care integrating theory and theology, spirituality and science.
Students Welcome!
Event Summary
On June 23rd 2018 the Family Life Centre welcomes industry experts presenting on integrative clinical practice:
• Diagnostic and pharmacological issues for PTSD, DID, and complex trauma.
• Therapeutic interventions-common themes that undergird various modalities (e.g. CPT, EMDR).
• Integrative Christian perspectives in clinical care (prayer, Scripture, inviting the presence of the Holy Spirit).
• Spiritual warfare within a larger holistic healing framework.
• Maintaining the health of clinical care practitioners- mind, body and soul care.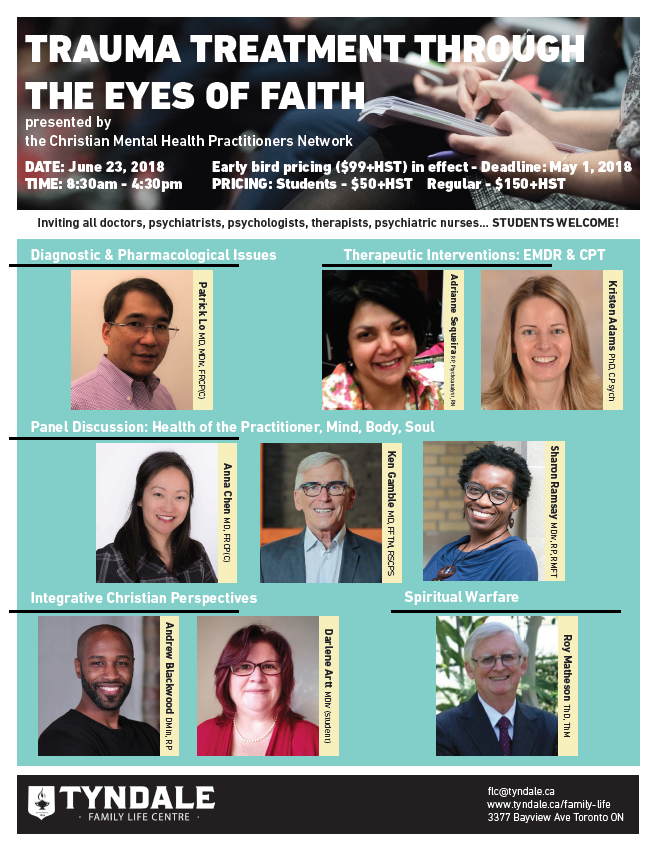 ---
Lunch
Lunch and light refreshment are included. Please indicate if you have dietary restrictions when you register.
Time:
Registration will open at 8:15am and programming will begin at 8:30am and go until 4:30pm.
Cost
Students - $50+HST
Early Bird - $99+HST (Deadline May 1st)
Regular - $150+HST
Questions?
Contact us at flc@tyndale.ca