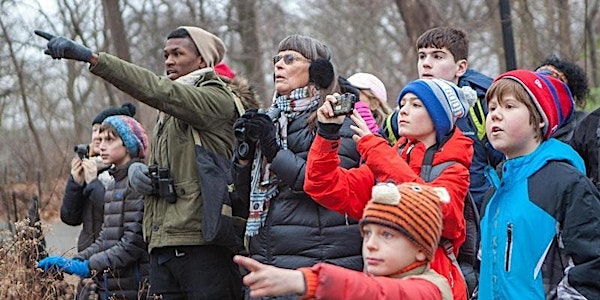 Christmas Bird Count for Youth (aged 12-18) in Delta
Join Delta's Christmas Bird Count for Youth on Jan 2, 2022!
About this event
Masks are MANDATORY and must be worn in order to participate in this event!*
Please meet at 9 am at Reifel Bird Sanctuary at 5191 Robertson Rd in Delta.
Come look for winter birds like Common Redpolls, American Tree Sparrows, Northern Saw-whet Owls, Short-eared Owls and Rough-legged Hawks and other great birds at our CBC4Kids in Delta. The youth will be led by an experienced birder in a team setting. Each team will conduct a bird survey and record the number of bird species and individuals seen. All data we collect from our count will be sent to eBird and Bird Studies Canada to aid in studies for bird conservation.
The Christmas Bird Count for Kids (CBC4Kids), based on the traditional Christmas Bird Count, is a fun winter birdwatching event that engages youth in real Citizen Science. The goal is to promote nature appreciation, ecological literacy, build bird ID and monitoring skills, and environmental stewardship in the next generation of naturalists.
More info on the program can be found here:
http://www.birdscanada.org/volunteer/cbc4kids/
Please bring binoculars, a toque, warm waterproof jacket and pants, warm waterproof boots, camera and scope if you have one! A scope will be provided for the group to share and a field guide. You are welcome to bring snacks but we have a strict NO NUT PRODUCT OF ANY KIND policy. Unfortunately due to COVID-19 we are not allowed to serve Hot Cocoa this year.
Ages 12-18 are welcome.
The event is free for all youth attending but if parents want to join they must pay Reifel's entrance fee of 5$.
Please use the link at the top of the page to register for the event.
Organizer of Christmas Bird Count for Youth (aged 12-18) in Delta
BCFO is a not-for-profit, charitable organization whose members are birders and ornithologists, novices to experts, that is committed to the study, preservation, and enjoyment of British Columbia's wild birds. The BCFO Young Birder Field Trip Program promotes birding in youth aged 12-18 years old of all genders in several group field trips around the lower mainland, fraser valley, interior and vancouver island. We promote a welcoming environment where they are treated with respect and as equals. Youth get outside while promoting healthy lifetstyles, connect to birds and nature and learn about bird biology and identifcation. Youth in our group enjoy the simple joys of watching birds while fostering friendships and future bird conservation leaders.
Bird Studies Canada conserves wild birds through sound science, on-the-ground actions, innovative partnerships, public engagement, and science-based advocacy.